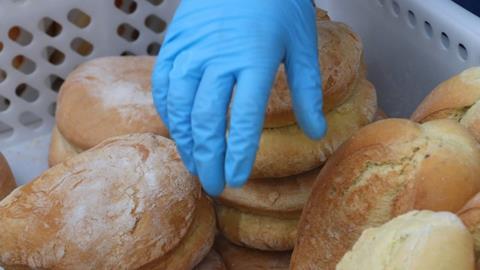 Bakers across the UK are taking steps to reduce the risk of coronavirus to staff and customers through a series of practical measures.
Some are taking extra precautions to ensure surfaces remain clean, while others are asking customers to use contactless payments instead of cash to reduce the risk of contamination. Some are looking to help those in their local communities that are self-isolating through delivery schemes, but in return are asking customers to shop local and help keep their businesses afloat.
In light of the pandemic, Campden BRI virology section manager Martin D'Agostino, recently answered some of the key questions bakers and food suppliers may have about coronavirus.
Here are some examples of action taken across the baking industry:
Lovingly Artisan, Kendal
British Baker's 2019 Baker of the Year is hitting the road with the mission of taking its sourdough to its customers and their families. It is to host a pop-up at real ale bar The Factory Tap every Wednesday from 4pm to 7pm as well as selling baked goods from its Bread Store daily as usual. Pop-ups at Windermere Rugby Club are also coming soon.
"Now, more than ever, it's all about working together, looking after each other and we will look after you with our ancient grains," owner Aidan Monks posted to the bakery's customers on Facebook.
"If you'd rather avoid shopping in large, busy scenarios and online shopping is not your vibe – it's time to think about opting to shop differently. It's time to support your local, small independents who simply want to look after you and their own team too."
Customers will also notice the introduction of brown tissue when the Lovingly Artisan team are handling the sourdough as well as wearing blue gloves. In addition, it has introduced washing hands after each transaction and is encouraging customers to pay by card.
Seasons Bakery, North Yorkshire
Baking Industry Awards winner Seasons Bakery is implementing a variety of measures across its operations to cope with changes caused by coronavirus.
The bakery is encouraging customers to pay by contactless methods and is taking extra hygiene precautions. Staff are now required to wear blue gloves to avoid cross-contamination and delivery vans are disinfected every day, while external delivery drivers are asked to not enter the bakery.
"We're encouraging people not to handle cash and all shop staff are now wearing gloves. We're also leaving the door to the bakery open, so people aren't transferring germs via the handles," Seasons Bakery owner Dan Nemeth told British Baker.
However, Nemeth admitted he had seen a drop in wholesale orders as a result of coronavirus, but said the retail side of the business was busy.
"Due to increased demand, we have decided to put on two bakes a day," he said on Facebook. "This is to hopefully give everyone a fair chance at grabbing a loaf, so we don't completely sell out by 10am like we have the last few days."
Seasons Bakery is also offering a door-to-door delivery service of bread, eggs, cakes and milk within a 25-mile radius to further help its local community.
Orange Bakery, Watlington
Run by 15-year-old Kitty Tait and her father Alex, Orange Bakery is offering to deliver bread by bike to anyone self-isolating, it said on Instagram. The duo are also taking extra precautions to ensure the bakery is as hygienic as possible. Measures include using blue gloves while handling all products, using tongs in the bakery and wiping down the bakery four times a day with antibacterial wipes.
Sugardough, Hove
Bakery and café Sugardough has implemented a temporary change to its 'bring your own cup' policy, which sees customers receive a 20p discount for using a refillable cup for hot drinks. For the time being, Sugardough will not be refilling customer cups and will only be selling coffee in takeaway ones – however customers who bring their own cups are still entitled to the discount.
It has also sought to reassure customers that surfaces are sanitised regularly throughout the day with door handles, card readers and banisters among the surfaces cleaned.
Born & Bread Bakery, Northamptonshire
This bakery and café, located in Long Buckby, is still serving up fresh bread, cakes and pastries to its customers, but with a few tweaks. Some food items that are usually on open display will be kept in the kitchen, so customers are encouraged to speak to staff to find out what is on offer.
It has also asked for customers to allow time for tables to be sanitised before sitting down, particularly during busy periods. Bread and baked goods can also be pre-ordered to reduce the time spent in the shop as well.
As with many other bakeries, Born & Bread has requested that patrons experiencing a fever, cough or any other symptoms are asked to stay at home. Staff will also follow this advice.
Reeve the Baker, Salisbury
Reeve the Baker is looking to uphold the "highest standards of hygiene" in its main bakery and shops to do everything it can to minimise risk. The sites are cleaned throughout each day and a new cleaning schedule has been implemented whereby surfaces are sanitised even more frequently, while staff are handling products using serving tongs, hygiene gloves or other packaging.
"As this situation evolves, we will do our very best to keep our bakery and shops running," Gary Reeve said in a statement on Twitter.
"Clearly, we may have to adapt, we may not be able to provide a full product range and we may be short-staffed in some shops. Please may we ask for your understanding and patience as we all try to navigate through these unprecedented and difficult times."
The Flour Pot Bakery, Brighton
The Flour Pot Bakery is mixing up the way it serves customers, as well as implementing additional regular sanitising and deep cleaning.
Customers who are eating in are asked to sanitise or wash their hands before taking a seat, while door handles, chair backs and tables are disinfected after each use.
"We are operating a 'hands-free' service option so that any customer with illness symptoms need only ask staff and we will serve them, so that they do not need to contact anything but their purchase. Our team are finding ways to adapt, so that we are maintaining the highest possible standards of hygiene and product quality," the bakery said on Instagram.
Customers can also use a click-and-collect option to order online bread, coffee, sandwiches, pastries or cakes and pick-up at their convenience.