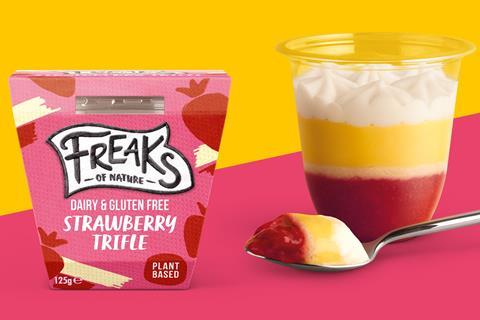 Freaks of Nature has launched a plant-based, gluten- and dairy-free trifle and crumble.
The new plant-based range comprises a Dairy & Gluten-Free Strawberry Trifle and Bramley Apple Crumble.
Its 125g plant-based trifle consists of a strawberry compote layered with gluten-free sponge and topped with vanilla custard and a dairy free cream alternative.
The 120g Bramley Apple Crumble twin-pack includes apple pieces finished with a gluten-free oat crumble.
"We are so excited to share these new sweet treats; they are going to give plant-based consumers more choice. In fact, we think they could be game-changers, no other brands are producing a really delicious plant-based layered fruit trifle or apple crumble," said Lucy Figg, marketing manager at Freaks of Nature.
Both desserts are egg-, gluten- and soya-free.
The puddings will join its new Dairy & Gluten-Free Chocolate Fudge Hot Pudding and Sticky Toffee Pudding twin-packs. Just like the Bramley Apple Crumble, the puddings come in a recyclable plastic, oven and microwave-proof pot.
"Despite the lockdown difficulties we have been forging ahead. We've invested £1m in capacity at our factory in Yorkshire so that we can expand our range of delicious desserts while being as eco-friendly as possible. The new sustainable packaging we've sourced reinforces our commitment to minimising our impact on the environment," added founder Peter Ahye.
Freaks of Nature has also unveiled low-calorie lemon mousses, which are currently on sale in Waitrose and set to be available in Tesco from 6 July.
The Dairy & Gluten-Free Strawberry Trifle is initially available in Asda from 20 July for an rsp of £1.50, while its Bramley Apple Crumble is available in Tesco and Asda this month for an rsp of £3.50.