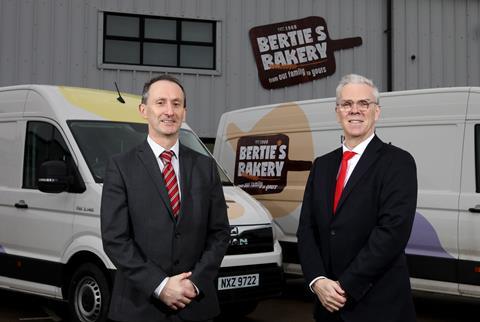 Bertie's Bakery has trebled the number of company-owned Spar stores it supplies in Northern Ireland to 30 in six months.
The business, which was established by former Genesis Crafty managing director Brian McErlain earlier this year, has also doubled its employee headcount to 20 and upped delivery vehicles from two to five.
"Henderson Retail signed up to be the company's first customer with an exclusive deal to supply 10 company-owned Spar stores and two company-owned EuroSpars," said McErlain.
"Today we are delivering to 30 company-owned Spar stores and a further 50 independently owned Spar stores located across Northern Ireland."
McErlain opened Bertie's despite the challenge of Covid-19 after realising it would have an important part to play in meeting the surge in demand for fresh food products.
The craft bakery, which operates from a 15,000 sq ft site just outside Magherafelt, produces freshly baked products, including bread, baps and rolls, morning goods, scones, cakes and other sweet treats. All are hand-crafted and hand finished, the company said.
Eamon Taggart, trading manager at the Henderson Group, said: "We are always looking to showcase fresh new products and we know our customers are passionate about supporting local suppliers, such as Bertie's Bakery. We look forward to continuing our partnership with Brian and his team and hope to grow the number of stores in the months ahead."
McErlain was previously managing director of Genesis Crafty, which was founded by his parents in 1968 and had originally been called McErlain's bakery. Genesis Crafty was sold in a pre-pack deal in 2018 to the boss of Tayto Group.
Earlier this year McErlain told British Baker that Bertie's Bakery has been funded through private equity and has capacity to become a £15m business.