In part two of our exploration of the kit to help bakers go with the flow of customer tastes, we look at how hot food on the go and packaged products are tapping into current consumer habits.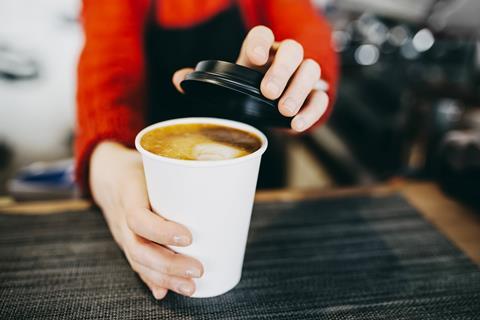 Hot to trot
Food-to-go businesses took a real battering from Covid-19 as the resultant lockdowns wiped out commuter traffic and high-street footfall overnight. But since restrictions were lifted and workplaces have reopened, a recovery has been gathering pace. While consumers are a long way off returning to pre-pandemic habits, hybrid working patterns are becoming commonplace, with employees splitting their working week between home and the office. This means that hot breakfast and lunch to go is on the menu once again.
The new normal might be quirky in terms of demand – Ole & Steen's UK managing director Lee Nixon recently spoke of a spike in sales on Wednesdays and Thursdays, apparently pointing to the most popular choices for employees' office days – but opportunities are certainly opening up.
According to Steve Hemsil, sales director UK & Ireland for Welbilt, a breakfast and lunch offer is an easy way for a small craft bakery to add on extra sales with minimal outlay. "Takeaway food and drink have become big news," he says. "Hot beverage on the way to work, lunch on the go or an afternoon pick-me-up is a routine for many. Speed, convenience and quality are key and at the touch of a button or touchscreen, anyone in the bakery team can deliver a barista quality latte and a perfectly heated toasted sandwich."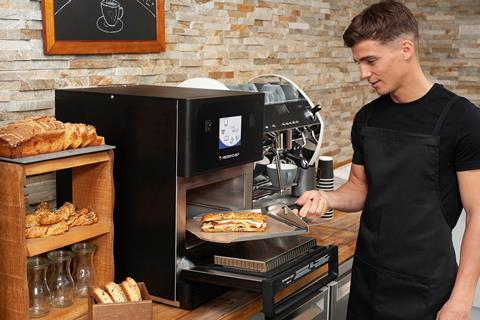 For a bakery looking to branch out into food takeaway, Hemsil's recommendation is the Merrychef Eikon E1S (pictured above), which he describes as a "stylish counter-top appliance designed to easily fit into small spaces". The oven features an icon-driven touchscreen and, according to Hemsil, it's easy to install and has ventless operation as standard, meaning no extraction hood is needed. "Cooking is up to ten times faster than a conventional oven and it's perfect for warming croissants, toasties and pies," he adds.
Richard Norman, national account manager for specification & projects at Jestic Foodservice Solutions, echoes Hemsil's observation that speed of service is the key for bakeries looking to grow their food-to-go offering. "Many operators are investing in high-speed front-of-house ovens to regen goods like scones and croissants in a matter of seconds," he says.
"Hot drinks are still big business and the addition of a coffee or tea machine will produce incremental profit"
Norman's pick is the XpressChef 3i, which also features a touchscreen with image-based menus. "It's proving particularly popular as it is available with 4,000 or 5,000 watts of power and harnesses a combination of three cooking technologies – impingement, convection and microwave – to make cooking a variety of foods on demand quick and easy, whether baking, toasting, grilling or steaming," he explains.
Of course, food is only half the story. "Hot drinks are still big business and the addition of a coffee or tea machine will produce incremental profit," says Hemsil of Welbilt. For a bakery looking to offer espresso-based coffees and other hot beverages alongside their bakes but also wanting to bypass the need for barista expertise, he recommends the Crem Spengler range. The PSL5014, for example, is a countertop or standalone machine with a 7in touchscreen that's especially easy to use, he says.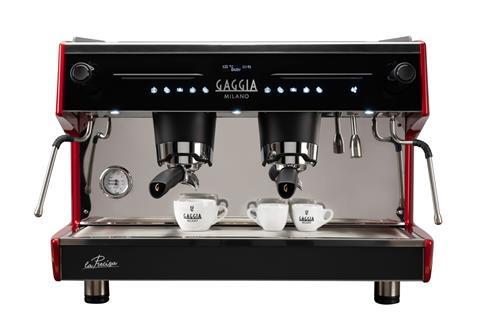 Also suitable for smaller bakeries with a limited headcount, the La Radiosa from Gaggia Milano is a compact machine that has the ability to grind coffee beans and employs EvoMilk technology, allowing users to set up various amounts, temperatures and densities of fresh milk. For a larger bakery, Craig Jukes, sales director for coffee machine supplier Evoca UK, says Gaggia Milano's La Decisa is a suitable medium-range option offering energy saving mode, simplified maintenance and streamlined operation. "Alternatively, the La Precisa (pictured above) would offer a bakery all the tools needed to operate a full coffee shop and brunch experience," Jukes adds.
The full package
If packaging isn't your bag, perhaps you should think again; there's a growing consumer demand for individually wrapped baked items.
"Small individually wrapped cakes, previously favoured by the French, are an emerging trend in the UK," observes Vicci Forward, application specialist patisserie at Puratos. "The madeleine is already very popular and, as a result of Covid-19 and consumer concern about hygiene, more individually wrapped cakes are expected to appear on the shelves."
Packaging equipment suppliers have also noted this trend. "One of the main factors influencing the bakery sector is a renewed focus on public health," says Steve Craddock, automation specialist at Ulma Packaging UK. "The focus on anti-contamination means preserving hygiene is a major consideration for the packaging of bakery products."
To preserve hygiene, manual handling must be kept to a minimum, says Craddock. "Therefore, when seeking solutions, the integration of handling, distribution and automation systems is key," he adds.
Vertical, drop-in packaging solutions are suitable for cakes, observes Craddock. "However," he adds, "the majority of our customers in the bakery sector opt for horizontal flow-wrapping machinery like our FT range, with models such as the Atlanta and Sienna, and the FM range for modified atmosphere packaging. These are compatible with pre-packaging and post-packaging line add-ons to ensure that adjustments can be made in terms of speed, products and material substrates."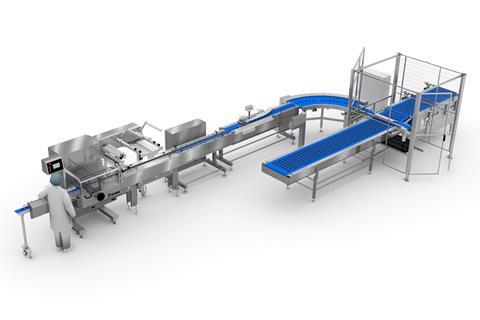 For those looking to dip their toe into automated packaging, at the end of last year Ulma launched a line with small and medium-sized bakeries in mind (pictured above). It features a receiving conveyor to automatically sort bakery products, as well as a drop-down transfer.
Mike Carrington, packaging specialist at Reiser, points out another good reason for bakeries to up their packaging game. "Recent logistics problems have highlighted the fragility of the 'just in time' supply chain model, pointing to a potential increased requirement for longer shelf life for products," he says. With that in mind, Carrington recommends the Variovac Thermoformer, which he says is especially suitable for producers of part-baked breads, tortillas, wraps, flatbreads, other unleavened breads or gluten-free items.
Marti Ahiskal, director at Cyprus Bakery, says his Variovac has been a "game changer" for the business. "The market for our fresh pitta bread changed due to the pandemic, with the need for fresh bread decreasing, and with the Variovac we were able to meet the demand for the long-life variation of our pitta bread," he explains.
Equipment to help bakers ride the waves of demand
1

2

Currently reading

Equipment to help bakers ride the waves of demand: part 2