Summer has arrived and brought with it loads of delectable treats to be enjoyed while the sun is shining.
And following jubilant Jubilee celebrations, the nation is ready to keep the good times rolling. Thankfully, bakers and retailers are happy to cater for summer picnics, barbecues and get togethers. So, which flavours and formats can we expect to see? And what trends do they represent?
"This summer, we'll be celebrating the best of British," believes Kirsty Matthews, insights and marketing manager at ingredients supplier Macphie. "We'll see classic British flavours and concepts take off and they'll be at the heart of celebrations as we look forward to an unrestricted summer."
This can take many forms from championing local, seasonal produce to sprucing up classics such as Victoria sponge cakes, scones, and shortbread and taking beloved flavours such as cherry Bakewell and strawberries & cream into new formats.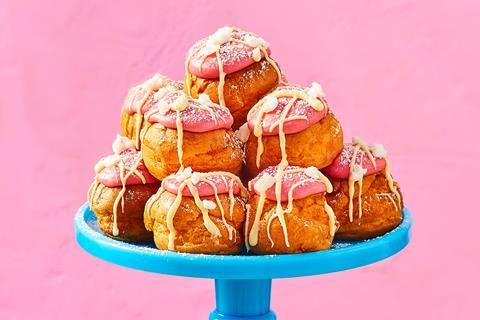 "Classic dessert flavours like strawberry trifle, rhubarb crumble, apple pie and Black Forest are popular and versatile flavours that can be used across different types of bakery products," notes Natalie Sheil, category manager at Synergy Flavours. She points to Sainsbury's Eton Mess Profiterole Stack, which features strawberry fondant, Belgian white chocolate and meringue, as one example.
This also taps into the trend for nostalgia – one which has continued to influence the bakery sector over the past few years. "Retro classics and traditional flavours are making a big come back," says Alison Ordonez, head of NPD at cake manufacturer BBF.
Ice cream, particularly the Neapolitan variety, has been utilised by several major retailers including Sainsbury's which has rolled out a Neapolitan Cheesecake and Mini Ice Cream Inspired Cupcakes. Asda, meanwhile, has also taken inspiration from it for a Neapolitan Celebration Cake which has madeira, chocolate and strawberry sponge layers covered in complementary flavoured frosting. It's topped with sprinkles, a cone decoration and chocolate frosting to look like a melted ice cream.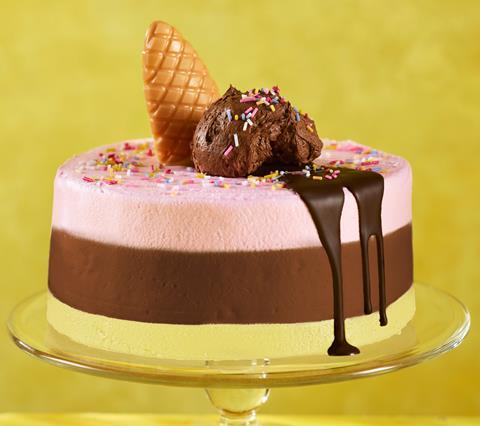 Going global
This doesn't mean British bakers aren't looking beyond their fair shores for inspiration though.
"New flavours, particularly those with an Asian influence and spices used traditionally in savoury products, are emerging in sweet bakery," says Jacqui Passmore, marketing manager at Dawn Foods UK and Ireland. "Influences include calamansi (citrus), kumquat and Japanese ones, such as yuzu and Sakura (cherry blossom). We are seeing big and bold fruit and spice combinations used in patisserie."
BBF's Ordonez points to the use of named-source citrus as another flavour trend on the rise in bakery (and already seen in other categories such as soft drinks and ice cream). As such, she expects Sicilian lemon and Brazilian orange to prove popular this summer.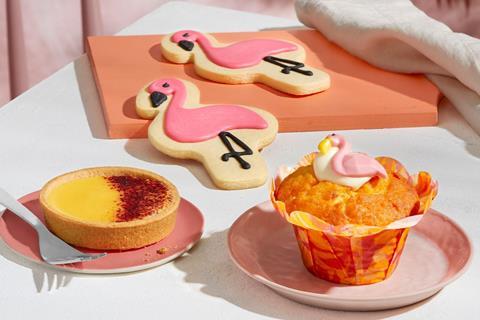 Tropical fruit flavours in general are also gaining traction in bakery with passionfruit and mango leading the way. Coffee shop Costa has embraced these for its Passionfruit Tart, which is filled with passionfruit ganache, and Tropical Muffin which sees a mango, passionfruit & white chocolate muffin filled with mango & passionfruit curd and topped with icing and a miniature flamingo. Sainsbury's also has a Tropical Tart which combines all-butter pastry with a layer of mango & passionfruit compote, topped with a coconut sponge stuffed with pineapple. Co-op, meanwhile, is serving up a Passionfruit & Lemon Roulade filled with passionfruit cream and lemon curd.
"Fruit-filled products, with bright, natural, colourful toppings will always appeal at this time of year and can really pop on a shelf, whilst also giving a seasonal hook for bakeries," adds John Want, sales, marketing, and R&D director at Rich's. "Bakery items that tap into the spirit of the summer, through exotic, fruity and fresh flavours and fillings will be heading into the baskets of shoppers this season."
Stand out creations
Cakes with a kick are also expected to prove popular as consumers look for flavours found in their favourite tipples in the bakery aisles. "Boozy cakes remain a strong trend within the cake category," says Daryl Newlands, marketing manager at Finsbury Food Group.
The cake manufacturer utilised its partnership with Diageo to create a Gordon's Premium Pink Gin Cake to tap into this as well as Divine Duo Cupcakes which are topped with gin-flavoured frosting. "We wanted to excite our consumers a with beautifully crafted Insta-worthy celebration gin cake to help make gatherings with both friends and family even more memorable," Newlands adds.
Social media is a worthwhile consideration when it comes to NPD development, particular in the cake realm. "Consumers are looking for unique creations to share on Instagram," adds Matthews from Macphie. "Tap into the trend by making sure your bakes stand out. Use bright and bold colour to make irresistible, Instagrammable treats that look almost too good to eat."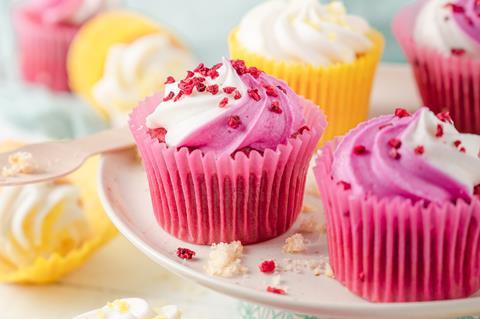 Mix and match
Another trend which continues to grow is hybrid baked goods.
"Hybrids remain big news in both flavour and format," adds Dawn Foods' Passmore, "often featuring indulgent chocolate flavours combined with fruit notes or luxury caramel flavours, such as salted caramel or golden blonde chocolate, and flavour of the moment, caramilk."
Dessert/cake/biscuit mash-ups such as lemon meringue muffins, caramelised biscuit layer cakes or cherry Bakewell Biscakes have also been seen in the market, she adds. While bigger players are tapping into the trend, Passmore notes that artisanal bakeries are driving the format with new iterations such as croffles (croissant and waffles), baissants (bagel and waffles) and scuffins (scone and muffin).
Cake manufacturers, notes Newlands from Finsbury, are also taking a hybrid approach by "using differing flavours and textural mash ups to bring new and exciting products to their consumers". One example of this, adds BBF's Ordonez, is the use of textured finishes such as a biscuit crumb as seen on Asda's Blueberry Cheesecake'd – a cheesecake/cake hybrid which features layers of vanilla sponge and blueberry jam all covered in blueberry cream cheese frosting and finished with a biscuit crumb and freeze-dried raspberries.
Picnics get posh
When it comes to the savoury side of summer, Synergy's Sheil believes much of the innovation will be focused on the classics such as sausage rolls, pork pies and other pastry products.
"Using premium ingredients and flavour cues, such as Tesco's Finest Smoked Bacon & Vintage Cheddar flavour rolls, suggests to consumers that they're getting a higher quality product that offers something different to the norm," she explains. Other examples on the market include Chorizo Pork Pies from Asda and Nduja Sausage Rolls from Co-op.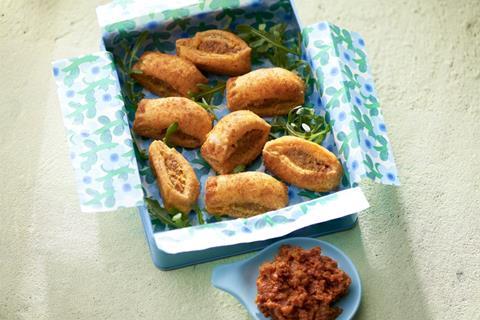 "There's likely to be more innovation in savoury patisserie products, like Waitrose's Cheese & Pickle Palmiers, as an alternative to products like cheese straws. Flavours like chipotle, sriracha, harissa and chargrilled/caramelised options will all be popular in these products," Sheil adds.
There's also innovation when it comes to bread rolls and alternatives. Sainsbury's has rolled out a Seeded Cheese and Herb Tear & Share loaf and Soft Milk Rolls alongside Oregano & Sumac Flatbreads and Peri Peri Flatbreads while Waitrose boosted its range with Truffle Brioche Buns.
ADVERTISEMENT: DAWN FOODS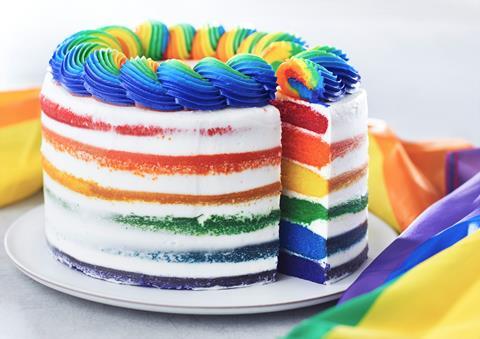 Recipe: Rainbow Layer Cake
Ingredients
1000g – Dawn Golden Genoese Cake Base
400g – Water (1)
100g – Vegetable Oil
150g – Water (2)
As needed – Dawn® Vanilla Frosting
As needed – food colouring (red, orange, yellow, green, blue, purple)
Directions
Preparation
Add the Dawn Genoese Cake Base, water (1) and vegetable oil to a mixing bowl fitted with a beater.
Mix for 1 minute on slow speed and then 3-4 minutes on medium speed.
On slow speed, add water (2). Then, scrape down and mix for a further 1 minute on slow speed.
Divide equally amongst six bowls. Add food colouring as desired to each bowl, ensuring you have six different coloured batters.
Deposit the batters into prepared 8" round tins.
Baking
Bake in a deck oven at 180ºC for approximately 25-28 minutes.
When you remove the cakes from the oven, invert the pans to help flatten their tops.
Remove from the tins after 10 minutes and turn the sponges the correct way up.
Allow them to cool thoroughly.
Finish
Place Dawn Vanilla Frosting into six separate bowls and make into rainbow colours with the help of food colouring.
Place a cooled purple sponge onto a cake board and top with the white non-coloured Dawn Vanilla Frosting.
Place the blue sponge onto the frosting and again top with more frosting.
Repeat the above process for the green, yellow, orange and red layers.
Coat the whole cake with a thin layer of Dawn Vanilla Frosting (non-coloured version) and scrape the sides so that the coloured layers peek out from under the frosting.
Place the six coloured frostings in a piping bag and pipe a swirl of the rainbow frosting around the top edge of the cake.
Summer bakery ranges 2022
1

2

Currently reading

Summer bakery trends: flavours and formats making waves in 2022

3

4

5

6