Pret, Costa and Waitrose are among the companies to reveal their Christmas sandwich line-ups.
There are gravy-soaked offerings, turkey galore and an abundance of vegan-friendly sarnies as nearly every coffee shop, retailer and food-to-go outlet looks to cater to meat- and dairy-free consumers.
For those who do eat meat, festive favourites pigs in blankets feature frequently across ranges.
With government restrictions in place, many outlets are offering Christmas sandwiches via delivery partners, such as Uber Eats and Deliveroo, click & collect and takeaway.
Here's what the nation's retailers, coffee shops and bakers have in-store for festive sandwiches: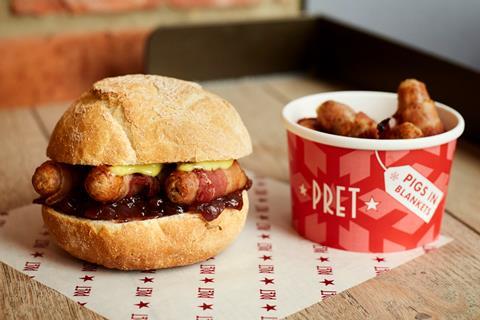 Pret a Manger
Pret is embracing the festive favourite pigs in blanket for its newest Christmas sandwich – a Pigs in Blanket Hot Crusty Roll. It sees Lincolnshire sausages wrapped in streaky bacon with a layer of caramelised onion chutney and a dab of mustard mayonnaise.
It forms part of Pret's new Christmas hot food range, which also includes the Vegan Christmas Lunch Hot Roll filled with port & orange cranberry sauce topped with shredded oyster mushrooms, sage & pumpkin seed stuffing and crispy onions, finished with vegan sage mayo.
These fillings can also be found, along with baby spinach, in the Vegan Christmas Lunch Baguette.
For those craving something more traditional, Pret has brought back its Christmas Lunch sandwich with thick slices of British turkey, port & orange cranberry sauce, herby pork stuffing and baby spinach finished with free range mayo and crispy onions. There's also the Vegan Christmas Nut Roast sandwich which is stuffed with roasted butternut squash, rocket and Christmas pesto made with pine nuts, chestnuts, pumpkin seeds, sunflower seeds, parsley & rosemary.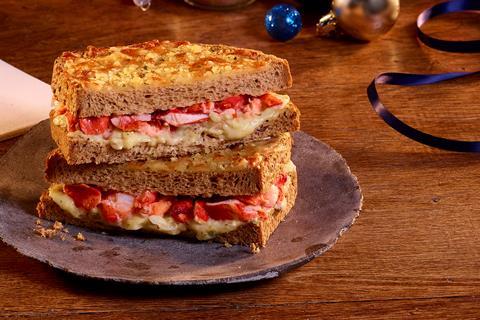 Costa
Costa is aiming to offer its customers a spot of luxury this Christmas with its new Lobster Toastie. It features responsibly sourced lobster, béchamel sauce and a selection of cheeses all enclosed in a parsley crumb topped with seeded malted bloomer bread.
Also joining the toastie line-up is the Vegan Turkee, Cranberry & Stuffing Bloomer Toastie with vegan turkee, sage & onion stuffing, cranberry sauce and fresh spinach.
Costa's traditional festive sandwiches are also available. There's the British Turkey & The Trimmings Toastie – with cheese-topped bread, British turkey breast, British maple-cured bacon, sage & onion stuffing and cranberry sauce – and the Brie, Maple Bacon & Cranberry Stonebaked Panini.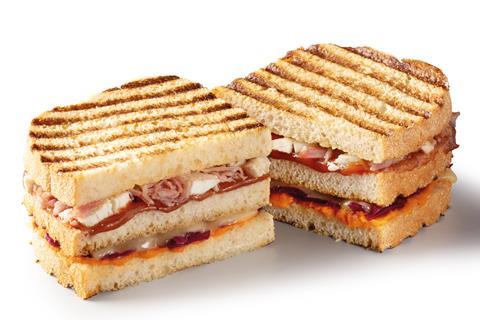 Starbucks
The inspiration for Starbucks' new Christmas sandwich comes from TV show Friends. Named The One with the Gravy Layer Sandwich (£4.59), it has a top layer of pulled ham hock and turkey, a bottom layer of butternut crush, red cabbage and cheddar cheese. In the middle, lies a moist slice of sourdough steeped in turkey & cranberry gravy.
Returning to its menu are the Tis the Season Turkey Sandwich, which features pulled turkey with chestnut, sage & onion stuffing and cranberry sauce on malted bread (£3.99) and the Very Merry Vegan Wrap. The latter sees a beetroot wrap filled with crumbled butternut squash fritters and roasted red cabbage with a vegan mustard mayonnaise (£2.99).
Caffè Nero
Caffè Nero is keeping things classic with its festive lunch offering. Its range includes a Turkey Feast Panini (£4.55) which has British butter-basted turkey with beechwood smoked bacon, pork and apricot stuffing and cranberry sauce in a sourdough stone baked panini.
There's also the Brie, Bacon & Cranberry Panini (£4.55) which has British beechwood smoked bacon with brie and cranberry sauce in it.
Slightly more unusual is the Pigs in Blankets Tostati (£4.35). The cheese, cranberry and rosemary-topped toastie is filled with British sausages, smoked bacon, mascarpone and cranberry sauce.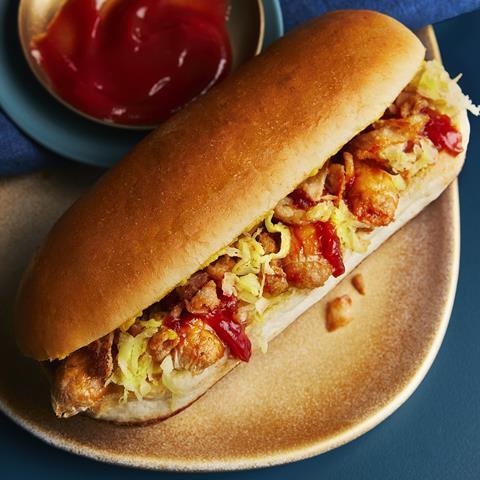 Waitrose
Waitrose has taken inspiration from German Christmas markets for its headline festive sandwich. The Christmas Curry Bangers & Brioche (£3.30) is inspired by currywurst – a firm favourite at Christmas markets. The brioche bap is filled with smoked pork sausage, curry ketchup, sauerkraut, mayonnaise and American-style mustard with fried onions.
The retailer has made bold decisions with its Festive Chicken Feast (£3.30) by opting for chicken over turkey and including Brussels sprouts. The sandwich, which has potato & parsnip bread, also features savoy cabbage, pickled onion relish and rocket with a turkey stock mayonnaise.
It has gluten-free option for turkey fans comes in the form of its Christmas Gluten Free Turkey, Stuffing, Bacon Sandwich with sliced turkey breast, pork & chestnut stuffing, cranberry & redcurrant chutney, smoked bacon and turkey stock mayonnaise on gluten-free seeded bread.
For vegans, there's the Roasted Roots Wrap with Carrot & Parsnip Falafel (£3.30) which showcases seasonal winter root vegetables with lightly spiced braised cabbage in a spinach tortilla.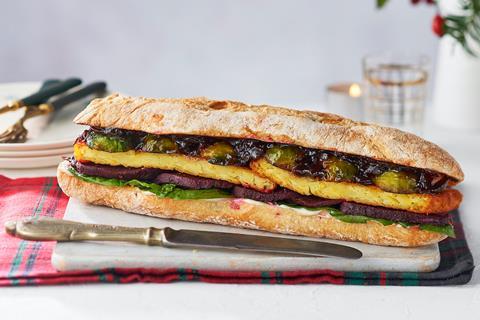 Paul UK
Paul has two new additions to its festive menu in the form of the Vegan Sprout Sandwich (£4.45) and the Festive Fromage Sandwich (£4.30). The vegan option is described as a 'delicious twist on a vegan roast dinner' complete with Brussels sprouts, spinach, sliced beetroot with balsamic vinegar and thyme, a potato rösti, vegan mayo and sweet onion marmalade served in a white baguette.
The festive fromage, meanwhile, combines camembert, cherry tomato chutney and Batavia lettuce nestled in a sesame baguette.
And, returning for another year, is The Dinde de Noël (£4.75) – Paul's take on the humble turkey sandwich. The sage, onion & cranberry baguette is filled with sliced turkey, smoky bacon and spinach topped with a cream cheese and horseradish sauce.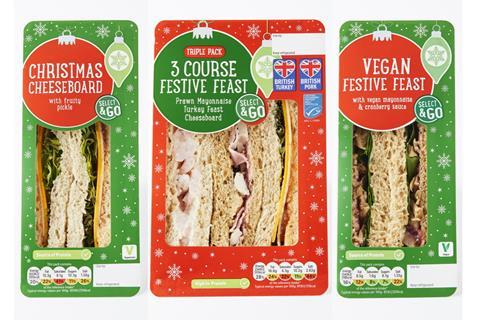 Lidl
Lidl is taking its Christmas sandwich experience beyond turkey by offering consumers a Three-Course Festive Feast (£1.99). Its triple-pack sandwich starts with the '70s-inspired prawn cocktail sandwich, offers a turkey feast – with turkey, stuffing, bacon and cranberry sauce – for main and rounds things off with a savoury Christmas Cheeseboard with fruit pickle.
The Turkey Feast (£1.69) and Christmas Cheeseboard (£1.59) are both available to purchase separately, as well, alongside the Vegan Feast Sandwich (£1.69) which Lidl said features all the elements of a festive feast, but entirely vegan.
For those who prefer a wrap to a sandwich, Lidl also has the Turkey and all the Trimmings Wrap (£1.89), which is filled with British turkey, British pork stuffing and spinach.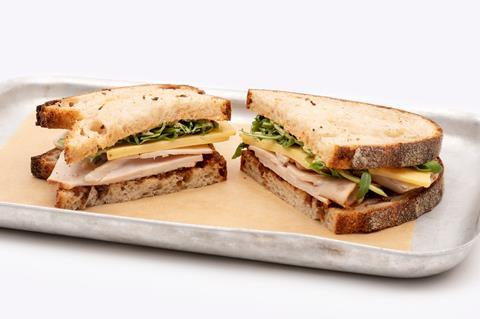 Gail's Bakery
Part of the bakery's Waste Not campaign, the Wasteless Christmas Sandwich (£5.50) sees two slices of malted wholegrain sourdough filled with smoked turkey, Mayfield Swiss cheese, chipotle aioli and bacon jam.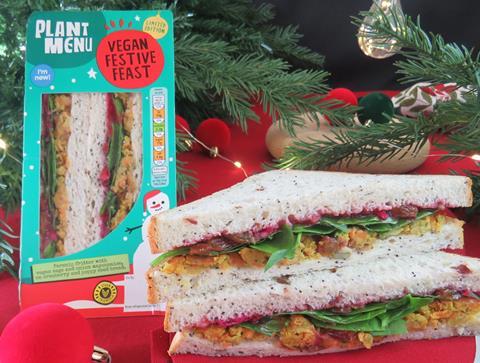 Aldi
Aldi said it wants to make lunches merry and bright in the run up to Christmas with its festive food to go range. Five products are returning, and a vegan sandwich has been introduced for 2020.
The Plant Menu Vegan Feast Sandwich (£1.69) sees parsnip fritters with shredded apple, crispy sliced cabbage and sultanas sandwiched between cranberry & poppy seed bread slices, along with crispy fried onions, spinach leaves and cranberry chutney.
Among the returning items is the Hog Roast Sandwich (£1.79) filled with pulled pork, sage & onion stuffing, apple sauce, seasoned mayonnaise and fried onions, and the Specially Selected Turkey with Pigs Under Blankets (£2.29). Described as a 'symphony of flavours', it has butter-basted turkey, smoked bacon and Lincolnshire sausages topped with festive spiced pork, sage & onion stuffing with a layer of cranberry & port sauce.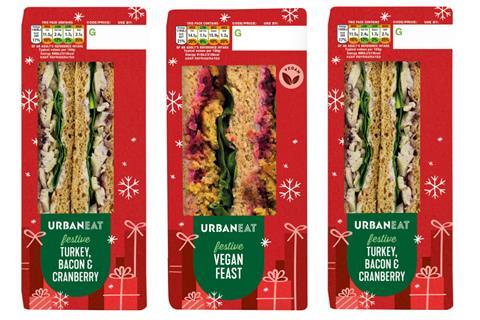 Urban Eat
Urban Eat, which was recently bought by Ginsters owner Samworth Brothers, has brought back three festive favourites for the run-up to the big day.
There's the classic Turkey, Bacon & Cranberry sandwich on malted bread and the meat-free Vegan Feast on malted bread with falafel, braised red cabbage, cranberry chutney and spinach.
Rounding off the trio is the Pigs Under Blankets Panini – a ciabatta with pork sausage, cranberry chutney and bacon in it, designed to be served hot.
To see what the UK's biggest retailers and brands have planned for their wider Christmas ranges, click the links below: