Co-op's Christmas range for 2020 can be summed up as traditional with a twist.
There's festive crumble, a premium pork pie, sponge puddings and variations on Christmas classics such as mince pies.
The convenience retailer has also gone big on inclusion, rolling out several gluten-free and vegan options across its starters, mains, desserts and food to go ranges.
Here are some of the standout products from the range: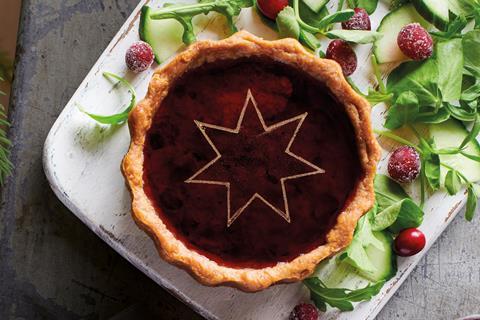 Cranberry & Port Flooded Pork Pie
Co-op has upped its game when it comes to pork pies this Christmas, rolling this iteration out as part of its Irresistible range. The hand-finished 440g pork pie, priced at £4, finished cuts of British pork with herbs and spices in a hot water crust pastry. The top is flooded with a cranberry & port jelly, finished with a star motif for added festivity.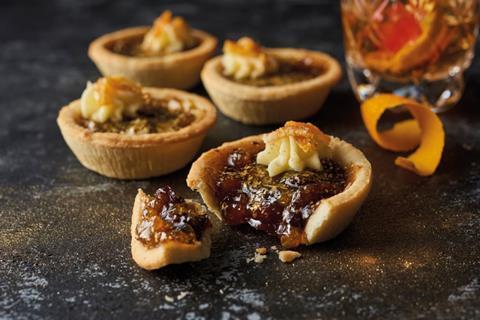 Old Fashioned Clementine Buttercream Mince Pies
Co-op is looking to elevate the humble mince pie for the 2020 festive season by combining it with an Old Fashioned cocktail. All butter pastry cases are filled with Bourbon mincemeat and bitter orange, before being finished with a clementine buttercream, caramelised orange strands and gold lustre. A pack of four costs £2.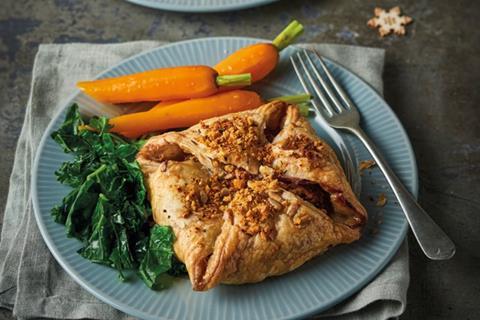 Gro Root Veg En Croute
Co-op's answer to a vegan main course this Christmas is the Gro Root Veg En Croute. Priced at £4, the dish sees root veg encased in a vegan puff pastry with orange zest and cranberry sauce. For something on the side, it is also rolling out Gro Vegan Pigs in Blankets in which vegan cocktail sausages are wrapped in puff pastry with a smoked paprika and parsley sprinkle on top.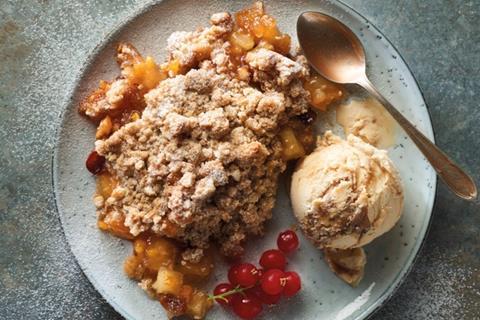 Festive Crumble
Crumble just got Christmassy. Co-op has taken Bramley apples and mixed it with a mincemeat compote and warming mixed spices for the base, which is topped with an all butter, spiced crumble. It costs £4 for 500g.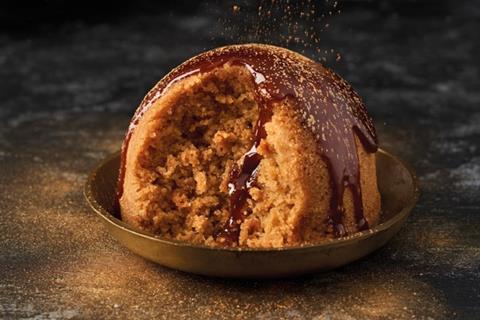 Free From Irresistible Burnt Caramel Sponge
Another example of Co-op's commitment to serving free-from customers this Christmas is this dessert. Served hot, it features what Co-op describes as a deliciously moist fudge sponge pudding smothered in a smooth burnt butter caramel sauce and gold shimmer.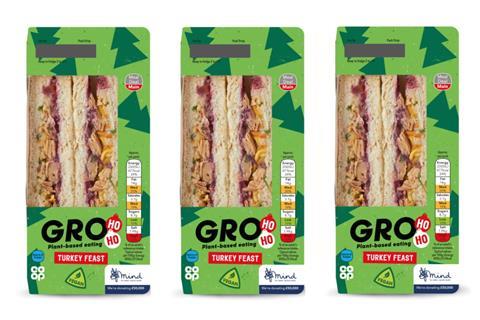 Gro Vegan No Turkey Lunch
Tapping into demand for meat- and dairy-free Christmas sandwiches is the Gro Vegan No Turkey Lunch. It features sage & onion bread filled with flavoured soya protein with vegan bread sauce, roasted carrot and parsnip, cranberry sauce, sage & onion stuffing and vegan mayonnaise for £3.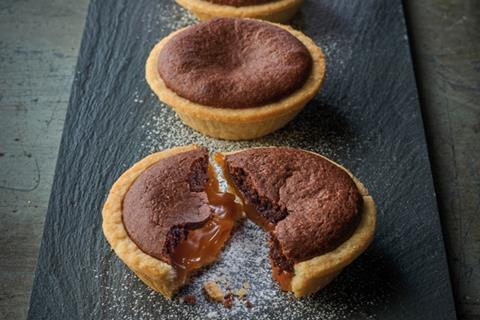 Brownie Biscuit Tarts
Brownies meet pastry in Co-op's latest hybrid bake. The tarts see shortcrust pastry filled with caramel sauce and, forgoing the pastry lid, are topped with a chocolate brownie. They're priced at £1.25 for a pack of four, or £2 for two packs.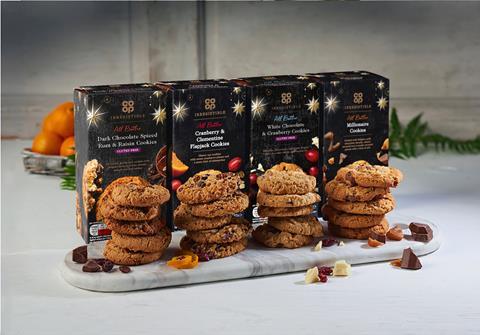 Christmas Cookies
Co-op's cookie line-up has been given a festive twist. The Irresistible range includes Cranberry & Clementine Cookies, oat cookies with cranberry pieces and a hint of clementine, and Millionaire's Cookies, packed with Belgian milk chocolate chunks as well as chewy and crunchy caramel with a hint of salt. Both cost £2 for a 200g pack. There are free-from variants as well, including the Free From Dark Chocolate, Spiced Rum & Raisin Cookies, priced at £1.59 for 150g. The gluten-free cookies have Belgian dark chocolate chunks in them, as well as spiced rum and raisins.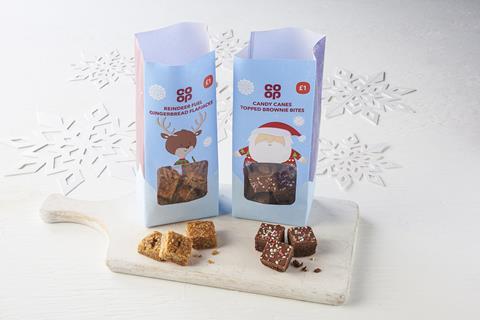 Candy Cane Brownie Bites
To spruce up its £1 bakery grab bags, Co-op has topped its chocolate brownie bites with sugar sprinkles. Reindeer Fuel Gingerbread Flapjacks, made with oats, golden syrup, butter and ginger fudge pieces, are also available as part of the range. Both come in Christmas-themed packaging.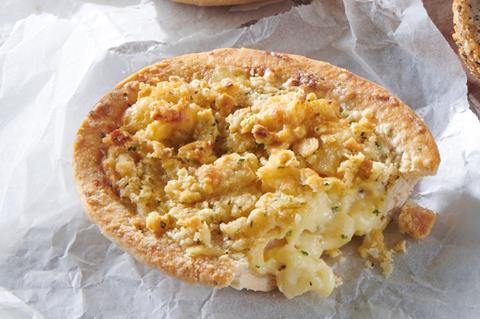 Cauliflower Cheese Pie
The Cauliflower Cheese Pie, priced at £2, is available as part of the retailer's food to go range. It has a shortcrust pastry base filled with cauliflower in a creamy cheese sauce, topped with a cheese crumb.
To see what other retailers have planned for Christmas 2020, click the links below: