Bakers have gone big on special edition pies, loaded sweet treats, and hampers as they gear up to help the nation celebrate Father's Day 2021.
Even M&S' iconic Colin the Caterpillar has been given a hero makeover for the occasion, which falls on Sunday 20 June 2020.
Here, we look at the bakery products available for dads and father figures this year: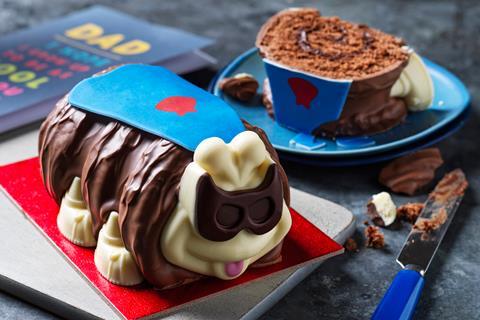 Marks & Spencer
M&S' iconic Colin the Caterpillar has been given a superhero makeover. The giftable 'half size' cake features the usual chocolate sponge, milk chocolate, chocolate buttercream and Colin's white chocolate face complete with an edible superhero mask and cape. He costs £5.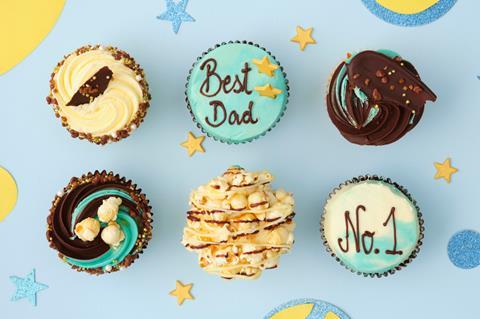 Lola's Cupcakes
Lola's Cupcakes has oodles of options for Father's Day 2021 from cupcakes to hampers and even brownies. The Deluxe Hamper, priced at £64.99, features a loaf of fresh sourdough bread, red onion chutney, grapes and Black Bomber cheese, alongside Belgian chocolate brownies, chocolate muffins and a lemon loaf as well as two cans of beer. Its cupcake offering for the occasion, meanwhile, comprises a box of vanilla and chocolate treats decorated with blue buttercream, a sprinkling of popping candy, dark chocolate shards and popcorn for £21.40 per box of six.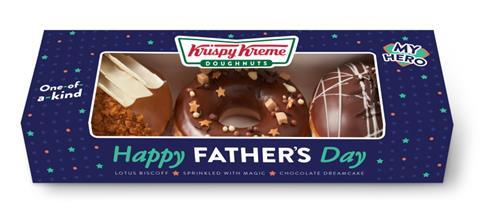 Krispy Kreme
Dough-not forget Father's Day this year. Krispy Kreme are launching a limited-edition gift pack for the occasion. Featuring bespoke packaging, the box contains the popular favourites in the form of Lotus Biscoff, Chocolate Dreamcake, and a limited-edition Sprinkled with Magic doughnut which is dipped in chocolate and topped with a zillionaire mix. The gift pack is priced at £6 and is available from its stores, and selected Tesco kiosks, on 19 and 20 June.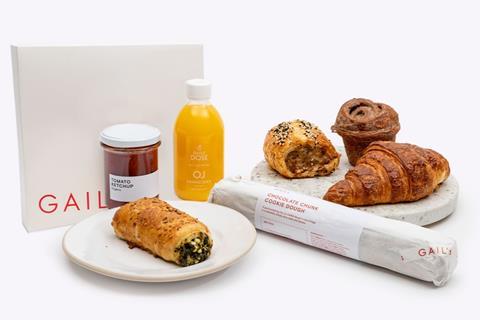 Gail's Bakery
Gail's Bakery has created a one-off hamper for Father's Day featuring some of its bestselling sweet and savoury treats. There's a sausage roll, spinach roll, ketchup, croissant, cinnamon bun and cookie dough plus a litre of orange juice to wash it all down with. Each hamper costs £30.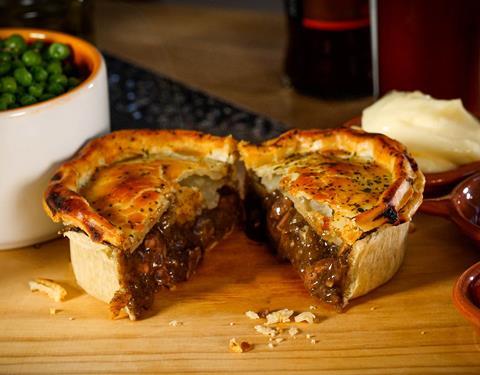 Yorkshire Handmade Pies
It might be cliché to assume that dads love pies, but Yorkshire Handmade Pies is embracing it with a limited-edition savoury treat. Inspired by 'football terraces and reminiscing about time spent outdoors with your dad', the pies feature Yorkshire beef, fresh vegetables, herbs, potatoes and gravy in a shortcrust pastry all topped with a rough puff lid. The pies costs £22.50 for a pack of six.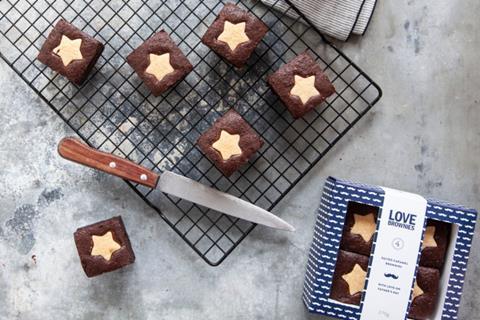 Love Brownies
Tell your dad he's a superstar with these salted caramel brownies from Love Brownies. Each handmade treat sees Belgian dark chocolate mixed with milk chocolate, creamy caramel fudge pieces and sea-salted caramel all topped with a shortbread star. The boxes come in three sizes – four brownies (£16), eight brownies (£25) and 16 brownies (£40).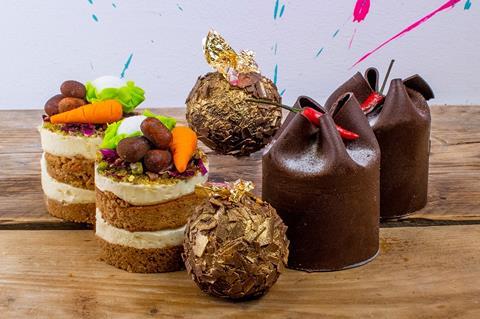 Pleesecakes
Cheesecake brand Pleesecakes has put some innovative twists on classic formats and flavours for the occasion. Its Father's Day Bundle, priced at £36, features a Chocolate Scotch Egg – a Cadbury's Crème Egg surrounded by chocolate cheesecake brownie; Chocolate Chilli – a baked cheesecake with a hint of spice; and Dad's Allotment – a carrot cake with chocolate decoration.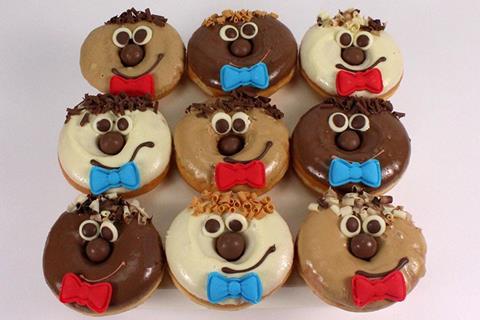 Bradfords Bakers
For the dads with a sweet tooth, Bradfords is offering up Cool Dude Doughnuts. Sold in boxes of nine for £15.90, the doughnuts are dipped in either milk, white or caramel chocolate and topped with edible faces made from chocolates and fondant. To finish the look, the doughnut faces are decorated with different hairstyles and multicoloured edible bowties.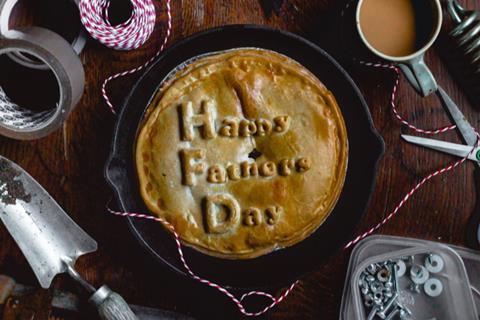 Chunk of Devon
Say Hap-pie Father's Day with a limited-edition pie from Chunk of Devon. Encrusted with a pastry message, the pie is available in steak & ale, chicken, leek & bacon or vegetarian and comes as part of a Father's Day meal pack which costs £25. It also features an apple pie, homity pie and sausage roll.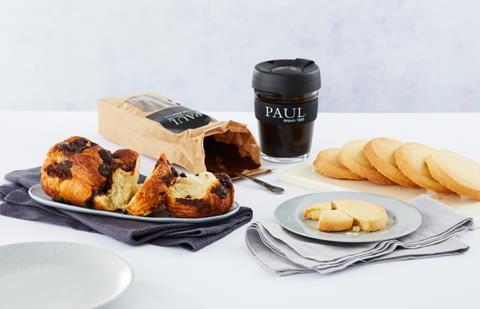 Paul UK
Paul UK is looking to help dads start their morning off right with its Father's Day Favourites Box, priced at £29.95. The hamper of goodies includes a selection of Paul's signature products including a classic chocolate croissant loaf, six shortbread biscuits and a 250g bag of luxury ground coffee.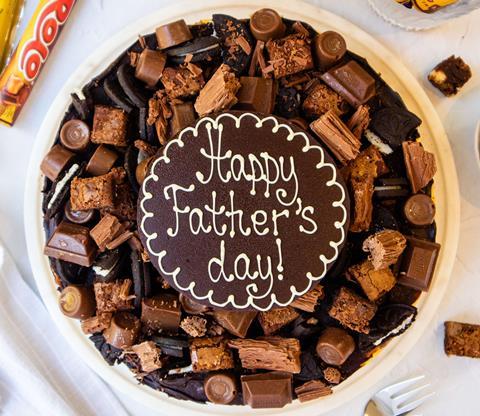 The English Cheesecake Company
Serve up a slice of indulgence with The English Cheesecake Company's 9in Baked Vanilla Chocolate Overload Cheesecake. It features a layer of dark chocolate fudge and is piled high with brownie chunks, cookies & cream biscuits, Yorkie chunks, Cadbury flake and Rolos. The cheesecake can also be personalised with a chocolate disc. It costs £45, serves 14 and arrives frozen.