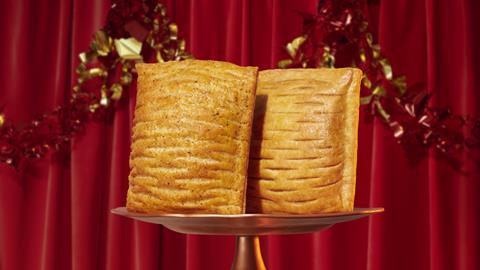 Greggs is rolling out a vegan version of its renowned Festive Bake ahead of Christmas this year.
Due to go on sale across the Greggs UK estate on 4 November alongside the original version, the vegan bake is filled with Quorn mycoprotein pieces, sage & onion stuffing, and a vegan bacon crumb, finished with a sage & cranberry sauce encased in puff pastry.
The original, meanwhile, is filled with pieces of chicken, sage & onion stuffing and sweetcure bacon, in a creamy sage & cranberry sauce and encased in crumb-topped pastry. Both have an rsp of £1.60.
Both will be available to buy in store or can be ordered for Click & Collect via the Greggs' website or Greggs App as well as for delivery via Just Eat.
"The Festive Bake is the latest iconic Greggs Bake to receive a vegan-friendly makeover, and it retains all the classic Christmassy flavours of the original," said Hannah Squirrell, customer director at Greggs. "There's nothing better over the festive season than tucking into delicious Christmas food, and we're confident that customers will love our latest tasty bakes."
The latest addition follows in the footsteps of other Greggs savoury pastries which have had vegan-friendly versions rolled out, including the Vegan Sausage Roll which made its debut in 2019, followed by the Vegan Steak Bake and recently the Vegan Sausage, Bean & Cheeze Melt.
Looking at further diversification of its range and business model, Greggs has recently announced its intentions to explore the 'significant opportunity' presented by the evening daypart as it looks to replicate its success beyond traditional trading hours.
It is also seeking to grow its UK estate, which currently sits around 2,146, to at least 3,000 with an increase of 150 per year from 2022. Looking further ahead, CEO Roger Whiteside recently said he didn't know what the final number of shops – also known as 'peak Greggs' – would be.