Waitrose has gone big on picnic fare with a twist as part of its Scrumptious Summer range for 2021.
Pork pies, cheesecakes, sausage rolls and eclairs are among the items getting zhushed up for the season.
"At Waitrose, we anticipate this year will be a fantastic year for sales of our Scrumptious Summer range, with demand for picnic and barbecue food set to rise in the months ahead as the nation gets set to soak up the sunshine and enjoy a summer of sport and socialising," said Beth Elliot, brand manager for Scrumptious Summer brand at Waitrose.
Here, we look at some of the new sweet and savoury lines being rolled out: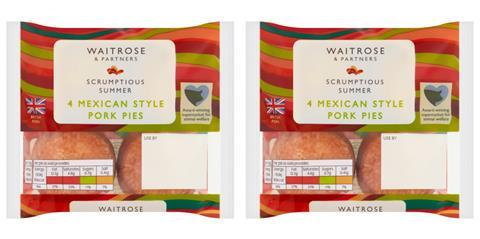 Mexican Style Pork Pies
This beloved British snack has been spiced up for summer. The Mexican Style Pork Pies, sold in packs of four for £2, feature cured pork with sweet sundried tomato paste, paprika, and cumin encased in a Cheddar crust pastry.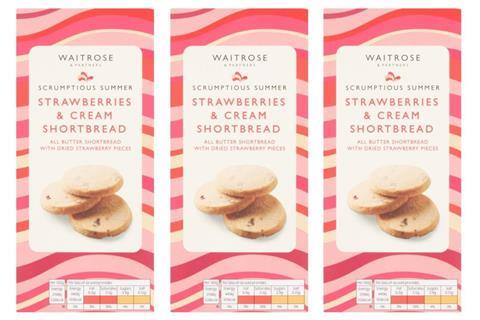 Strawberries & Cream Shortbread
Shortbread has also been given a fruity twist for summer 2021 as Waitrose unveils two new variants. The first is the Wimbledon-inspired Strawberries & Cream complete with sweetened dried strawberry pieces. The second is a Lemon & Lime version which features candied lemon peel as well as lemon and lime oil.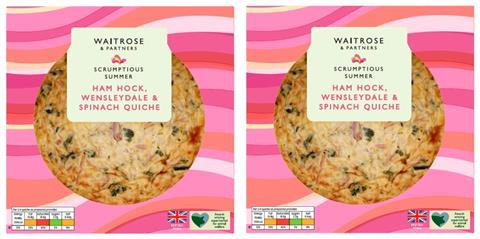 Wensleydale & Ham Hock Quiche
Waitrose has gone big on quiches for summer with meaty, vegetarian, and even crustless variants available. The Wensleydale & Ham Hock Quiche also features spinach with free range egg and double cream in a shortcrust pastry case alongside the headline ingredients. Other quiches on the menu include courgette & feta, minted pea & bacon, Mediterranean style vegetable and cheese, pickle & tomato.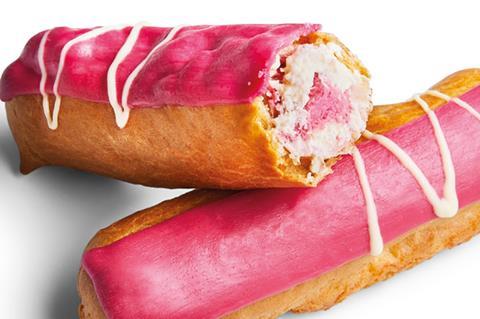 Raspberry Ripple Eclairs
Embracing nostalgia with zingy flavours are the retailer's Raspberry Ripple Eclairs. Sold in packs of two for £1.90, the eclairs take choux pastry and fill them with raspberry crème pâtissière. Then, they're topped with raspberry fondant and a white chocolate decoration.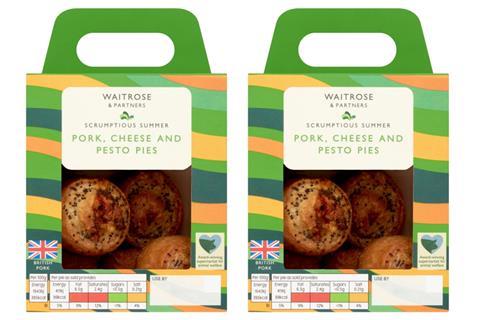 Pork, Cheese & Pesto Pies
This herby take on pork pies sees hot water crust pastry filled with seasoned cured pork with Davidstow cheese and pesto. They are sold at £2.50 per pack.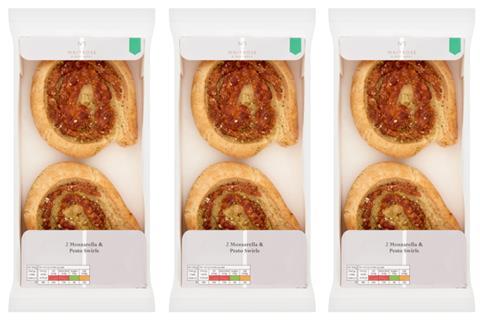 Mozzarella & Pesto Swirls
Part of Waitrose's No.1 range, these swirls see a soft cheese and pesto filling with a mozzarella layer all wrapped in a lactic butter puff pastry, before being topped with a parsley crumb. The swirls cost £3 and are sold in packs of two.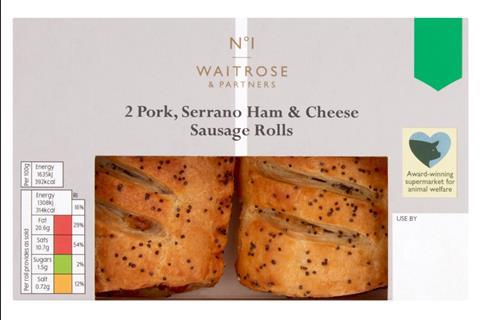 Pork, Serrano Ham & Cheese Sausage Rolls
Waitrose has sought to elevate the humble sausage roll as part of NPD for its own label No.1 range. This iteration has seasoned pork, serrano ham and cheese wrapped in puff pastry topped with poppy seeds. The sausage rolls cost £2.75 for a two pack.
New bakery products revealed for summer 2021
1

2

3

4

Currently reading

Waitrose puts twists on picnic favourites for summer 2021

5

6

7