Summer brings hope, vibrancy and inspiration – more so this year as 19 July looms as the promised date for freedom.
Bakers are certainly feeling the summer vibes as they unveil brightly coloured, fruity flavoured sweet treats for the season as well as pastry-wrapped savouries destined for the nation's picnic blankets. So, what form are these delights taking? And what trends do they represent?
"There will be a sense of celebration in the air and people will be looking for the comfort of indulgence and familiar flavours," believes Matthew Grenter, sales manager for Brioche Pasquier. "Traditional summer fruits such as strawberries and raspberries will lead the way, with zesty citrus flavours like lemon and lime also being in favour."
Exotic fruits, such as guava, pomegranate and passion fruit could also make a splash. Co-op is leading the charge with its fruity cheesecakes. The cheesecake slices come in Black Forest and raspberry & passion fruit variants. The latter sees a British cream and Madagascan vanilla cheesecake hand finished with the fruity sauce.
Sainsbury's is also tapping into this trend with a new white chocolate & raspberry cheesecake as well as a Coconut & Passion Fruit Cake topped with passion fruit buttercream.
Closer to home, Hallam Wood, head of grocery at Peter's Yard, thinks Brexit means there'll be a greater focus on British fare – think strawberries and cream and scones.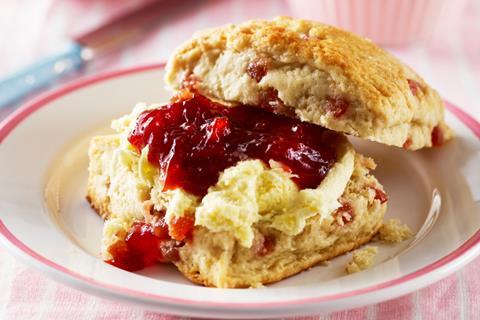 Asda has embraced all three with its Extra Special Clotted Cream & Strawberry Scones. The NPD sees an all butter scone enriched with clotted cream and strawberry pieces. Country Choice, meanwhile, has gone for fruit with a dose of nostalgia for its sweet shop themed doughnuts which include Lemon Sherbet and Rhubarb & Custard variants.
Liz Gabriel, bakery specialist at flavouring manufacturer ITS, believes that while standard fruit flavours will reign supreme, there's plenty of potential for experimentation.
"Citrus is a flavour category that has never really been used to its full potential in bakery," she notes. "Lemon is so popular, yet many other citrus flavours are so underutilised. Blood orange and pink grapefruit are two which have plenty of room for development."
These flavour profiles have numerous advantages, according to Jacqui Passmore, marketing manager at Dawn Foods UK and Ireland, most notably their associations with health. "Consumers are more cautious about their health and wellbeing because of the pandemic and after months of being cooped up at home, many will want to embrace a healthier lifestyle," she says. "The flavours of real fruit with immunity-boosting qualities and, due to concerns about processed sugar, those with a less sweet taste profile, such as blueberries or citrus fruits, will be seen in bakery NPD."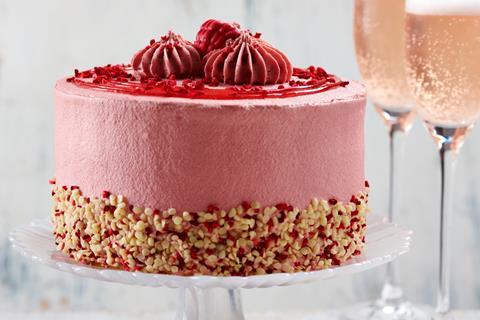 There will always be those that want deeply indulgent treats though, and the nation's bakers and retailers are more than happy to accommodate.
"It's clear that consumers want luxurious products that are 'worth the calories'," says John Want, sales, marketing and R&D director at Rich's. "This will influence the type of flavours we see emerging and ensure that the more decadent treats are the ones that appeal to shoppers."
Asda, for one, is going for all-out indulgence with its Caramelised Biscuit Cake which is topped with vanilla frosting, caramel frosting rosettes, caramel sauce and a speculoos biscuit crumb. Its Ruby Chocolate & Raspberry Cake also taps on-trend flavours with summer colours thanks to its pink frosting, raspberry jam, freeze dried raspberry pieces and white chocolate microdots.
Co-op, meanwhile, sought indulgence with a twist in the form of Salted Caramel Profiteroles. Part of its Irresistible range, the profiteroles are filled with Belgian chocolate mousse and drizzled with a salted caramel sauce before being hand finished with cocoa nibs.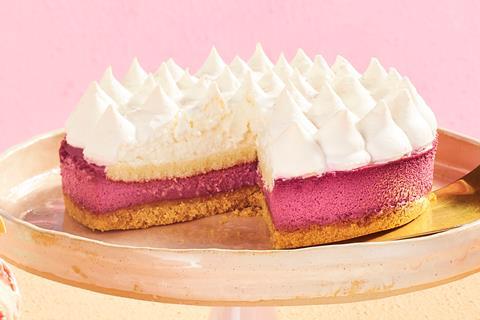 There is also continued interest in nostalgic flavours as Brioche Pasquier's Grenter believes "meringue will have a moment" for those looking to create contemporary forms of traditional desserts like Eton mess, roulade and pavlova. Sainsbury's has jumped on this bandwagon with a Summer Berry Layered Dessert which has a biscuit base, topped with a summer berry cheesecake and meringue. As has foodservice brand Country Range which rolled out a Lime & Meringue Pie for its new dessert line-up.
Elsewhere, Grenter believes patisserie will "fit the bill perfectly" for summer – an area many retailers have given thought to. M&S, for example, has recently added a sharing-sized éclair to its Best Ever range, while Waitrose is keeping things fruity with a raspberry ripple variant. Supplier Bakkavor, meanwhile, rolled out a trio of eclairs under its Delicious Dessert Company brand, including strawberries & cream and sticky toffee ones.
Of course, summer isn't all about sweet treats as picnics and barbecues play a big role.
The humble burger bun is one such item being zhooshed up, with Sainsbury's adding Bagel Style Rolls, Brioche Hot Dog Rolls and Sesame Topped Milk Burger Buns to its line-up. Asda has rolled out Naan Wraps with the flexibility of tortillas and the flavour, texture and look of naan loaded with kalonji seeds.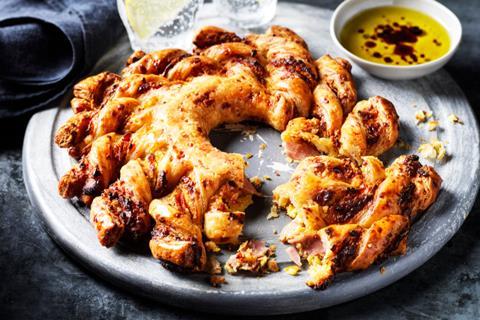 M&S, meanwhile, is taking classic flavours into new formats with its sharing Croque Monsieur-inspired centrepiece which sees extra mature Cheddar pastry twisted with smoked ham, cream cheese and mustard. A more controversial picnic item comes in the form of its Dinky Marmite & Cheese Pinwheels. Elsewhere Sainsbury's seeks to celebrate British flavours with its Minted Pea Parcels.
It's gone further afield for sandwiches though, serving up a Korean Style Chicken Sandwich. Inspired by the dish Buldak, or 'fire chicken', the hot and spicy flavour is achieved with gochujang, for a 'fresh take on global fusion flavours'.
Regardless of the weather, the UK will be well fed this summer.
New bakery products revealed for summer 2021
1

2

Currently reading

Summer bakery trends: what's hot in 2021?

3

4

5

6

7