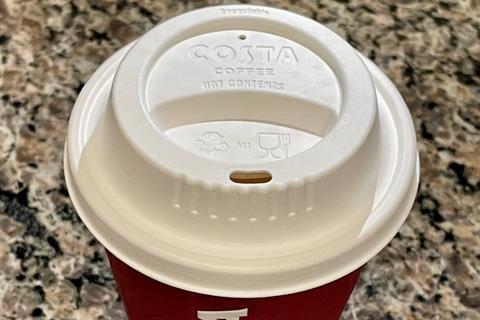 Costa Coffee is trialling 100% recyclable fibre coffee cup lids across 150 of its stores.
The lids will be introduced in the summer, with plans to extend to Costa Express machines later in the year. Once Costa completes the trial and reviews all the feedback, it will look to confirm next steps, including around a UK-wide rollout.
"We're confident that the trial will show us that consumers are ready for the switch from plastic to fibre and that as the UK's favourite and biggest coffee shop chain, we can make a huge difference in reducing the volume and impact of single-use, oil-based plastic on the environment," said Deb Caldow, Costa Coffee global brand & sustainability director.
"We hope other brands will join us in giving consumers easy ways to make more sustainable choices when enjoying their daily coffee," she added.
The move forms part of the coffee chain's mission to halve carbon emissions per coffee serving by 2030 and reach net zero by 2040.
According to Costa, the new fibre lids – which will be available across small, medium and large takeaway cup sizes – have a carbon footprint up to 50% lower than the current polystyrene plastic versions.
With the lining inside the Costa's takeaway cups having changed from oil-based to plant-based plastic last year, the versions with the new lids will be 100% plant based and have a 26% lower carbon footprint than the previous takeaway option when recycled, the company said.
In addition to recycling efforts, Costa recently extended its UK trial of a blockchain technology-powered reusable cup scheme called BURT (Borrow, Use, Reuse, Takeback), which allows consumers to borrow – or 'rent' – a reusable cup to take away and return on their next visit. The company also relaunched a loyalty scheme last year which rewards consumers with a free drink after four purchases using a reusable cup, compared to eight purchases in a takeaway cup.
"We are working simultaneously on three key areas within our packaging – reuse, reduce, recycle," Caldow said. "Our aim is to encourage consumers to adapt reuse regularly, through offering reusable 'rent a cup' schemes and by rewarding consumers through an enhanced loyalty scheme, rewarding those opting to reuse.
"However, we know we need to come at this from all angles – and constantly improving single-use material options, as well as maximising cup collection and recycling, are all parallel priorities."
DOWNLOAD THE BAKERY MARKET REPORT 2022
Find out more about Costa and its competitors in our unique snapshot of Britain's out of home bakery market. The core of the report is the 'BB75' listing, which contains details of the country's 75 largest bakery-focused operators ranked by the number of stores they operate.
Information in the report includes:
Number of sites operated (as of 1 January 2022)
Year-on-year growth/decline in sites
Number of employees
Food and drink split
Analysis of key activity in 2021
Plans for 2022