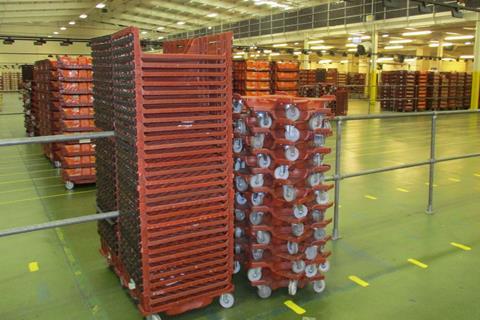 Bakers Basco has agreed a deal with Allied Bakeries that will see them managing the recovery of the baker's bread baskets and wheeled dollies whenever they fall outside of the usual supply chain routes.
Bakers Basco was set up in 2006 by five of the UK's biggest plant bakers to manage the flow of baskets used for transporting bread across country. Today the scheme manages more than 55% of the UK's bakery basket stock, while national bakers typically also hold and manage their own stock of baskets.
Under the terms of the new agreement with Allied Bakeries – which owns the Kingsmill, Allinson's, Burgen and Sunblest bread brands – Bakers Basco's national investigations team will report the whereabouts of any of Allied's equipment that they discover while recovering their own stock. Bakers Basco will also take the lead on any negotiations or litigation related to the recovery of the equipment.
"We already know the many benefits of the Bakers Basco scheme so it was only a matter of time before we extended our agreement with them to include them taking on investigations and recovery of our own bread baskets and dollies," said Richard Hodgson, director of logistics for Allied Bakeries and board director of Bakers Basco. "Like Bakers Basco, we want to repatriate our equipment as efficiently as possible, saving on costs and ultimately reducing the environmental impact of equipment going missing."
Last year, Bakers Basco announced it was boosting its investigations and also upgraded its GPS tracking system. This helped to achieve a 230% increase in the number of Omega bread baskets recovered.
"Our national operations and investigations teams are up and down the country on a daily basis tracking and recovering our own Omega equipment and will often come across equipment belonging to other bakers – so it absolutely makes sense that we are taking on responsibility for investigating Allied Bakeries equipment too," said Paul Empson, general manager at Bakers Basco.
"The only way we, as an industry, can stamp out this issue is by working together and, working more closely on behalf of Allied Bakeries, I'm confident we'll see a marked improvement in Investigation efforts."