What's hot in cakes for 2022 and beyond? In part one of two, we explore some of the top trends playing out in the cake market to help bakery businesses grab a bigger slice of the action.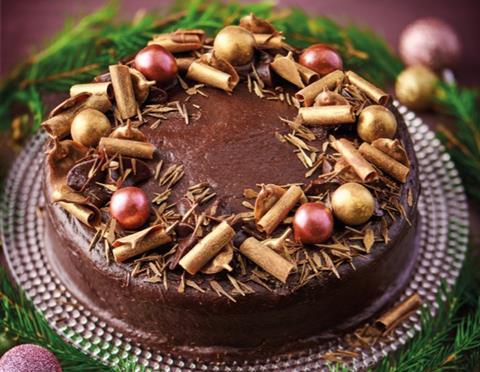 Flavour sensation
Chocolate is king when it comes to cake but there are other flavours vying for, and garnering, attention from consumers. Chocolate orange is one example, highlighted by many across the baking industry as a flavour that has made a splash recently with potential for further growth.
"Chocolate orange is a flavour that has continued to grow in popularity," explains Chris McLaughlin, commercial director for St Pierre Groupe. "A taste that is usually associated with Christmas, chocolate orange became the flavour of 2020 with a plethora of NPD throughout the year."
Its continuation is already evident in supermarket Christmas ranges with wreath cakes and brownie/doughnut hybrids utilising the flavour combination.
Chocolate orange is a flavour that has continued to grow in popularity
Black Forest is another classically Christmas flavour enjoying a renaissance, according to Alison Ordonez, head of NPD at cake manufacturer BBF, who predicts it will be even bigger this year.
Comfort, fuelled by nostalgia, is driving interest in other retro flavours as well with rhubarb & custard and cherry bakewell highlighted as heavy hitters for 2021 and beyond by a recent Craft Bakers Association survey.
"The trend for modern nostalgia is particularly playing out in bakery in the form of Great British puddings such as lemon meringue, apple pie, rhubarb crumble and sticky toffee pudding," notes Kirsty Matthews, insights and marketing manager at ingredients supplier Macphie, which has recently rolled out a sticky toffee cake mix.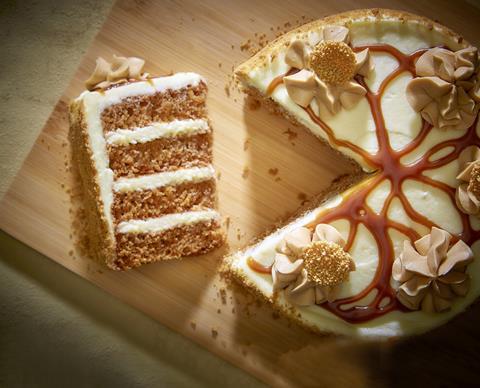 Speculoos or Lotus Biscoff is another flavour that consumers can't get enough of. "The caramel flavour with the hint of cinnamon works perfectly in both celebration cakes and cupcakes," says Hannah Robinson, head pastry chef for client dining and events at hospitality provider BaxterStorey.
For something fresher, the cake industry is embracing fruit, botanicals, and cocktails. Citrus fruits are a particular favourite of late, with the likes of grapefruit and blood orange gaining traction alongside traditional lemon and lime. As Rich's sales, marketing, and R&D director John Want says: "Refreshing citrus flavours will remain a staple for cake innovations, alongside superfruits and berries."
Continuing with the exotic, flavours from Japan have been utilised of late – even more so thanks to the recent Olympic Games. "The boom in Japanese cuisine, particularly with millennials who love its simplicity and natural ingredients, has moved into bakery," explains Jacqui Passmore, marketing manager UK and Ireland at Dawn Foods. "Fruity and floral orange blossom and lychee give a nod to current Japanese interests, while cherry blossom, also known as Sakura, with its light, floral not-too-sickly-sweetness, can be used with a wide variety of flavour combinations in a sweet bakery product such as cherry blossom roulade."
There is a world of inspiration out there, but Liz Gabriel, bakery specialist at International Taste Solutions (I.T.S), believes it's important to get the classics right as well, as they remain fan favourites. "We're seeing a real focus on bakeries getting their core ranges in order and perfecting their lemon, chocolate and strawberry – these have and always will be the big sellers. I can't see a flavour that will knock any of these off the top."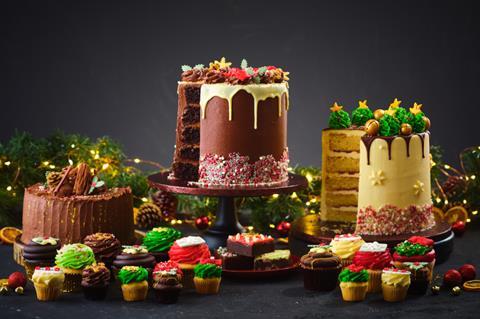 Festive fancies
Feeling frightful or festive? There's a cake for that. While the idea of theming a sweet treat to an occasion isn't exactly new, it's likely things will be bigger and better in 2022 and beyond.
"Bakes themed around events such as Halloween, fireworks night and Christmas are expected to enjoy a sales boost, as friends and family are allowed to meet up again and make the most of these occasions," notes Karen Dear, director of operations at the Craft Bakers Association.
Even more so as celebrations in 2020 were considerably smaller owing to lockdown restrictions meaning indulgence is on the cards, according to Macphie's Matthews. "We'll see traditional festive flavours prove popular including sticky toffee, winter berries, cinnamon, figs and orange but expect concepts to be over the top or to feature luxurious additions including champagne or salted caramel," she explains.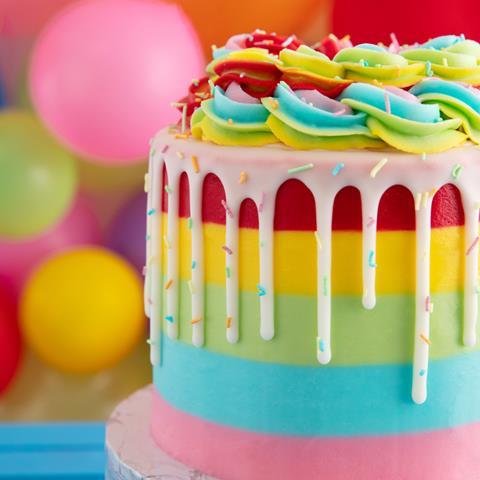 Looks matter
Looks matter when it comes to cake. Sure, it needs to taste great but it's the initial visual appeal that encourages a consumer to take a cake off the shelf.
"The main trend driving cake decoration is visual impact," says Louise Liddiard, marketing manager at inclusions and decorations firm OV. "Generation Z love to enjoy coffee out with friends and the cakes they choose must not only have pick-me-up appeal to drive purchase but be Insta-worthy too."
So, which styles and decorations are garnering likes on and off the 'Gram?
"We're seeing various new techniques adopted across the celebration category, with many bakers producing bigger, brighter and better creations," adds BBF's Ordonez. "We're expecting rainbow, drip and hidden centre cakes to continue surging in popularity – even more luxurious and over the top than we've seen previously."
Drip cakes are highlighted by many experts as a trend that keeps on giving, with things evolving from a simple drip to something more complicated.
If there's a celebration cake in sight, it's rare to see it without some kind of drip – whether it's a half drip, upside down drip or shining gold drip
"People have fallen in love with the drip cake. If there's a celebration cake in sight, it's rare to see it without some kind of drip – whether it's a half drip, upside down drip or shining gold drip," explains Robinson from BaxterStorey, noting it as an easy way to combine two different styles in one cake.
This taps into the "frosting heavy" styles that have come back around after a dalliance with naked and semi-naked cakes. Examples include fault line cakes and the brushstroke or 'spatula style' of decoration in which different shades of buttercream are layered onto the cake, as well as piped flowers.
Notably, many of these applications are combined with bright and bold colour choices for maximum standout. "Consumers crave new and innovative decorations. They are looking for natural bright colours, obvious textures, global influence and love to have the promise of a surprise inside," says Lydia Baines, marketing manager patisserie, Puratos UK. "The more vibrant the cake the more Instagrammable it is, which is another selling point where decoration is concerned."
Funfetti meets demand for colourful cakes while tapping into the trend for nostalgia as Louise Gough, joint director at Twist Ingredients, says it's been hugely popular this year and doesn't show any signs of slowing down. "It is such a playful, simple way to inject a burst of colour into any bake and can be used baked into the sponge and sprinkled on top," she says.
Top cake trends for 2022 revealed
1

Currently reading

Top cake trends for 2022 revealed

2