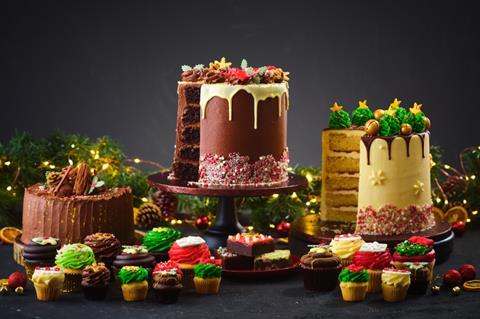 Liqueur mince pies, brandy cakes and amaretti biscuits are just some of the fancy creations popping up in time for the festive season.
Brownie advent calendars, cupcakes and orange & cranberry shortbread all make an appearance too. Below we round up the latest NPD from brands including Crosta & Mollica, Prewett's, Lola's Cupcakes and Ginger Bakers.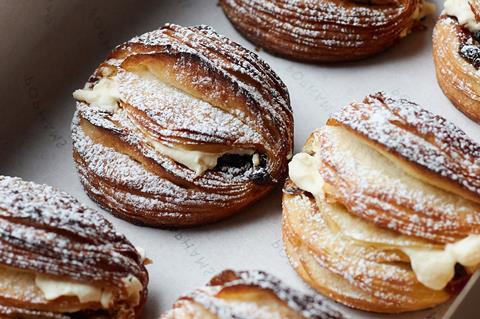 Artisanal mince pies, Pophams Bakery
Mince pies and Christmas are a quintessential part of the festive season but Pophams has gone one step further by collaborating with The King's Ginger to produce an artisan mince pie featuring the historic liqueur. The mincemeat filling is steeped in the tipple for six weeks before being packed into the London bakery's laminated pastry and baked.
According to Pophams founder Ollie Gold, the bakery always experiments with a new shape of mince pie every year, too. "We think being able to use the winter flavours of The King's Ginger in our bakery has taken them to a new dimension and we can't wait to see what people think," he said.
The limited-edition mince pies will be available from November until the end of December from the bakery's Hackney and Islington branches.
Amaretti biscuits, Crosta & Mollica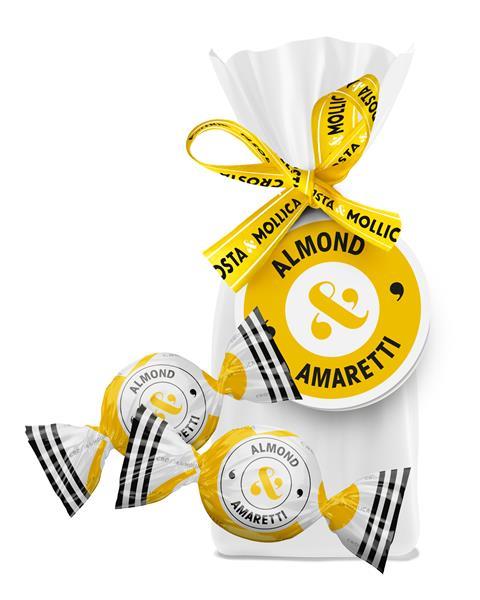 For those looking to bring a touch of Italy to the Christmas table, Italian food brand Crosta & Mollica has launched a selection of handmade, small-batch soft amaretti biscuits on Ocado (rsp:£6.95/200g).
The individually wrapped treats are said to have a rich almond flavour and a delicate melt in the mouth texture. The Amaretti Mixed Selection is joined by several returning festive favourites including a 500g Hand-wrapped Apricot Panettone, Classic Panettone, a light Chocolate Panettone and a Classic Pandoro, a star-shaped light sponge dusted with icing sugar.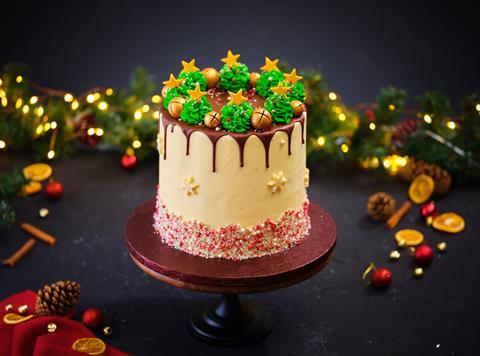 Fantasy cake, Lola's Cupcakes
Lola's has gone to town with its vast seasonal line-up featuring an array of festive treats from showstopping giant cakes and brownie advent calendars to a vegan Christmas cake. The latter (rsp: £18.50, serves 4-6) is described as a 'decadent chocolate sponge'. Featuring chocolate buttercream, it is decorated with a white chocolate drip, buttercream Christmas trees, presents, holly, and a piped 'Merry Christmas' message.
Lola's Jingle Bells Fantasy Cake (£72.50, serves 12-14) is made with layers of chocolate or vanilla sponge paired with a smooth buttercream filling. Decorated with a white chocolate ganache, and chocolate drip, the creation is finished with edible giant bells, Christmas trees, stars, and sprinkles.
For those who cannot wait to count down the days until December 25, the brand has created a novel Brownie Advent Calendar (rsp: £59.99). Every six days, the same number of full-size brownies will be delivered to ensure freshness, Lola's said, with each one individually boxed and numbered with the day to be eaten.
A Festive Fantasy Cake (rsp: £72.50, serves 12-14), Merry Little Christmas Cake (rsp: £17.50, serves 4-6) and Build a Snowman Cake kit (rsp: £37.99) are also new for the season.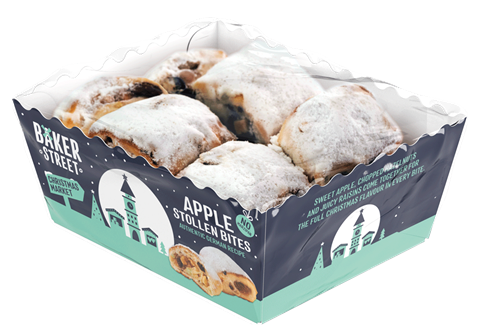 Stollen Bites, Baker Street
Baker Street has expanded its festive line-up with three new skus after the successful launch of its Stollen Loaves and Marzipan Stollen Bites in 2020 which accumulated sales of £1.4m.
Available through Tesco, its new Christmas market-inspired products comprise Apple Stollen Bites (rsp: £3.50), Chocolate & Orange Cake Truffles (rsp: £3) and Stollen Cookies (rsp: £3).
Chris McLaughlin, commercial director at St Pierre Groupe, which owns the Baker Street brand, said the cookie combined "the lovely Christmas taste of traditional Stollen with a familiar cookie format". "It offers consumers an easy way to try something new," he added.
Baker Street's 200g Marzipan Stollen Loaf 200g (rsp: £2) and Marzipan Stollen Bites (rsp: £3.50) are available at selected Co-Op, Asda, Nisa, Booker and convenience stores nationwide and online via Ocado. The brand's 500g Stollen Loaf (rsp: £3) will be available from Asda, Booker and Ocado.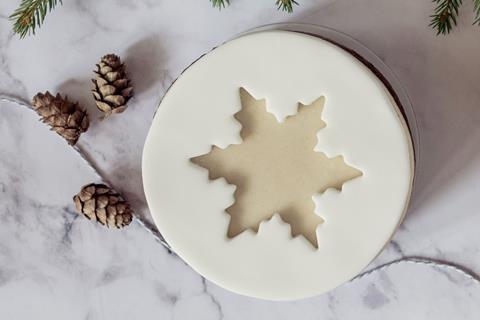 Fruity cakes, Ginger Bakers
Ginger Bakers has created a trio of seasonal cakes exclusively for homeware company Lakeland. The Lakeland-branded Iced Damson & Brandy Fruit Cake joins a 700g Gluten Free Light Brandy Fruit Cake and a 500g Loaf Fruit Cake infused with Lakes Distillery Whisky and Orange, the latter two of which are being sold under the Kendal-based bakery's label.
"We were delighted to be asked to supply three of our products to Lakeland," Ginger Bakers owner Lisa Smith said. "This is a wonderful opportunity to showcase a little of our product range to a wider audience."
The cakes are on sale at Lakeland's flagship store in Windemere and online.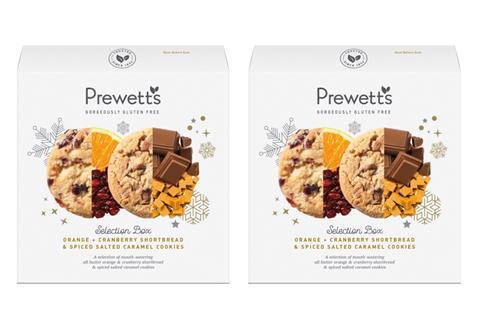 Spiced biscuits, Prewett's
Prewett's is preparing to roll out a selection of festive gluten-free biscuits in Waitrose on 8 November. Its Orange & Cranberry Shortbread and Spiced Salted Caramel Cookies selection box will go on sale for £3, together with a Chocolate Shortcake Christmas Trees which carries a £2 price tag.
"We're delighted to add to the range of Prewett's gluten-free sweet treats already available at Waitrose; from its Family Favourites range which includes Jammy Wheels and Chocolate Digestives, to its Indulgent Cookie Range," said Neil McAndry, managing director of Northumbrian Fine Foods which manufactures Prewett's.