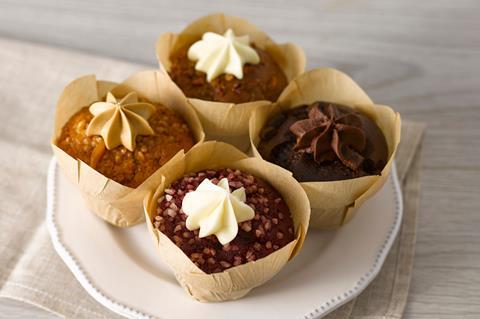 CSM Bakery Solutions has expanded its Baker & Baker range with dessert-inspired muffins.
The new muffins come in four variants:
Red velvet – it features a red cocoa-flavoured muffin, filled and topped with sweet cream cheese frosting and sprinkled with sugar nibs
Banoffee – a classic combination of a banana muffin with a toffee filling, cream cheese frosting, caramel flavour and caramel nibs
Carrot cake – it contains carrot, honey and cinnamon, filled and topped with cream cheese frosting, and a sprinkling of walnuts
Triple chocolate – a Belgian chocolate muffin with chocolate filling, cocoa buttercream topping and Belgian chocolate chunks.
"The range, of course, had to include the hero flavour of chocolate which is a classic and much-loved muffin variety, and we really wanted to offer indulgence with this new launch, which is why the three other flavours are dessert inspired. Each muffin combines bold flavours and satisfying textures for a multi-sensory experience that nods to the American bakery style," said Holly Wales, traditional trade activation manager at CSM Bakery Solutions.
"Based on a recent U&A survey that found 62% respondents said they preferred a filling in their muffin as they felt it was more indulgent and moist."
The new muffins, which CSM said meet the demand for clean ingredients, are palm oil free, use only free-range eggs and contain no preservatives.
It follows the recent launch of CSM's popcorn brownie tray bake, another premium product part of the American-style Baker & Baker brand.
Nostalgic flavours continue to dominate bakery, but more innovative ones such as burnt butter and yuzu are coming through. To find out about bakery's biggest flavour trends, read our latest feature: 'What's the next flavour sensation?'