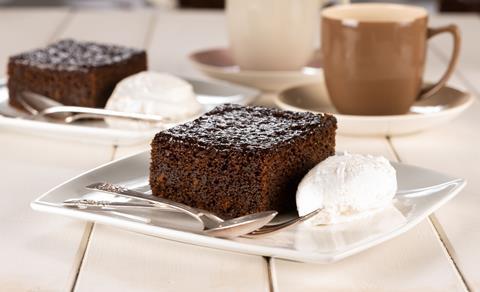 UK shoppers are in for an indulgent autumn as bakers unveil sweet treats to warm the cockles.
From autumnal shortcrust pies to dessert-inspired doughnuts and warming traybakes, here's some of the latest products to hit the scene:

Shortcrust pies, The Hummingbird Bakery
The Hummingbird Bakery is embracing the autumnal vibes with a new range of sweet pies.
Baked fresh on site every day, the shortcrust pies showcase a selection of seasonal flavours as well as American classics. The deep filled desserts feature a new pastry recipe which offers a crispier, more golden bake, according to the bakery.
Variants include pecan pie, apple pie, Key-lime pie, Mississippi mud pie, lemon meringue pie and pumpkin pie. A slice costs £5 or shoppers can purchase a whole pie for £25. They're available to pre-order two days in advance for collection at any of Hummingbird's three London bakeries or for delivery across the capital.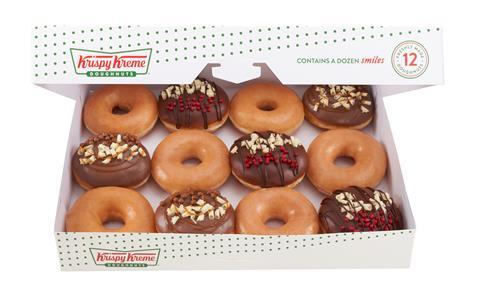 Dessert doughnuts, Krispy Kreme
Doughnut giant Krispy Kreme is tapping into the trend for nostalgic and decadent desserts with its new range of sweet treats.
The decadent dessert doughnuts are available in two flavours: Black Forest, which features a chocolate and cherry filling with cherry fudge and white chocolate curls on top, and the Billionaire's Cheesecake, which has a caramel cheesecake filling with milk chocolate crisp pearls on top.
The range is available from 1 November to 5 December in selected retail stores, Krispy Kreme cabinets and online as well as via delivery partners Deliveroo, Uber Eats and Just Eat.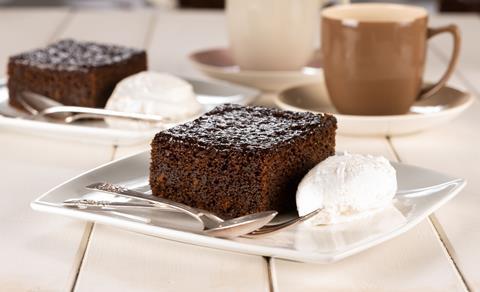 Spicy ginger traybake, Just Desserts
Yorkshire-based family bakery Just Desserts has extended its vegan range with the launch of a Spicy Ginger Traybake aimed at the farm shop, café/deli, and restaurant markets.
The handcrafted sweet treat features a sticky ginger sponge made with muscovado sugar, black treacle, and mixed spices. It comes in a 9-inch square tray and serves 12 portions, costing £15.50.
"Our latest product launch complements our vegan product offer, which is seeing strong demand from customers who are looking to serve a wider Vegan product range in their cafes, farm shops and restaurants," said Just Desserts managing director James O'Dwyer.
Other vegan items available from the Shipley bakery include cakes, brownies and oatie crumbles.
Mini doughnuts, Dawn Foods
Dawn Foods is capitalising on the growth of individual treating and the trend for premium doughnuts with the launch of frozen mini doughnuts that are ready to finish and decorate.
Supplied in cases of 100, the ring doughnuts can be topped with icings or frostings, additional decorations such as sprinkles, fruit and more.
"The humble doughnut has become a canvas for innovation and, as a result, we're seeing a real doughnut renaissance," said Jacqui Passmore, marketing manager UK and Ireland at Dawn Foods.
Doughnuts with brightly coloured icings and interesting toppings are Instagrammable and on trend, she noted. These, along with dessert-themed treats and over-the-top loaded ones, were among the top doughnut trends highlighted by British Baker earlier this year.
"Dawn's mini frozen doughnuts mean bakers and foodservice operators can now capitalise on this profitable sweet bakery category – the only real limit is imagination," Passmore added.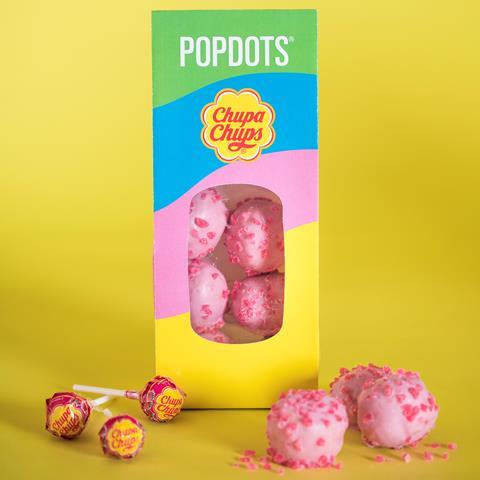 Chupa Chups pop dots, Europastry
Frozen bakery specialist Europastry has unveiled Chupa Chups inspired doughnut bites.
The treats are described as mini versions of Dots doughnuts decorated with strawberry flavoured sprinkles of Chupa Chups lollies. The doughnut bites are hydrogenated fat free, made without artificial flavours, colours or preservatives, the manufacturer added.
They're available in convenience stores, independent grocery retailers, petrol stations, bakeries and online retailers across Europe.