It's that time again: bakery brands are rolling out snacks and treats to capitalise on the growing popularity of Veganuary.
From sandwiches and slices to doughnuts and tarts, here's a selection of some of the plant-based bakery NPD hitting the shelves to tempt vegans and flexitarians in 2022: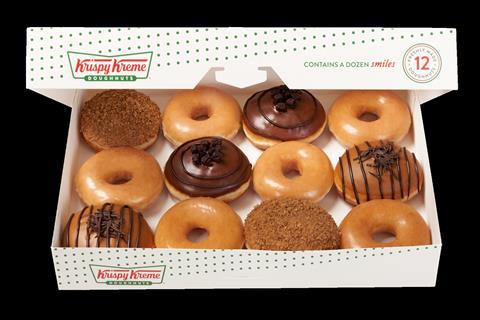 Limited Time Only vegan doughnuts, Krispy Kreme
Krispy Kreme is launching a vegan range of doughnuts in time for the new year on 31 December 2021 but they're only available for a limited time and 'when they're gone, they're gone', warns the brand.
The NPD vegan line-up consists of:
Fudge Brownie Bliss (rsp £2.35) – with a chocolatey filling and topped with brownie pieces
Caramel Choc Delight (rsp £2.35) – which contains Belgian chocolate and caramel fillings, topped with caramel icing and a chocolatey icing drizzle
Apple Crumble (rsp £2.35) – filled with custard and apple then topped with a crumble
Vegan Selection Dozen (rsp £14.45) – featuring two Fudge Brownie Bliss, two Caramel Choco Delight and two Apple Crumble Custard, along with six of the Original Glazed Vegan ring doughnuts.
"We are really excited to bring this range to customers and spread a little joy in January and are confident it delivers on the irresistible taste we are known and loved for whilst being accessible to a broader network of customers," said Louise Direito, Krispy Kreme UK and Ireland's head of innovation.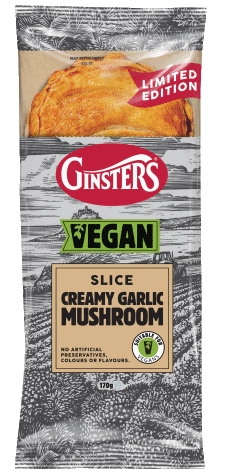 Vegan Creamy Garlic Mushroom Slice, Ginsters
Ginsters is adding to its vegan range of products for Veganuary 2022 with the limited-edition Vegan Creamy Garlic Mushroom Slice.
Available from 3 January, the 170g slice (rsp £1.70) widens Ginsters' meat-free range to seven recipes. It features sliced white and chestnut mushroom in a vegan cream and white wine sauce with garlic puree, coconut milk, potato, onion and herb, wrapped in puff pastry with a hint of lemon zest to finish.
"Savoury pastry is an impulsive category and limited-edition recipes play into this, delivering different flavours to maintain consumer interest and engagement – as the success of our limited-edition festive slice shows," said Sam Mitchell, Ginsters' managing director.
"Our Vegan Creamy Garlic Mushroom Slice kicks off 2022 by bringing something new to Veganuary with try-it-while-you-can excitement," he added.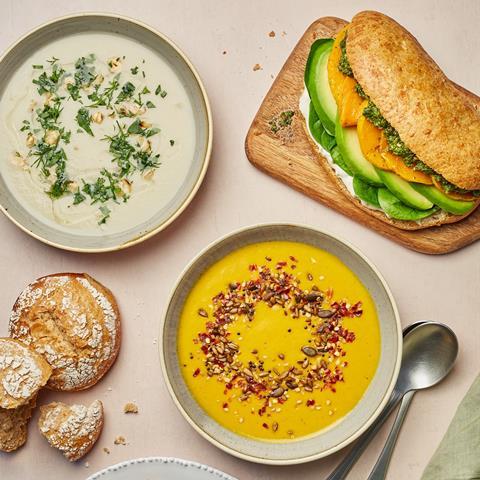 Vegan range, Ole & Steen
For Veganuary 2022 and 'due to huge customer demand', Ole & Steen has created its first vegan pastry – the Raspberry & Almond Vegan Swirl – which will be on the bakery chain's menu from 10 January.
The swirl is made using chia seeds soaked in water in place of eggs, and vegan margarine in place of butter, making the pastry 100% vegan, with raspberries and flaked almonds completing the package.
Ole & Steen is also launching a new soup for Veganuary – Curried Sweet Potato and Coconut will be available in stores, for takeaway and delivery, from 5 January.
In addition, there are three returning plant-based favourites: Chermoula and Avocado sandwiches, the No'duja Toastie, and the Passionfruit Slice.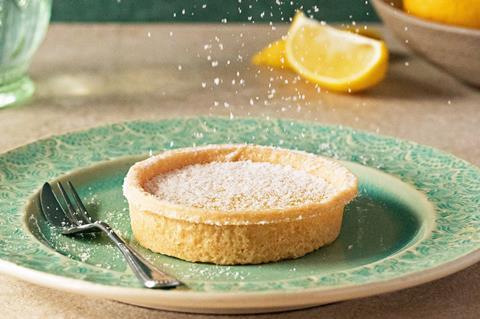 We Love Cake vegan range, Bells of Lazonby
Bells of Lazonby is launching three plant-based lines under its We Love Cake brand into UK foodservice to mark Veganuary 2022.
The new lines consist of two tarts – When Life Gives You Lemon, and Caramelicious Salted Caramel and Chocolate – and an addition to its on-the-go range in the form of Caramel Shortbread.
According to the company, all lines are vegan, free from gluten, wheat and milk, and all the range is individually wrapped with allergens and ingredients fully declared on the back of the pack.
The latest lines are available to the UK wholesaler market exclusively distributed by Central Foods in frozen cases of 12 (Tarts) and 18 (Caramel shortbread slices).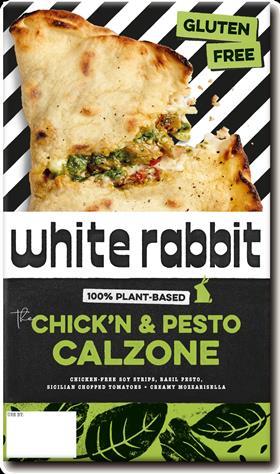 Chick'n & Pesto Calzone, White Rabbit
Italian foodie start-up White Rabbit is launching a vegan and gluten-free calzone into Sainsbury's in time for Veganuary 2022.
Available from 9 January for an rsp of £5, the 290g Chick'n & Pesto Calzone is filled with MozzaRisella, Sicilian chopped tomatoes and Chick'n strips.
"At White Rabbit, we want to make a plant-based diet more inclusive via authentic, delicious taste credentials and we also want to make the switch easy," said White Rabbit co-founder Nick Croft-Simon.
"The most compelling way to introduce a new audience into plant-based is to take away all compromises with 'food for tonight' that tastes incredible in a quick and convenient format," he added.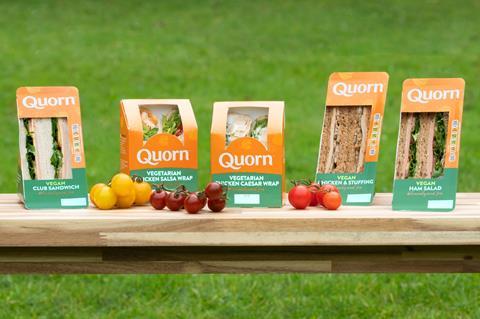 Quorn food-to-go range, Simply Lunch
Food-to-go business Simply Lunch has launched five new Quorn products in an effort to 'meet the ever-growing demand for vegan and vegetarian meals'.
Available from January 2022, the line-up comprises:
Vegan Chicken Salad Sandwich
Vegan Ham Salad Sandwich
Vegan Chicken Club Sandwich
Vegetarian Chicken Caesar Wrap
Vegetarian Chicken Salsa Wrap
"When we set out our mission to create healthy and sustainable food for everyone in the UK we wanted to partner with likeminded brands to help us achieve this, and in this case, Quorn has proven to be the perfect partner for us," said Sam Page, MD of Simply Lunch.