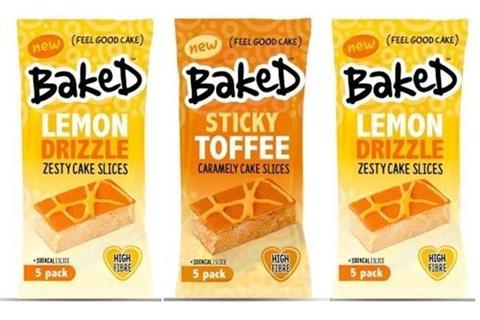 Finsbury Food Group has unveiled a HFSS-compliant brand called Baked which marks the first time the manufacturer has brought its own brand to market.
Baked will initially comprise five-pack cake slices in two flavours – lemon drizzle and sticky toffee – which are available in-store and online from Tesco for £1.60.
Both variants have been formulated to be high fibre and low calorie, according to Finsbury, while complying with the upcoming regulations on fat, sugar, and salt content. It's anticipated that these regulations will have 'a significant impact' on cake category sales, the manufacturer noted.
As of 1 October 2022, products deemed high in fat, sugar and salt (HFSS) will no longer be promoted in key locations in stores such as at checkouts, store entrances and aisle end or their online equivalents. However, a planned measure of restricting volumed promotions for these items, such as 'buy one, get one free', has been postponed until October 2023.
Finsbury said the Baked brand was 'uniquely positioned' to drive incremental category growth once the restrictions are in place.
"When conducting market research for Baked, it was clear to us that there was a lack of variety within the health and wellbeing space, with only vegan offerings or malt loafs available," said Daryl Newlands, head of brands and marketing within cake at Finsbury Food Group.
"This really is a landmark moment in Finsbury's history," he added. "Not only does this mark the launch of our very own brand for the first-time, but we are also delivering an innovative proposition that will play a major role in the snacking category that empowers shoppers to have more permissible choices."
A series of new flavours and formats will be launched under the Baked brand in the future.
"The Baked range affords retailers the opportunity to display new HFSS-compliant, tasty combinations on prominent shelf positions that not only help attract a new cohort of customers, but also drives significant interest and sales growth to the healthier snacking and cake categories," Newlands said.