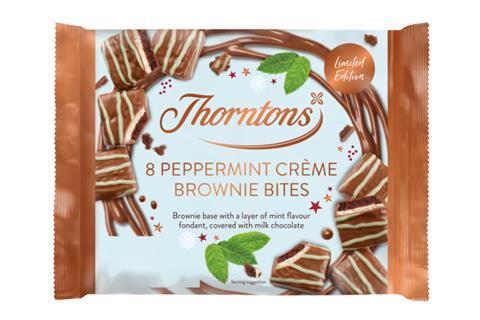 Finsbury Food Group has revamped the Thorntons bites range with NPD, new packaging, and new brand messaging.
Seven new NPD options are being rolled out with a 'focus on seasonality and modern tastes and flavours' which Finsbury said will introduce 'completely new ingredients' to the range. The new products, which include five additions to the bites range and two cake bars, are:
Chocolate Orange Caramel Shortcake Bites, launching 6 September
Toffee Apple Caramel Shortcake Bites, launching 6 September
Hot Cross Bun Caramel Shortcake Bites, launching January 2022
Peppermint Crème Brownie Bites, Launching 6 September
Strawberry Dream Brownie Bites, launching January 2022
Hazelnut Brookie Cake Bars, Launching September 2021
Salted Caramel Brownie Cake Bars, Launching September 2021
The manufacturer, which has manufactured the Thorntons bites range for 20 years, has also revamped some of the existing products in the range. The Caramel Shortcake, for example, will now feature a crunchier biscuit base and more chocolate, Finsbury said.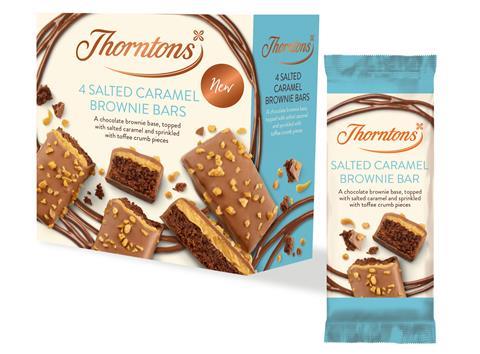 New-look packaging launches this month as well, featuring the tagline 'Bitesize Moments Made Special' across the entire range.
Jordan McCann, brand manager at Finsbury Food Group, noted the high impulse purchase rate of the products, with flavour a key driver to ensuring this remains high.
"The range has enjoyed great success over the last 20 years, but we are constantly looking for ways to bring in new shoppers. The key to our ongoing success is to never take our eye off the ball when ensuring the range fits changing consumer trends," McCann said.
"Finsbury has consistently found ways to bring the high quality and luxurious taste of Thorntons chocolate to cake products and this revamp is continuing that successful tradition," added Fiona Morgan, head of foodservice, Ferrero UK & Ireland. "We're excited to see the changes appear in the market and watch the range continue to go from strength to strength."
In a recent trading update, Finsbury said its revenues were 'almost at pre-pandemic levels'.