Thanks to our category sponsor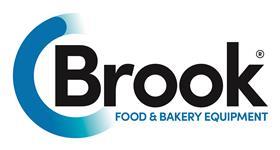 Baker of the Year showcases the very best bakers the UK has to offer from their hands-on skill to their dedication to the craft, business, and staff. This year's winner and finalists demonstrated passion, leadership, and technical prowess throughout.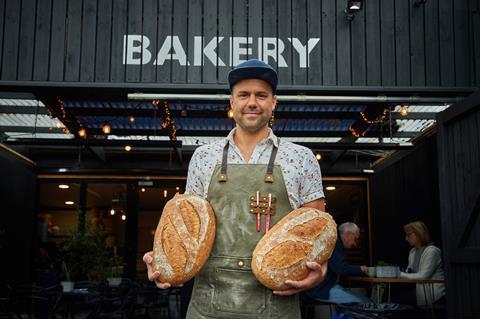 Winner: Tim Goodwin, The Street Bakeshop
"He's really at the top of his game and the products he makes are all of a benchmark quality, whether destined for his retail or wholesale customers," the judges said of Tim Goodwin.
"Not a day goes by when I don't have my hands in some dough," added Goodwin, who manages a 22-strong team at The Street Bakeshop which he owns and operates in Old Basing, Hampshire. Goodwin describes himself as the "owner, visionary and executive baker" of the company, which he started in early 2020 after his corporate catering business was "knocked unconscious" by the pandemic.
While the bakery focusses on sourdough, cake, and pastry, it's the croissants and Danishes he is particularly proud of, having spent three months developing the doughs. The judges agreed. "There was quality across the board," they said. "Tim's understanding of the process, and commitment to product development, really shone through."
Another standout product is the Old Basing Blaa, inspired by the Waterford Blaa of Ireland, is one of the best sellers and contains a natural levain, an 18-hour sponge and a pre-cooked flour element. "We believe in test and learn," Goodwin added. "We try products, let our staff and customers sample them, listen to the response, and see how the product sells. Then we adapt."
Staff are undoubtedly a critical part of this process as Goodwin professes to having personally hired every single member of the team.
His unfulfilled ambition is to own a farm and grow his own wheat to mill and use in the bakery. As he confirmed: "I'd love to have an influence over every step of the process, from sowing to baking."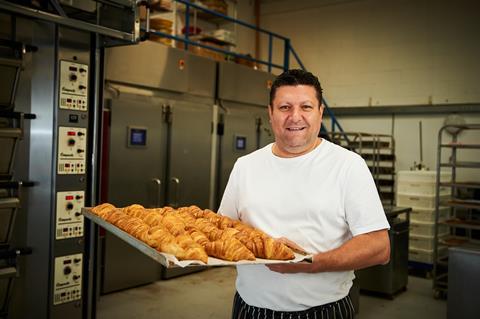 Finalist: Lee Smith, Poppyseed Bakery
Lee Smith operates Poppyseed Bakery on the coast of East Sussex but started his career as an apprentice in 1984 at Saffron Patisserie, progressing to head baker at the The Dorchester Hotel, & Sally Clarke Bakery and Victoria Park Plaza in London prior to branching out on his own.
He is no stranger to British Baker's awards and competitions, having secured the title of Britain's Best Loaf four times for his beautifully crafted loaves as well as taking home the gong for Speciality Bread of the Year at the Baking Industry Awards 2020 for a carrot sourdough.
However, Smith never rests on his laurels and continually strives to improve his knowledge. He said: "When allowed, I travel to exhibitions and cities to keep an eye on new trends. We have shops in two towns and the customers are very different, so each shop has a varying product range."
His dedication and expertise wowed the judges as did the innovative creative product development they witnessed – and sampled – during their visit. Smith hopes to maintain this level of quality as the business expands.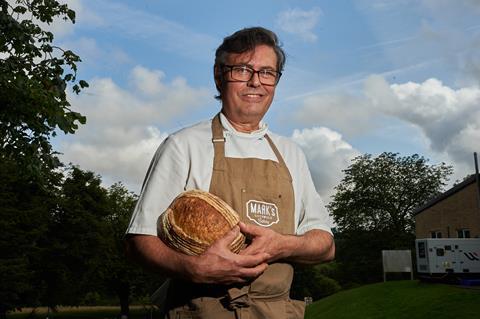 Finalist: Mark Woodgate, Mark's Cotswold Bakery
Mark Woodgate's incredible technical knowledge and passion really shone through, according to the judges, who also praised the quality and consistency of his products. "We liked his approach to experimentation," they said.
Woodgate started his bakery business in 2018 at 56 years of age, moving away from his previous career in IT. He now describes it as the "biggest achievement of my life so far". Handmade sourdough is his passion – and this is reflected in the bakery's range, which includes a fruit loaf sourdough as well as white and Cotswold crunch sourdough rolls. Notably, the hero loaf took two years to create and is described as having a "deliberately superior light, airy and squishy texture" and superb taste. Woodgate has worked closely with his local mill, Matthew Cotswold Flour, since the bakery's inception and is passionate about promoting sustainable farming practices.
The bakery is so successful it recently tripled the size of its premises in Chipping Norton to keep up with demand. Woodgate said the business is "still flourishing and growing", despite the pandemic.