Mince pies flying off shelves, celebs appearing in TV adverts, and the return of the Starbucks red cups can only mean one thing – Christmas is coming!
The nation's bakers have been hard at work for months to whip up seasonal sweet and savoury treats to help consumers spread the joy this Christmas. There are several key themes on display across the market, including nods to value, comforting flavours, and more.
Take a peek at the trends on display this year: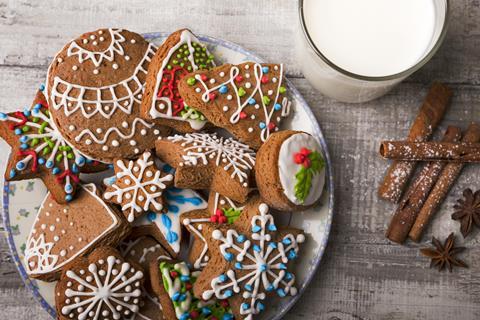 A cost-of-living Christmas
Santa is tightening his belt for Christmas 2023 as consumers face up to the ongoing cost-of-living crisis, which could see them cut back during the usually gluttonous festive season.
"Some consumers will decide to bake Christmas products at home this year because of the economic climate, but at the same time, consumers with less time will continue to brighten their Christmas with baked goods of all kinds," notes Michael Schofield, marketing manager for British Bakels.
Those looking for someone else to do the hard work for them continue to be spoiled for choice as the supermarkets, big brands, and craft bakers have been busy whipping up yuletide innovation. However, ranges may not be as big as seen in previous years.
"Retailers will be offering fewer seasonal products across all categories and in bakery, we are likely to see seasonal cakes and bakes being less elaborate," explains Jacqui Passmore, marketing manager UK and Ireland at Dawn Foods. "Where previously there may have been five chocolate decorations on a cake, this year there's more likely to be two. Keeping Christmas affordable has been the main driver from our customers and Dawn has been responding with R&D to meet this."
Keeping prices low has been a key message from many of the supermarkets. Claire Hughes, director of product & innovation at Sainsbury's, was among those to share the sentiment. "We understand that lots of us are tightening our purse strings, and Sainsbury's is committed to keeping prices low on everyday items while continuing to deliver the delicious innovation you know and love," she says.
It was also echoed by Sam Dickson, vice president of own brand at Asda, who notes the retailer's improvements in quality while keeping "value at the forefront of our minds". "There is a tendency to think that to get the tastiest food you have to spend more – that simply isn't true at Asda," she adds.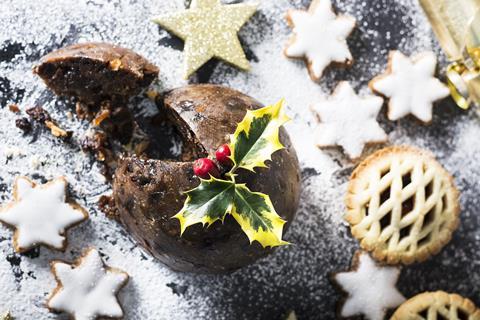 It's affecting bakers of all sizes. Dawn Foods has advised high street bakers to reduce their range of seasonal baked goods if they need to and ensure what remains is "the best quality it can be".
However, a survey of Craft Bakers Association (CBA) members found that innovation is still very much front and centre for high street businesses with 45% of respondents saying they plan to introduce up to five new or different products this year, and 17% introducing up to 10 new items.
"Whether bakers choose to innovate or offer traditional Christmas fare, ensuring they provide customers with a high-quality product at a good price will remain a priority – as it's likely the ongoing cost-of-living crisis will result in consumers making spending cutbacks in the run-up to Christmas," adds Karen Dear, CBA chief executive.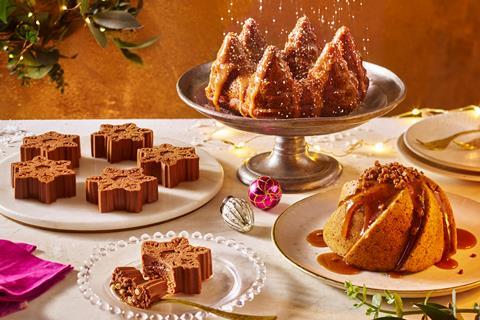 Winter warming flavours
Millionaires, billionaires, sticky toffee, chocolate orange, spiced apple, and brown butter & spiced rum are among the signature flavours for Christmas 2023.
There are golden hues a plenty as bakers look to comfort bakery fans with warming spices and lashings of chocolate during the festive season.
"Just under half (47%) of consumers' choices are influenced by familiar flavours; just over a third (37%) by traditional/nostalgic flavours, and a similar proportion (34%) by comforting flavours," highlights Schofield from British Bakels, pointing to Innova research on flavours. "In the UK specifically, a quarter of shoppers are influenced by seasonal or limited-edition flavours, and just under a quarter (24%) look for mood enhancing flavours to give Christmas an added uplift," he adds.
Much of this is driven by the continuing trend for nostalgia-inducing formats and flavours, but with a nod to the modern day.
"Nostalgia is still a key trend in finished products as when times are tough, consumers crave 'the good old days'," adds Dawn Foods' Passmore. "Look out this year for comforting, winter-warming favourite flavours in bakery, such as maple syrup – there's lots of it this Christmas – plus mint, truffle, chocolate hazelnut, s'mores/marshmallow, vanilla, cherry and almond."
However, she also points to a flurry of "exciting modern flavours" coming through, noting yuzu, blood orange, and passion fruit as examples. "Many of these fresh flavours give a nod to global festive traditions and very much reflect consumer need to have one foot in the past and another in other food cultures – a trend that is here to stay beyond Christmas," Passmore adds.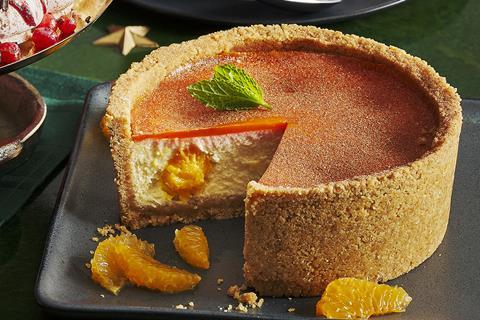 Tesco's Winter Orange Cheesecake – with high walls made of a ginger-spiced digestive crumb topped with creamy baked orange and mascarpone cheesecake, with pools of orange sauce and orange glaze on top – provides one example of this.
"With Christmas favourites and nostalgic flavours expected to be popular this year, bakers looking to innovate this Christmas can do so by making a simple twist to a classic festive bake, such as mince pies and fruit cake," notes CBA's Dear. "Bakers considering innovation across their sweet baked goods range could try incorporating unusual flavours like salted caramel or pistachio, alongside festive classics chocolate orange, cinnamon, nuts, and festive fruits."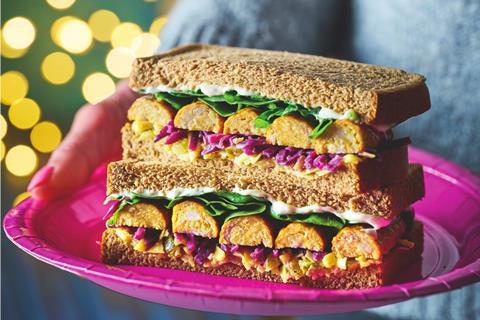 Get that festive feeling all day long
Christmas isn't just about the 25 December – it's become a month-long celebration, if not longer based on when mince pies land in supermarkets and coffee shops unveil their festive sandwiches.
This is presenting more and more opportunities for festive-themed treats to be gorged on as consumers seek to make their everyday lives that little bit jollier. Coffee shops, in particular, are leaning into this with a host of Christmassy treats to entice shoppers in the winter months. Costa, for example, has spruced up its sausage roll for the season, rolled out vegan toasties, and added a sticky toffee loaf cake to its line-up alongside festive flavoured hot drinks.
The same can be seen in supermarket cafes as well, with M&S serving up a Salted Caramel Yule Log, Turkey & Ham Hock Toastie, and Giant Cheesy Rarebit Crumpet with Festive Chutney.
Back to Christmas day, and breakfast is also becoming a more important part of the celebrations.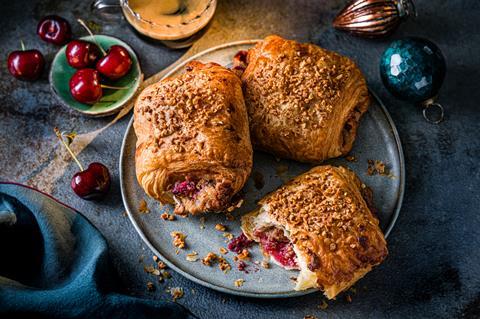 "For so many of our customers, Christmas Day breakfast has become an important tradition; for some it's an even bigger deal than the main event," notes M&S product developer for in-store bakery Harry Peak. "This year, we've made it even easier to lay on a festive spread."
A selection of festive pastries are available as part of the M&S Christmas range, including Cherry Stollen Croissants and Roasted Hazelnut Chocolatine.
Asda, meanwhile, sought to play for the occasion with its Christmas Sourdough finished with cranberries and red onions. It suggests smearing it with Extra Special Cherry & Amaretto Jam or Mimosa Marmalade for a special seasonal breakfast.
Deck the halls with baos of holly
One product to get a Christmas makeover is the humble bao bun as retailers look to infuse their party food ranges with international fare. Here are some examples of this in action: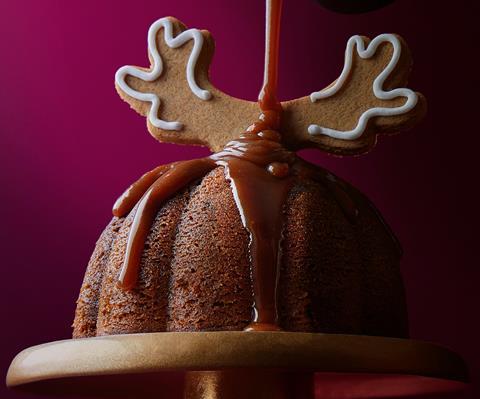 Showstopping desserts (and more)
"A trend going from strength to strength is the 'showstopper' dessert," declares Jonathan Moore, senior director of food innovation and trends at Asda, "providing guests with an immersive experience at the dining table to bring the wow-factor after dinner."
He points to Asda's Extra Special Chocolate & Honeycomb Avalanche Dessert as an example. The salted caramel semi freddo is finished with honeycomb pieces and shoppers are encouraged to remove the collar at the table to allow the milk chocolate sauce to cascade down the dessert.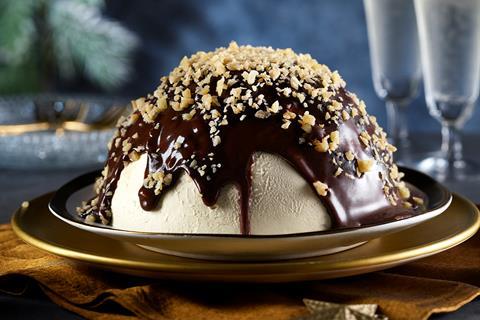 It can be seen across the supermarket ranges from Sainsbury's Spruced Up Sticky Toffee, to the Waitrose Deer-licious Sticky Toffee Pudding and Golden Bûche de Noël.
Aldi, meanwhile, is serving up a Millionaire's Filled Bauble, which sees brownie bites, biscuit crumb, white chocolate stars, chocolate mousse, and a salted caramel sauce encased in a Belgian chocolate shell. The discounter has also created a Smash Dome Cake – shoppers smash the chocolate shell to reveal lashings of chocolate ganache and festive sweet treats.
"Christmas is a very sociable time, and sharing desserts with a festive theme are sure to be a hit," believes Tracey Hughes, managing director of ingredients supplier Henley Bridge. "A tear and share brownie board presented in the shape of a Christmas tree makes a showstopping centrepiece and are a great option for people who might not want a full dessert."
The showstopping trend doesn't just stop at desserts – there are savoury centrepieces on offer this year looking to claim the spotlight on the Christmas table including Tesco's Pigs in Blankets Topped Steak Pie and Monkfish & Chorizo Wellington, and the M&S Garlic Bread Twist with Camembert.