The nation's bakers have whipped up a snow storm of sweet treats for Christmas 2023, with limited-edition cakes, doughnuts, brownies, and more among the innovation unveiled.
Ranging from from moreish single portion snacks to grandiose showstoppers destined to be shared with loved ones, there is something for everyone to enjoy.
Decorative elements provide an Instagram-worthy appearance, while warming seasonal flavours of fruits and spices are embraced, along with the customary lashings of chocolate.
Unwrap some of the sweet treats on offer here: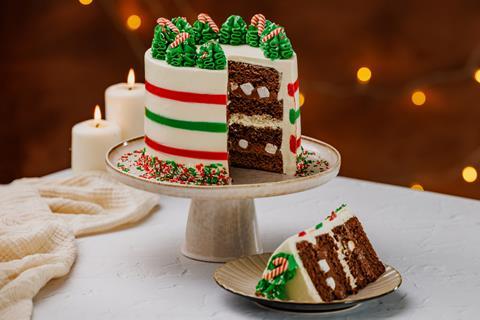 Candy Cane Hot Chocolate Cake, Patisserie Valerie
This festive centrepiece features a rich chocolate sponge filled with layers of fresh cream and mini marshmallows mixed into mint-flavoured chocolate cream, topped with eye-catching buttercream trees and cute chocolate candy canes. Priced at £49.95, it serves 14.
Also included in Patisserie Valerie's Christmas 2023 range are:
Traditional Yule Log (£54.95) – rich fluffy chocolate Genoese sponge filled and coated with chocolate Swiss meringue buttercream
Gingerbread Cake (£39.95) – layers of gingerbread sponge with a ginger St. Honore cream filling, coated with fresh cream and topped with chocolate candy canes and mini gingerbread men
'Madame Valerie' (£59.95) – chocolate sponge layered with caramel and chocolate cream and chocolate honeycomb pieces, finished with smooth chocolate cream and gold splashes and topped with sweet pearls, mixed truffles, mini Christmas trees, and golden swirls
Mince Pies (£14.95 for a pack of six) – star-topped buttery shortcrust pastry filled with fragrant spiced mincemeat
Mini Christmas Gateaux (£39.95 for six) – two mini versions each of Candy Cane Cake, Gingerbread Cake, and Chocolate Woodland Cake
Festive Fondant Fancies (£29.95 for a dozen) – sponge and marzipan fondant fancies, decorated with mini candy canes, holly, and chocolate handpiped Christmas trees.
All products are available to order via its website up until 23 December for nationwide delivery – selected items are also being stocked at its 29 bakery shops till the end of the year.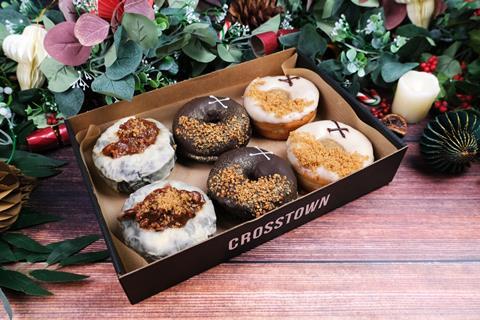 Festive Doughnuts, Crosstown
The London scratch bakery has unveiled two brand new doughnut flavours for the upcoming winter holiday season.
The Ginger, Blackberry & Pear doughnut is vegan-friendly and made with sourdough, covered in a pear & ginger glaze, filled with a blackberry, pear & ginger compote, topped with pear puree, and finished with a vanilla and candied ginger crumble.
Additionally, the Gianduja, Chocolate & Hazelnut features homemade gianduja ganache layered between chocolate cake dough, topped with chocolate glaze, a sprinkling of hazelnut nibs, and a dusting of gold shimmer.
Individual doughnuts are priced at £5.75 each, while you can create your own selection box of six or 12 different flavours including vegan options from £29.95. For hosts wanting to really impress their party guests, there are Christmas doughnut trees – either three-tiered (£140) or five-tiered (£315) – that come complete with various festive doughnuts, dough bites and decorations.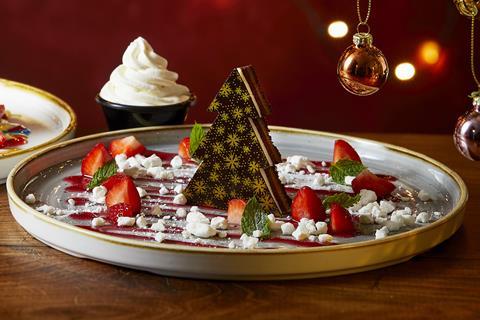 Treat Tree, Creams Café
Another tree-themed treat giving consumers something to pine about is the Treat Tree at Creams Café. Available for £7.95 at the dessert chain's restaurants nationwide from 14 November, it comprises a multi-layered chocolate cake standing in a bed of fresh strawberries, crumbled meringue, mint leaves and strawberry sauce with a dusting of icing sugar.
There's also a range of hot desserts being served including Sticky Toffee Hot Skillet (£7.95), Spiced Winter Berry Waffle (£8.95), Caramel Apple Skillet (£6.25), and Banoffee Hot Pocket (£6.25).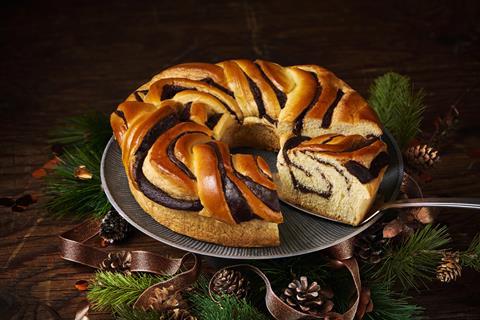 Chocolate Brioche Wreath, St Pierre
Made in France to a traditional recipe, this tear-and-share wreath design combines authentic brioche marbled with a smooth chocolate filling. Already available in Asda and Morrisons stores nationwide, it marks the first ever limited-edition festive product from the brioche specialist.
"As with any St Pierre initiative, the Chocolate Brioche Wreath is product development driven by insight," said St Pierre Groupe senior brand manager Georgia Dales-Smith. "We carried out consumer research to test the concept back in April and the results were overwhelmingly positive. Since then, we've been busy ensuring the product meets the high standards for which the St Pierre brand is known – and is presented in a way that clearly communicates its usage and premium positioning," she added.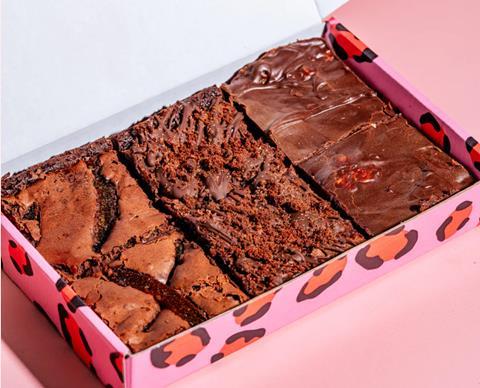 Xmas Brownies, Cake or Death
The vegan brownie specialist is serving up boxes (£19.50 for six or £25.50 for 10) featuring three limited-edition festive flavours.
Available now to order online for nationwide delivery, with a personalised message, the new flavours of its classic chocolate brownies are:
Candied Orange – flavoured with orange extract and topped with candied orange peel slices
Tiffin – jam-packed with glacé cherries, dried fruit and biscuit, topped with a rich chocolate ganache
Black Forest – rippled with cherry jam and topped with a chocolate cake crumb.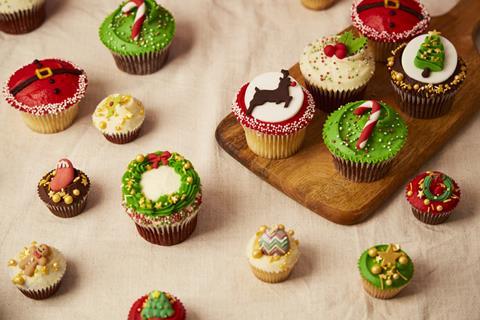 Christmas Cupcake Box, The Hummingbird Bakery
This box of a half dozen cupcakes comprises a selection of favourite American flavours – two each of vanilla, chocolate, and red velvet – decorated adorably with the likes of reindeer, Santa's red suit, candy cane, Christmas tree, wreath and sprig of holly.
Priced at £25 and available to order till 24 December via The Hummingbird Bakery's website, there's also an option of Snowflake cupcakes instead, as well as its new 'At Home Christmas Cupcake Decorating Kits' (£23) as a family-friendly activity over the festive period.
The following range of celebration cakes are also on sale at the brand's six stores across London, including its newest location in Soho:
Christmas Chocolate Rudolph Cake (£55) – three chocolate sponge layers covered in chocolate frosting and decorated with a Rudolph face
Christmas Mint Chocolate Baked Cheesecake (£40.45) – mint-flavoured cheesecake on a chocolate biscuit base, topped with dark chocolate and seasonal sprinkles
Candy Cane Pinata Cake (£60) – red velvet and vanilla sponge layers, hiding a core of M&M goodies, all enclosed within baby blue frosting decorated with red and white icing and hand-made candy canes
Christmas Tree Cake (£55) – red and green vanilla sponge layers, covered in fluffy white frosting and decorated with piped Christmas trees and gift packages around the sides
Christmas Red Velvet Wreath Cake (£55) – deep red sponge in a cream cheese frosting, finished with a piped wreath with red ribbon, pinecones, holly leaves and gold pearls
Christmas Snowflake Cake (£60) – red velvet cake layers blanketed in fluffy white cream cheese and finished with a dusting of pearl lustre, sugar paste snowflakes and wintery sprinkles.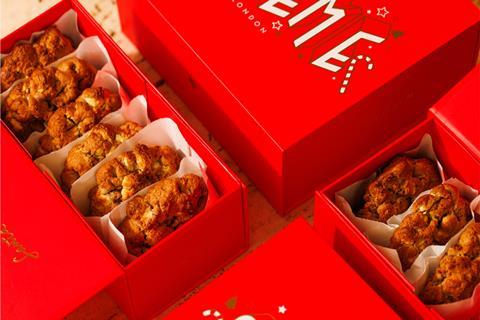 Red Cookie Box, Crème London
The self-described dessert hotspot has brought back its collectible red cookie box to kick off the holiday spirit for cookie connoisseurs in the capital.
December welcomes a brand new and limited-edition flavour: Chestnut Cream & White Chocolate, which features sweet chestnut cream (said to be a favourite comfort food during the festive period in France) with white chocolate chunks. This adds to the autumn-themed Caramel Salé & Milk Chocolate launched in October.
Boxes of six cookies (£24) or 12 cookies (£40), weighing in at 150g per cookie, can be purchased at either of Crème London's two stores in Soho or Notting Hill, or via its website for nationwide delivery.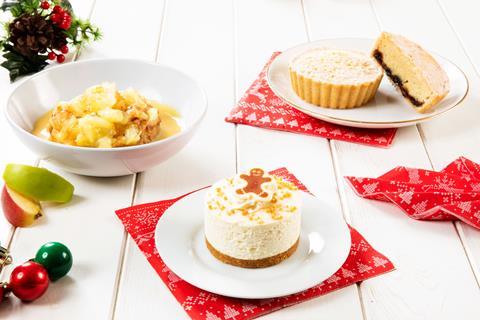 Gingerbread Cheesecake, Just Desserts Yorkshire
The Shipley-based, family-run firm has put a festive twist on several of its individually-portioned desserts this year. This includes a Gingerbread Cheesecake (£3.75 per piece), comprising a lightly-spiced ginger biscuit base with a white chocolate and ginger ganache topping, finished with whipped cream and mini gingerbread man.
Other items of the range, available now for distribution to foodservice, hospitality, and retail outlets, include a Spiced Caramel Apple Crumble (£3 each), which sees winter spices and caramel running through a traditional apple crumble, and a Mince Pie Franzipan, where a sweet butter pastry case is filled with mincemeat and topped with soft frangipane sponge and sugar snow dusting.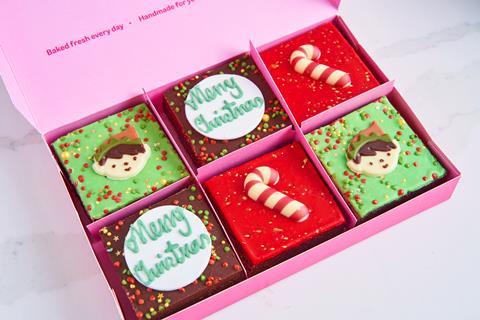 Merry & Bright Brownies, Lola's Cupcakes
The handcrafted treats specialist, which operates a production site in West London for nationwide delivery as well as several stores and kiosks across London, is serving up an extra sprinkling of sugar and spice this Christmas. This includes its gooey Merry & Bright Brownies (£17.70 for a box of six), decorated with white chocolate elf faces, colourful candy canes, and a Merry Christmas plaque.
Lola's other festive offerings include:
Santa's Workshop Christmas Cupcakes or Deluxe Yule Log Cupcakes (both £21.30 for a box of six)
Night Before Christmas Cake (£55) – vanilla or chocolate sponge base decorated with a snow-dusted, midnight blue sky scene and flying sugar reindeer
Santa's Workshop Tall Cake (£75) – chocolate or vanilla sponge layers enrobed with red vanilla buttercream and topped with chocolate bells, candy canes and mini snowmen
Winter Woodland Yule Log Cake (from £25) – chocolate cake iced with malted chocolate buttercream and decorated with chocolate pinecones, sugar holly, gold sleigh bells, fresh redcurrants and gold dust.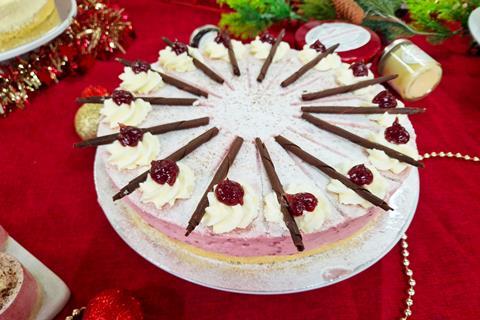 Cherry & Mixed Spice Torte, Tiptree Patisserie
Available now as part of its Christmas catering packs for foodservice operators, the Essex-based artisan bakery and patisserie has unveiled a range of indulgent desserts including the Cherry & Mixed Spice Torte. The torte is made with a vanilla sponge base topped with a spiced cherry mousse, a rosette of cream and a chocolate pencil decoration, and comes in mini, individual and large sizes.
Other sweet bakery items on the range include:
Chocolate Orange Brownie Squares – rich ganache brownies laced with orange flavouring and topped with a white chocolate drizzle
Hazelnut & White Chocolate Doughnuts – a vanilla doughnut covered with a white chocolate glaze, filled with hazelnut spread and topped with hazelnut nibs
Caramel Reindeer Doughnuts – a ring doughnut glazed with caramel and topped with pretzels, eyes, and a chocolate button nose
Christmas Pudding Doughnuts – a ring doughnut covered with a cinnamon glaze and topped with Cole's Classic Christmas pudding
Mulled Wine Mince Pies – handmade pies deep-filled with Tiptree Mincemeat and mulled wine.