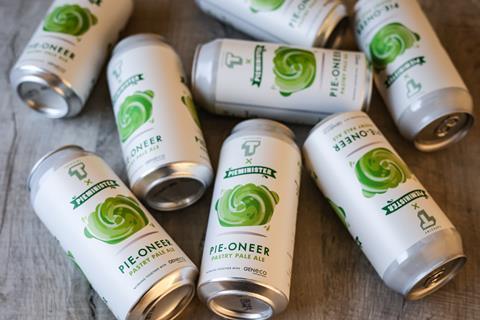 Pieminister has teamed up with Tapestry Brewery in south Bristol to make a carbon neutral beer from pie crust trimmings.
Called Pie-oneer, the vegan-friendly pastry pale ale is unfiltered and unrefined and described as a 'light and refreshing beer with subtle undertones of golden, crisp pastry'.
Its creation was facilitated by waste management firm GENeco which collects and processes organic waste in the city. The business has been collecting unavoidable food waste from Pieminister's Bristol kitchens for more than five years, with the waste taken to a nearby anaerobic digestion plant. Here it is used to produce renewable energy, sustainable transport fuel and other resources.
Now, the pastry off-cuts are taken to Tapestry Brewery where they are integrated into the beer-making process.
GENeco said it has helped to remove the carbon associated with beer production by using renewable energy produced at its Bristol Bioresources and Energy Park and transporting the finished beer to Pieminister's restaurants via its zero-emission fleet. Tapestry Brewery also recycles and reuses water within the brewery.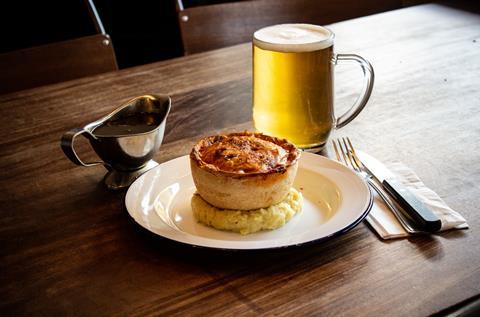 "Pie-oneer is all about showcasing waste as a resource in a fun and innovative way whilst raising awareness of food waste," said Richard McCluskey, head of waste & resources at GENeco. "More than anything, it represents the collaboration we believe is required between businesses and organisations with shared sustainability values to reduce their impact on the environment and help achieve net zero climate goals."
Pie-oneer will be available at Pieminister's Stokes Croft and Broad Quay restaurants in Bristol from the 7 January. Ten pence from every can sold will go direct to Bristol-based charity Props, which supports adults with learning difficulties achieve their full potential.
The beer forms part of Pieminister's plans to become a 'truly sustainable food business' as part of its 'Pies, Planet and People' goals. By 2025 it hopes to reduce its carbon emissions by at least 50% with the goal of becoming carbon neutral by 2023. Other goals include 100% of the waste produced by the firm to be recycled or recovered by late 2022 while also reducing all waste generated by 30%.
Pieminister joins a growing number of businesses using surplus baked goods to create beer. In 2020 Warburtons teamed up with Toast Ale to create a brew from 'wonky' crumpets while Shipley-based Saltaire Brewery joined forces with Morrisons to make an ale from surplus bread.