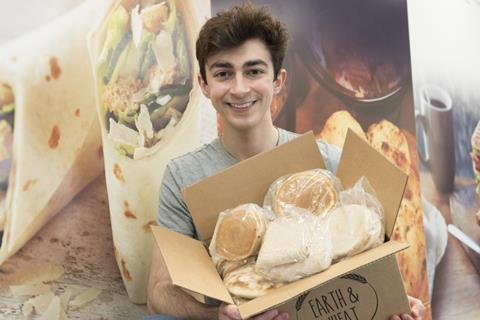 A wonky bread subscription box, called Earth & Wheat, has rescued 30,000kg of baked goods from being wasted since its launch in late March.
The business was started by 20-year-old university student and fourth-generation baker James Eid who utilises 'wonky' baked goods from his family's business Signature Flatbreads. However, Earth & Wheat is looking to partner with other bakeries in the future.
The products – which include a random selection of crumpets, tortillas, pitta, focaccia, pancakes and Greek-style flatbreads – would otherwise have been disposed of during the production process due to their size, appearance, or overproduction. Instead, they are sold via a subscription service to customers who pay up to £6.99 for the 2.5kg box on a weekly, bi-weekly or monthly basis.
Naan breads have also been added to the line-up since launch with plain and garlic variants available. According to Eid, the flatbreads are among the 'most wasted' types of breads.
"Naan breads tend to be a highly wonky bread product because they have to be hand-crafted into a teardrop shape," he explained. "But often what happens, when the dough is stretched by hand it leads to variation in shape and size, and that could mean it's discarded due to its wonky appearance. Consumers are not expecting to see a wonky or odd-looking naan bread when they pick it up at the shops."
By adding naan to the boxes, Eid said Earth & Wheat is fighting food waste at the production source.
For every box sold, the business also donates a meal to UK food banks to help fight food poverty.
Balancing consumer demand while keeping surplus at a minimum continues to be a challenge for bakeries. Recent research by app Too Good To Go revealed that less than half of UK bakeries have a documented plan in place to reduce food waste.