Aldi has unveiled a cracking line-up of festive pies and puddings for Christmas 2022.
Indulgence, fun flavour combinations and desserts created with an element of surprise are among the key themes. There is also an array of vegan options.
Below we take a closer look at some of the sweet and savoury NPD the retailer has in store: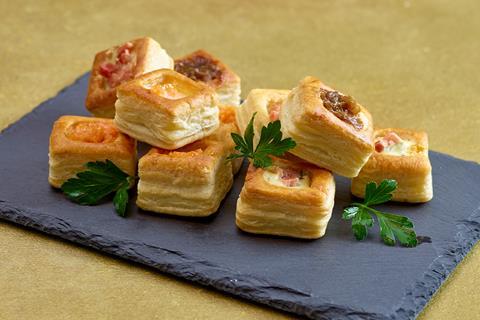 Festive Vol au Vents
Embracing the nostalgia trend, Aldi has unveiled a trio of mini vol au vents to spruce up party platters. There's no prawn cocktail filling in sight though – the light bites, part of its Specially Selected range, come in three flavours: Ham & Cheddar, Goats Cheese & Caramelised Onion, and Salmon & Dill.
On sale: 12 October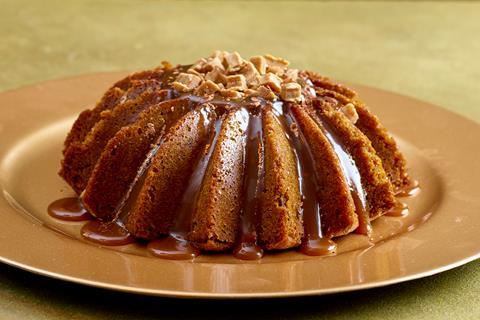 Sticky Toffee Pudding Crown Cake
Add some sparkle to the table with this Sticky Toffee Pudding Crown Cake which is finished with glitter sprinkles. The sponge is made with sticky dates and features a rich sticky toffee sauce and buttery fudge pieces.
On sale: 9 December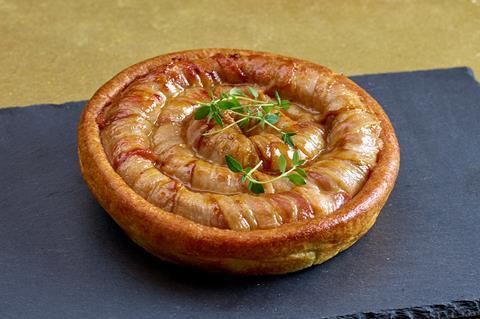 Giant Pig in Blanket Yorkshire Pudding
Aldi has turned this festive favourite on its head by super sizing a pig in blanket to 60cm and then nestling it in a large Yorkshire pudding.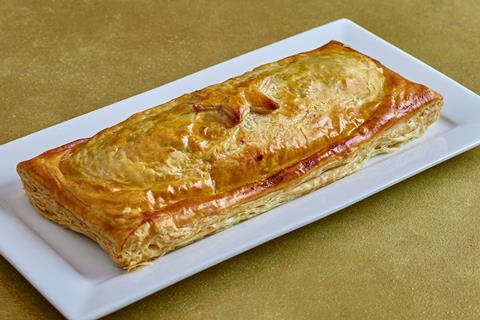 XL Christmas Sausage Roll
The retailer's bigger is better theme also extends to this seasonal sausage roll. The extra-large variant is made from British pork sausage meat with either a sweet chilli chutney or a cranberry sauce. It's encased in flaky puff pastry and decorated with a pastry star.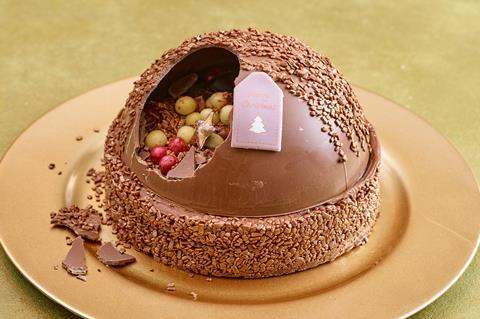 Smash Dome Cake
This layered chocolate creation hides a fun surprise inside. The sweet treat is filled and covered with a Belgian chocolate ganache, topped with Belgian chocolate decorations and finished with a Swiss chocolate dome.
On Sale: 11 December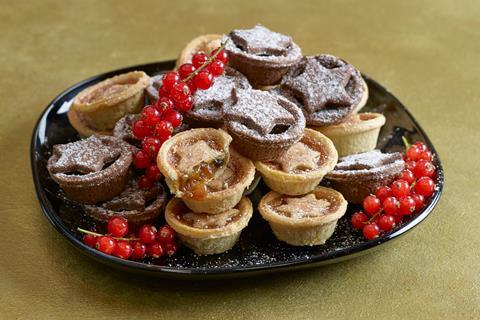 Mini Mince Pies
According to Aldi, these Mini Mince Pies are ideal for parties, gathering and snacking. Choose from Chocolate & Orange, made from an all-butter chocolate pastry with an orange mincemeat filling and dusted with caster sugar or salted caramel mincemeat option.
On sale: 10 November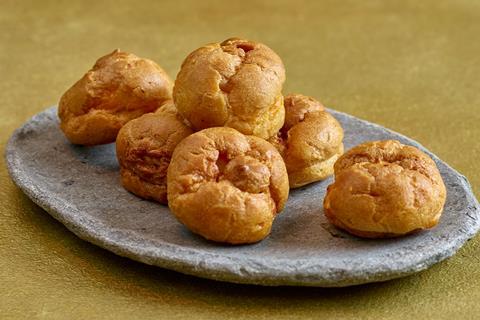 Cheese Profiteroles
Forget the traditional cream and sweet chocolate sauce – these choux buns have had a savoury makeover. The profiteroles are available with a cheesy Barber's Mature Cheddar filling or infused with spicy pieces of chorizo.
On sale: 12 October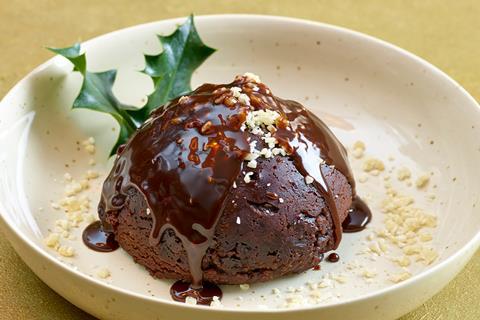 Firecracker Pudding
This festive pudding is made with vine fruits, cider, Amontillado sherry and Belgian chocolate chunks and infused with an orange and chilli flavour sauce. Salted Belgian chocolate sauce and a sachet of coated popping candy are also included to maximise the theatre at the Christmas dinner table.
On sale: 11 December
Panna Cotta Star
This light raspberry jelly is topped with Madagascan vanilla panna cotta made using British cream in the shape of a Christmas star. It is finished with a sweet raspberry coulis and glitter dust.
On sale: 22 December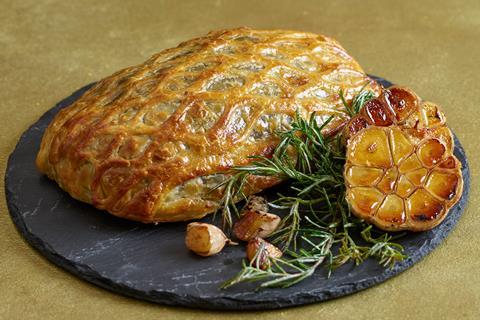 Venison Wellington
Aldi is taking the wellington up a notch by replacing the beef with venison. Adorned with buttery puff pastry layers and featuring mushroom duxelle, this Christmas centrepiece is said to have a robust and gamey flavour.
On sale: 19 December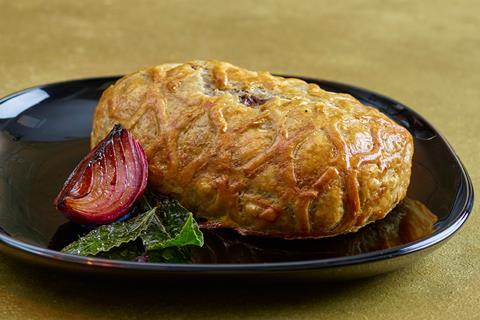 Plant Menu No Beef Wellington
Vegans looking for a main dish can try this plant-based iteration of the traditional wellington. The No Beef variant is wrapped in a vegan crispy lattice pastry, has a soya-based beef flavoured core, and is topped with a mushroom duxelle.
On sale: 7 November