Christmas puddings are maturing, mince pies are flying off shelves, and the nation's supermarkets and bakers have started to unwrap the treats on offer this year.
From new twists on wellingtons to boozy bakes, savoury takes on sweet items and fancy flavours, there are several themes dominating the market. Here, we explore the trends adding some flair to festive fare in 2022: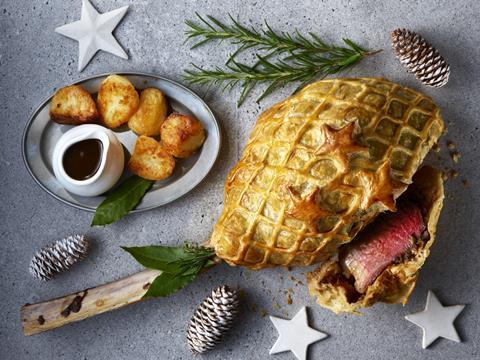 Put some welly into it
Beef wellington often makes an appearance in Christmas ranges but this year the pastry-clad centrepiece has been reinvented. Asda, for example, is offering a showstopping version in the form of a Tomahawk Wellington, complete with the bone. Developed by master butchers, the steak has been French trimmed and matured for 21 days and comes with a beef stock gel, mushroom duxelles and Madeira wine, and an on-trend three cheese and truffle melt.
Aldi, meanwhile, has replaced the titular meat with venison which brings a 'robust and gamey' flavour to the Christmas table. Vegan-friendly options are also abundant as the discounter has unveiled a
No Beef Wellington with a soya-based beef flavoured core, Tesco added to its Wicked Kitchen range with a wheat and soya-filled wellington complete with roasted garlic, herb and mushroom duxelles, and Co-op revealed a Mushroom Wellington.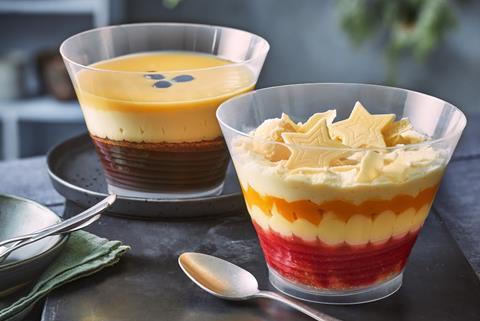 A tipple or two
"Cocktails!" That was the answer offered by Tesco dessert project development manager Kirsty Preston when asked about her inspiration for the retailer's Christmas range this year. "We've seen a really fun trend of people enjoying cocktails in dessert form, so we've leaned into this for 2022," she explained.
For Tesco, this trend has come to life via a Peach Bellini Trifle alongside a Passionfruit Pavlova Wreath (which draws on the sweet and citrussy flavours of a passionfruit martini), and the Espresso Martini Dessert which features layers of Belgian chocolate and coffee sauce topped with an espresso martini-soaked sponge layered with Belgian white chocolate mousse and white chocolate ganache, finished with coffee-flavoured chocolate beans.
Asda has also embraced cocktails for a duo of desserts, with The Espresso Martini and Passionfruit Martini Puddings served in glasses to maximise the experience.
Waitrose, meanwhile, embraced the flavours of a negroni for its Heston from Waitrose Mandarin Stollen. The bitter cocktail brings a dash of citrus to the butter brioche dough speckled with candied orange and mandarin pieces, steeped in mandarin negroni, and decorated with candied orange slices.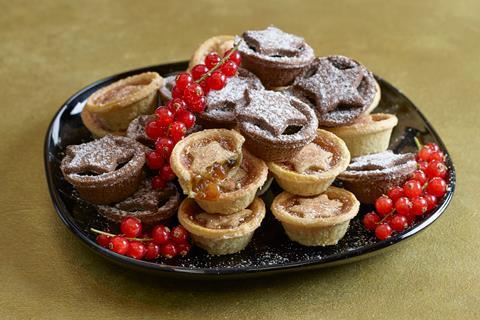 Value for money
Christmas is a time for giving, a time for indulgence – but what does this look like with a recession looming? It's likely to have an effect but perhaps not the one you'd expect.
"There's no doubt this Christmas will be financially challenging for many consumers as the cost-of-living crisis leaves shoppers feeling the pinch," says Chris McLaughlin, commercial director at St Pierre Groupe. However, he adds, it's important to put this into the context of the past two years of lockdown celebrations meaning hosts will want to level up, impress and show off new skills this year.
"Pre-pandemic research showed that shoppers are looking for quality and authenticity when it comes to Christmas products and if anything, a cost-of-living crisis makes shoppers more discerning with their spending – it doesn't necessarily mean they spend less," McLaughlin adds.
This is echoed by Karen Dear, director of operations at the Craft Bakers Association, who believes shoppers may cut back in the run-up to Christmas so they can indulge over the festive season. "When shoppers do spend, they will expect good value from their purchases," she says.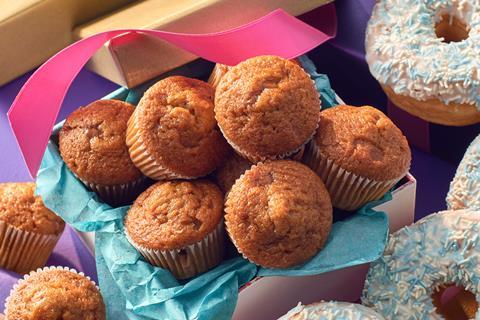 Flavour of the season
Nostalgia continues to reign supreme in bakery with flavours such as chocolate orange, sticky toffee and Black Forest dominating festive fare over the past couple of years.
A Sticky Toffee Pudding Crown Cake from Aldi and Sticky Toffee Mini Muffins from Co-op are among the products representing them this year, alongside Tesco's Outrageous Orange Chocolate Dessert as part of its vegan Wicked Kitchen range and Baker Street's Chocolate & Orange Cake Truffles. Paul UK is also bringing back its Pain au Chocolat Orange and Chocolate Orange Cheesecake.
"Demand for more traditional flavours such as ginger, Black Forest, chocolate orange and caramel chocolate is expected to rise during the winter months," says Daryl Newlands, marketing manager, Finsbury Food Group. "The appetite for new seasonal flavours will continue to grow this Christmas, so it is critical to align with these to meet key product formats and user occasions."
Blonde chocolate is gaining traction, appearing in Tesco's Christmas Present Torte Bar [5] and Co-op's Golden Blonde Sponge Crown, while warming spices typical of the season are presented in formats such as Cinnamon Sugar Knots from Co-op and cashew, sultana & cinnamon baklava from Waitrose.
CBA's Karen Dear believes it is chocolate that will dominate. "Chocolate will be the backbone of sweet festive bakery this year, as this is a firm favourite of customers in the festive months," she says, adding that CBA members will bring chocolatey combinations to the table featuring cinnamon, classic fruits and more.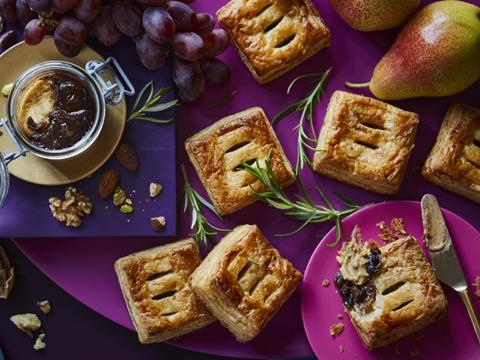 Sweet goes savoury
Profiteroles and panettone are among the traditionally sweet products to be given a savoury twist. Waitrose is arguably driving this trend. Its range includes a Parmesan & Black Pepper Panettone, spicy Nduja & Burrata profiteroles and Pear & Fig Mince Pies in Triple Cheese Pastry. The latter, part of the Heston from Waitrose range, sees puff pastry laced with Cheddar, Emmental and Italian hard cheese filled with mincemeat made with plump vine fruits, figs, Bramley apple, a splash of ruby port, candied pears, nutmeg, and ginger.
Aldi has also got in on the action, forgoing cream and chocolate in its profiteroles for Barber's Mature Cheddar filling or spicy pieces of chorizo.
Indulgence rules
Indulgence continues to rule as consumers use Christmas as an excuse to treat themselves. This isn't new, but there are themes emerging within the products being served up. "Christmas is a time when people are prepared to treat themselves and indulge in little luxuries, including ingredients such as toppings (gold dust, chestnuts, crumbles), indulgent and fine fillings including premium alcohol and ingredients such as truffles and foods with provenance stories," explains Higgidy food director Alysha Luckin.
Party food is one area experiencing a touch of gentrification. Asda is embracing provenance and fine fillings with the likes of Smoked Salmon Blinis with Truffle & Dill Cream Cheese featuring salmon farmed in the waters off the west coast of Scotland.
Further evidence comes in the form of its Ibérico Bellota Crostini Kit and Mini Coquilles St Jacques in Edible Pastry Shells which are filled with Patagonian scallops in a creamy white wine sauce, topped with a panko and parsley breadcrumb.
Aldi, meanwhile, has sought to elevate the humble vol au vent by filing the pastries with salmon & dill as well as goats' cheese & caramelised onion.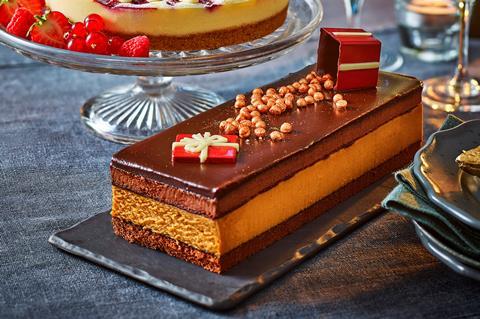 A free-from affair
Free-from bakery has added festive flair this year as manufacturers raise their game to offer showstopping vegan or gluten-free products.
"Demand for vegan products continues and we're expecting to see a lot of vegan sweet bakery positioned to appeal to vegan and non-vegan consumers alike," says Jacqui Passmore, marketing manager UK and Ireland at Dawn Foods. "Expect plenty of chocolate, from delicious vegan chocolate brownies to chocolate trifles with plant-based cream."
One notable example comes from Tesco in the form of a Stem Ginger Tiffin Cracker. It features ginger biscuit made with stem and crystallised ginger, combined with Belgian dark chocolate tiffin mix. The whole thing is then decorated with a bronze lustre dust for some added sparkle.
"We wanted to make a real fuss of the dessert side of things for Christmas this year – using some classic flavours to make showstopping centrepieces, created with top quality ingredients and giving shoppers something they could easily take out of the packaging and put onto their festive table," explains Tesco product development manager Kit Sunghuttee.
ADVERTISEMENT: CALIFORNIA RAISINS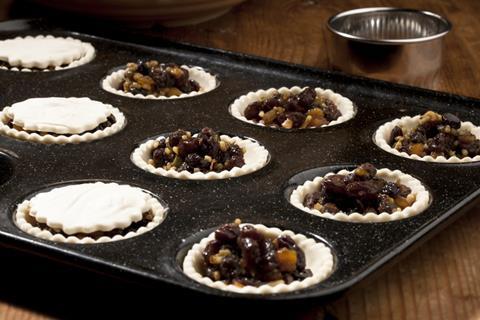 Recipe: Mincemeat
Makes 4 x 1 litre preserving jars
Ingredients
1kg Bramley apples
4 oranges
4 lemons
400g suet
950g California Raisins
650g currants
700g Muscovado brown sugar
400g Italian chopped mixed peel
3 level tablespoons mixed spice
1 level dessert spoon of ground cinnamon
200ml of dark rum, calvados or brandy
Method
Core the apples (leave the skin on) and finely chop. Grate the zest of the oranges and lemons and set aside. Extract the juice from the oranges and lemons and set aside
In a large mixing bowl, mix all the dry ingredients until evenly distributed. Add the fruit juice and alcohol, combine well
Sterilise the preserving jars and fill the jars with the mincemeat. Cover with a wax disc and seal. Store in a cool dark place, will keep for 12 months.