Waitrose has offered a sneak peek inside its Christmas stocking with an array of indulgent sweet and savoury baked goods on offer.
Indulgence is high on the agenda as it adds on-trend twists to familiar festive fare resulting in treats such as the Parmesan & Cracked Black Pepper Panettone or Mandarin Negroni Stollen.
The retailer has also sought inspiration from across the globe with a Basque cheesecake hailing from Spain, a limoncello pandoro from Italy and empanadas gracing the menu.
Here's a closer look at some of the items on offer: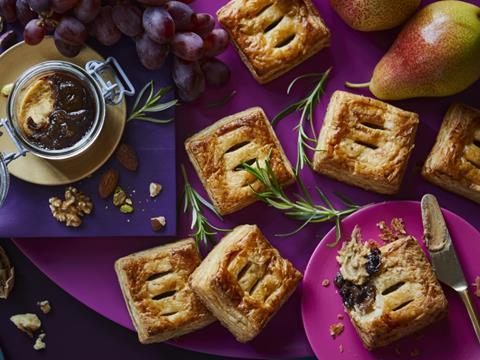 Pear & Fig Mince Pies in Triple Cheese Pastry
Heston Blumenthal has put his spin on mince pies by drawing inspiration from one of his favourite recipes – Eccles cakes with potted stilton. This new iteration sees puff pastry laced with Cheddar, Emmental and Italian hard cheese filled with mincemeat made with lump vine fruits, figs, Bramley apple, a splash of ruby port, candied pears, nutmeg, and ginger.
Rsp: £3.50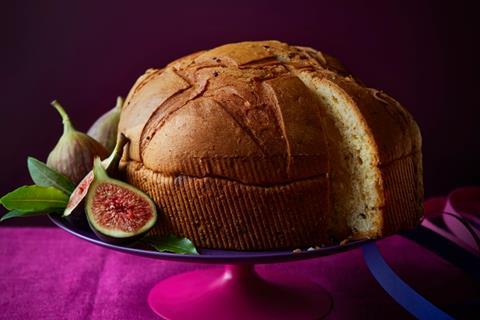 Parmesan & Cracked Black Pepper Panettone
Waitrose claims this is a supermarket first as it adds a savoury twist to the Italian staple. The panettone is made with butter, parmesan, and black pepper. Serving suggestions include toasted and topped with charcuterie, pâté and cheese, or as a special breakfast topped with smoked salmon, a poached egg and hollandaise sauce.
Rsp: £8.50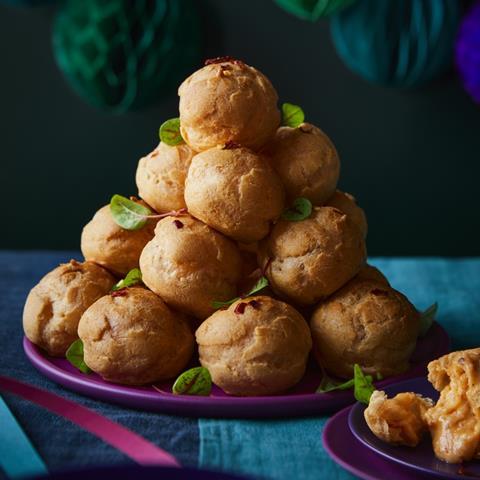 'Nduja and Burrata Profiteroles
They're profiteroles, but not as you know them. Waitrose is serving up a savoury and spicy twist on the choux bun made with on-trend ingredients. The savoury choux pastry is filled with creamy burrata, a Cheddar & mozzarella sauce and spicy nduja.
Rsp: £6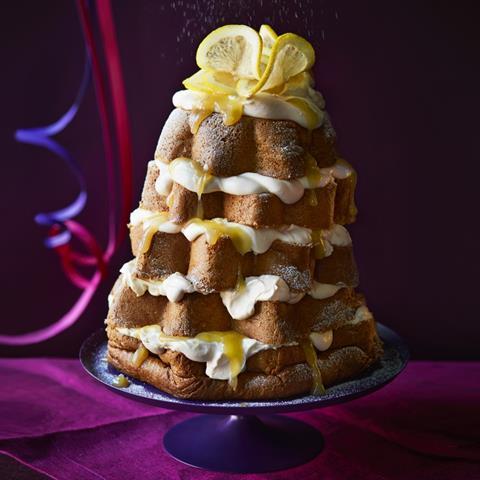 Limoncello Pandoro
A zesty alternative to a Christmas cake, this Italian star-shaped pandoro has a tangy limoncello filling. Waitrose suggests slicing it horizontally before layering with mascarpone and lemon curd, all finished with a dusting of icing sugar.
Rsp: £10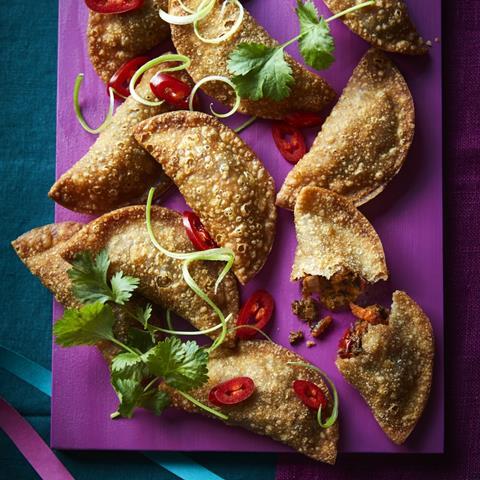 Vegan Mini No Beef Empanadas
Crisp pastry encases a rich soya mince, red pepper and carrot filling all spiced with a blend of garlic, parsley, cumin, black pepper, cinnamon, coriander, chilli, and turmeric.
Rsp: £5.50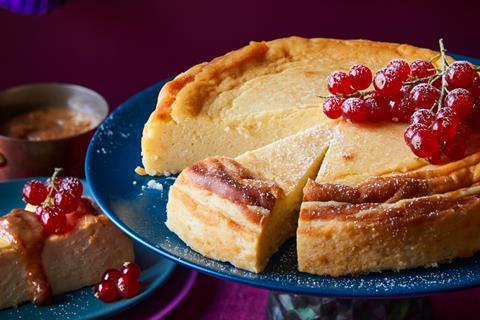 Basque Cheesecake with Tipsy Fruits
Waitrose is serving up its take on the classic dessert from Spain's Basque region. This creamy cheesecake is made with Madagascan vanilla and baked at a high temperature for a caramelised top. Serve with the warmed sauce, made with plump vine fruits, Christmas spices and a dash of brandy.
Rsp: £12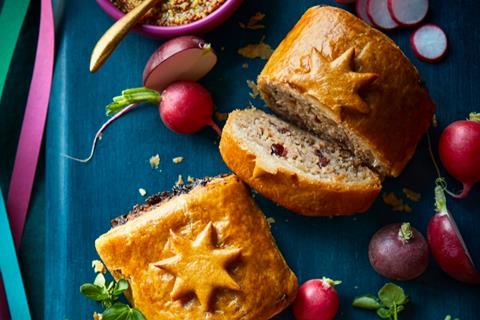 Christmas Dinner Sausage Roll
Hoping to give Christmas sandwiches a run for their money, Waitrose has created the Christmas Dinner Sausage Roll. Available from the deli counters, it features golden puff pastry made with lactic butter and filled with outdoor-bred pork, turkey, and cranberries.
Rsp: £2.75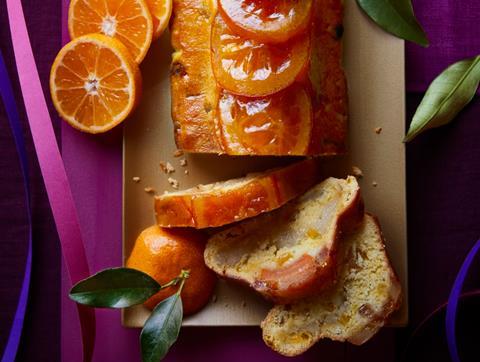 Mandarin Negroni Stollen
Part of the Heston from Waitrose range, this sweet Christmas classic has been combined with the bitter boozy flavours of a negroni. The brioche dough is filled with marzipan and speckled with candied orange and mandarin pieces, steeped in mandarin negroni and decorated with candied orange slices.
Rsp: £10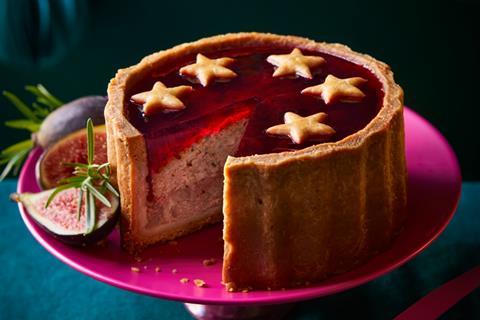 Three Bird Layered Pork Pie
Waitrose describes this as a classic pork pie with a twist. Hot water crust pastry is filled with layers of outdoor-bred pork, pheasant, turkey and duck liver pâté, and hand-finished with port jelly.
Rsp: £15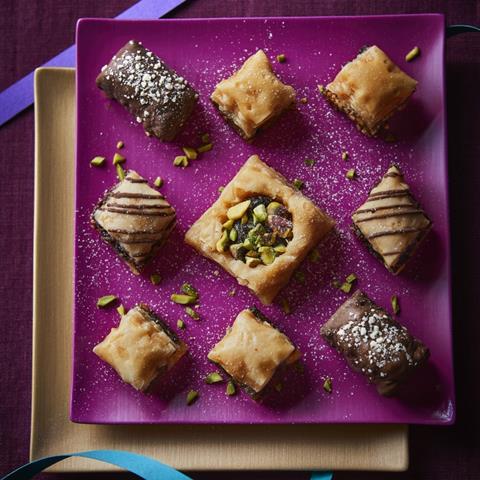 Festive Baklava Collection
These Levantine-inspired treats include five varieties of sweet baklava. Made with layers of filo pastry soaked in syrup, they're flavoured with fruit, nuts, spices and chocolate. Flavours include mincemeat & pistachios, cashew, sultana & cinnamon, date & ginger, cranberry & chocolate, and, chopped almonds with chocolate
Rsp: £4