Tesco has become one of the first major retailers to unwrap its Christmas range for 2022, which includes a host of sweet and savoury new bakery products.
There are new additions to the retailer's party food range, free-from line-up and dessert offering.
Novelty shapes make frequent appearances in desserts, with wreaths and crackers among those on display. When it comes to flavours, the retailer has kept to the classics with chocolate, caramel and coffee featuring heavily while the party food line-up takes inspiration from international cuisine.
Here are some of the highlights of Tesco's Christmas range: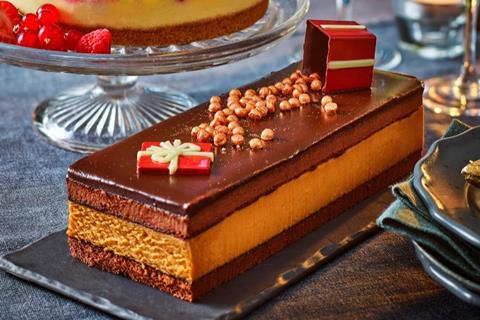 Blonde Chocolate Christmas Present Torte Bar
Tapping into the flavour of the moment – blonde chocolate – this dessert is made by sandwiching a baked caramel and white chocolate ganache cheesecake between chocolate sponge. The whole thing is topped with chocolate ganache before being finished with bronze dusted shortcake balls and festive chocolate present decorations.
Rsp: TBC Launch date: w/c 26 September 2022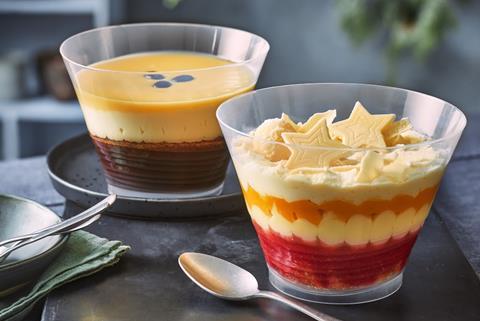 Espresso Martini Dessert
Cocktails, particularly espresso martinis, are increasingly being used as the inspiration for sweet treats, and the Tesco Finest Espresso Martini Dessert is the latest example. It features Belgian chocolate and coffee sauce topped with an espresso martini-soaked vanilla sponge layered with Belgian white chocolate mousse and white chocolate ganache, finished with coffee-flavoured chocolate beans. Tesco is also rolling out a Peach Bellini Trifle.
Rsp: £9 Launch date: w/c 12 December 2022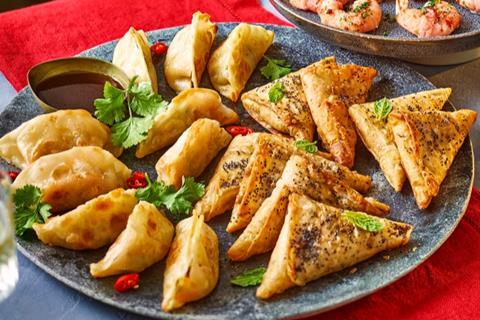 Whipped Feta Samosas
Part of Tesco's Finest range, these herb flecked pastry samosas are hand folded and filled with soft cheese, whipped feta, and mint, finished with a sprinkling of poppy seeds.
Rsp: TBC Launch date: w/c 10 October 2022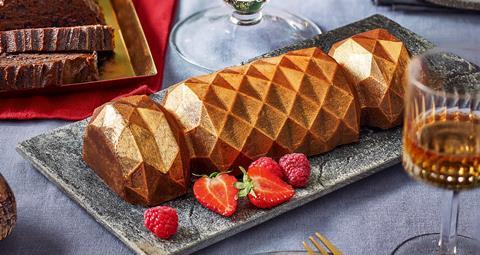 Free From Stem Ginger Tiffin Cracker
This vegan and gluten-free dessert features ginger biscuit made with stem and crystalised ginger, combined with Belgian dark chocolate tiffin mix. The whole thing is then decorated with a bronze lustre dust for some added festive flare.
Rsp: £8 Launch date: w/c 24 October 2022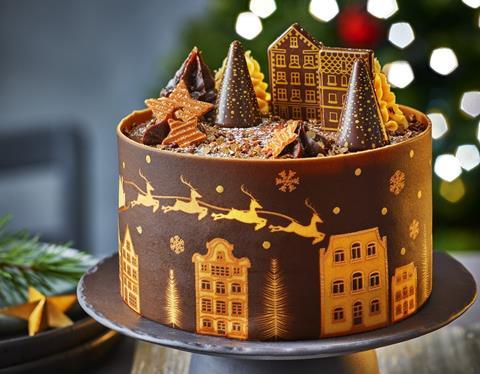 Chocolate Winter Village Cake
This cake serves up chocolate and Christmas overload. Depicting a sleepy winter village on Christmas eve, the chocolate cake is coated in chocolate ganache, wrapped in an edible sugar paste collar, and topped with chocolate buttercream and a selection of chocolate decorations.
Rsp: £15 Launch date: w/c 21 November 2022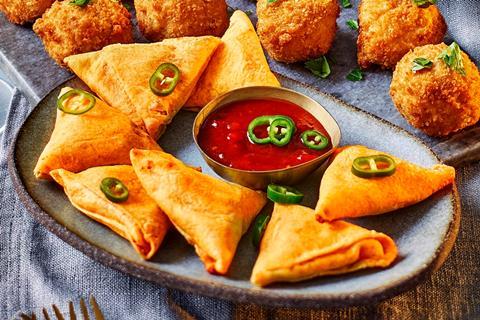 Nacho Cheese Pockets & Chipotle Salsa
Tesco said these cheese pockets will serve up the 'taste of Central America from your living room'. The nacho pockets are filled with cheese and accompanied by a chipotle salsa dip.
Rsp: TBC Launch date: w/c 10 October 2022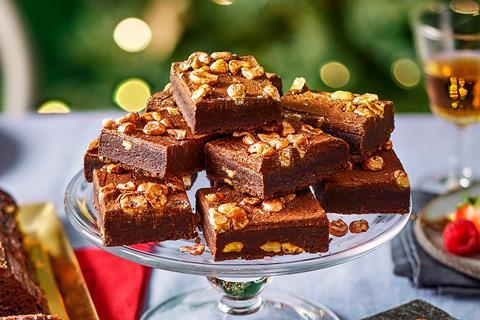 Free From Brownie Slices
Tesco has taken gluten-free brownies up a notch with a festive shimmer. The brownies contain hazelnuts and are topped with a dark chocolate praline icing and finished with amber lustred hazelnuts and a rose gold shimmer.
Rsp: £3 Launch date: w/c 24 October 2022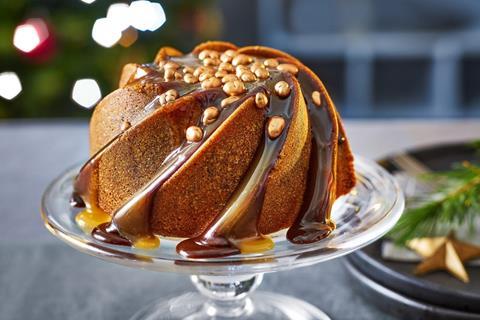 Caramel Cascade Pudding
This chocolate and blonde sponge crown comes with sachets of chocolate, caramel, and bronze honeycomb sauce to add a little bit of theatre at the Christmas dinner table.
Rsp: £12 Launch date: w/c 12 December 2022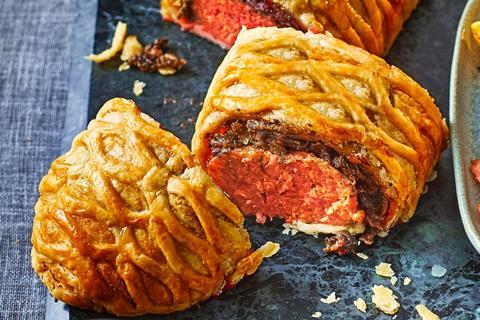 Wicked Kitchen Wellington
Offering up a vegan alternative to beef wellington, the Wicked Kitchen Wellington is comprised of seasoned wheat and soya which is hand rolled and then coated in roasted garlic, herb and mushroom duxelles and wrapped in a flaky lattice vegan pastry.
Rsp: £5 Launch date: w/c 12 December 2022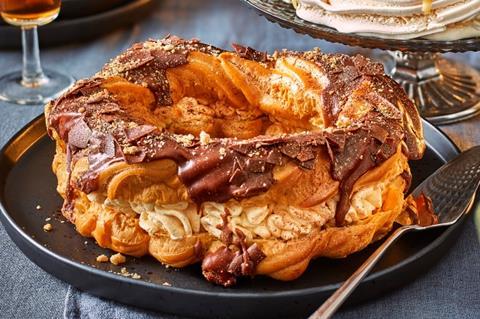 Salted Caramel & Chocolate Millionaire Choux Wreath
The golden choux pastry is packed with a millionaire shortbread filling, drizzled in milk chocolate and hand finished with grated chocolate.
Rsp: £6.50 Launch date: w/c 17 October 2022