Sponsored by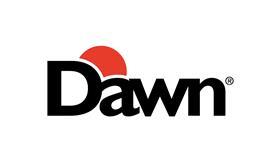 This Baking Industry Award recognises the work of a craft bakery business, whether they operate a single retail shop, multiple sites or a wholesale business.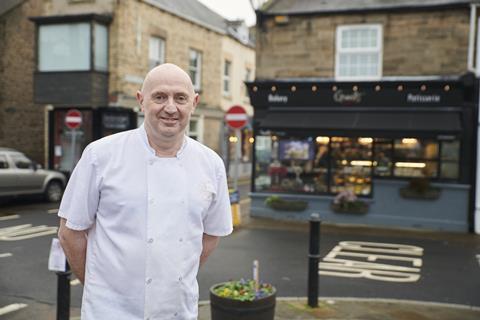 Winner: Grant's Bakery
Grant's is a family-owned business based in the heritage village of Corbridge, Northumberland. As such, it looks to balance traditional products with new and innovative lines to meet the needs of its customers.
One example of this is its makeover of the humble flapjack into a popular speciality through the addition of white chocolate and raspberries.
The driving force of product development is master baker Andrew Cotterell (pictured above), who brings over 40 years of experience to the company.
Popular items from Cotterell's repertoire include raspberry streusel, lemon drizzle and cherry & almond bar cakes, as well as savoury items such as ham & egg pie and various types of quiche. These sit alongside recently introduced innovative lines including Ezekiel bread, cherry & almond pistachio tart, mango delice and raspberry cranachan.
Grant's impressive achievements include a 30% increase in trade during the pandemic. The company responded to lockdown by investing in a new website to service the local community, which meant the business could continue operating and jobs were protected.
In what Grant's describes as "an overnight success", the website replaced 70% of in-store trade within its first month. The company is now planning to launch a second version of the website that will enable the national delivery of selected lines.
The judges said Grant's was a successful and progressive craft business that should be "really proud" of its commitment to producing quality products and its optimisation of new ideas that delivered demonstrable benefit to the future of the business, such as using paid and unpaid social media to widen its footprint and customer base.
The panel added that the business demonstrated solid and sustainable year-on-year growth and an ability to respond positively to change, driven by a well-trained workforce.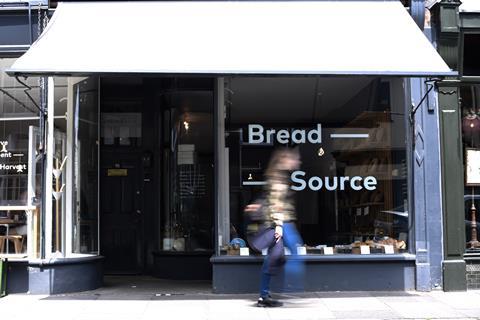 Finalist: Bread Source
This Norwich-based company, which has six outlets across Norfolk plus an established online and wholesale presence, says it is "ferociously passionate" about every single detail involved in crafting its products.
Strong online year-on-year growth in turnover was recorded for the year ending April 2020, following advances in 2019 including a move to a new 5,000sq ft production facility, the opening of the former bakery production facility to the public to buy bread, pastries and takeaway coffees, and growing its social media following from 2,000 to 20,000.
Bread Source's stated aim is to close the gap between the grower and consumer by producing as many of the constituent components of each product in house. This manifests in the company milling grain from local wheats, making preserves and producing chocolate from bean to bar.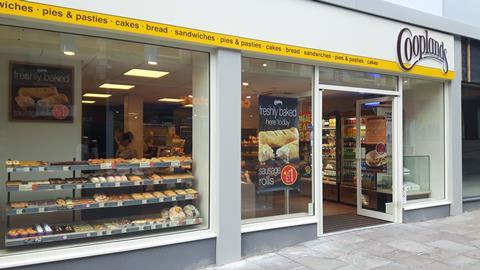 Finalist: Coopland & Son
Over the last year Cooplands has opened 13 new shops and one new café, bringing the total for this 135-year-old family-owned business up to 164 and 12 respectively.
The company also boasts a large fleet of food-to-go vans, plus three production sites at Hull, Durham and Scarborough that bake daily and supply all channels to market. Services include personalised celebration cakes, offering customers a choice of various bases, designs, toppings and a customised hand-piped message or edible photo.
The judges said there was so much to admire in this thriving business, which looks to balance hand-finishing with upscaled processes to meet consumer demand.
In early 2020 the company had a starring role in the BBC programme Night Force, showcasing the overnight efforts of the Cooplands' team, which include the baking of 25,000 bread rolls, ranging from white to wholemeal to teacakes.
The company has proven resilient during the pandemic, with 120 shops remaining fully operational during lockdown.