Sponsored by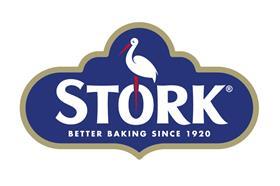 This category at the Baking Industry Awards 2020 celebrates innovative and marketable products that present something new to the judges, be it a twist on an existing product or something completely new.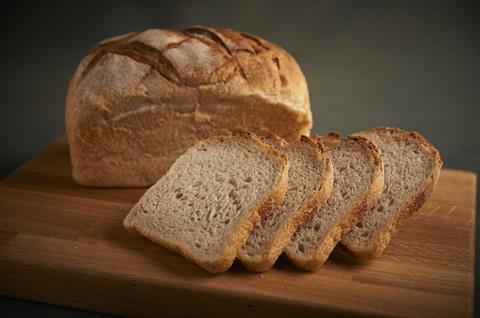 Winner: Sourdough Toastie Loaf, Seasons Bakery
The unique Sourdough Toastie Loaf is described by Seasons Bakery as having a traditional sourdough flavour with the creamy softness of a white tin loaf.
It was developed with a customer, who owns a toastie business, looking for a loaf that was soft and even in size, but with the benefits of sourdough.
The loaf is made using a yeasted white sourdough sponge with a little bit of rye. Seasons adds 0.2g of yeast to its sponge as well. Having been fermented in the fridge for 24 hours, the sponge is added to Seasons' sourdough, bulk fermented for six hours, divided, moulded and put into tins. There it is left to slowly proof for six hours before baking.
"We use a sourdough starter which means we can reduce the amount of yeast used. We don't add any preservatives to keep our loaf as natural as possible," says owner Daniel Nemeth.
The resultant loaves, complete with a rustic look and slash on top, have a close crumb structure which is described as perfect for keeping the fillings of sandwiches intact.
Seasons now produces the loaf for two customers, creating more than 200 every week.
"Our customers are attracted to the product because it has all the health benefits of a traditional white sourdough but in a delicious, soft white tin loaf. Suitable for restaurant use or at home, our loaf slices and toasts incredibly. It fits perfectly in the freezer, and when defrosted, the loaf comes out with the same high quality," adds Nemeth.
The judges said the Sourdough Toastie Loaf met the criteria of sourdough in a convenient, practical format, as well as an easier, more versatile sandwich shape that didn't lose any of the great flavours or USPs expected.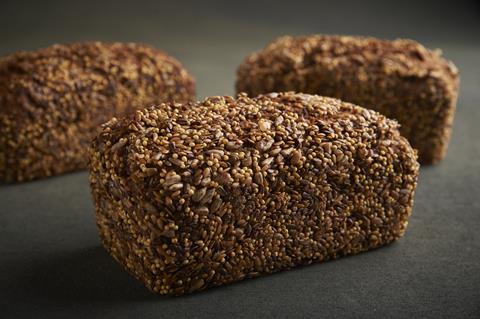 Finalist: Danish Rugbrød, Lovingly Artisan
The rustic Danish Rugbrød features a host of nutritional benefits thanks to its key ingredients which include wholegrain rye and sunflower seeds.
It takes four days to produce and is designed to help reduce cholesterol, improve metabolic function and aid gut health due to the natural fermentation process involved in its creation.
To create it, Lovingly Artisan takes whole rye berries, linseed and sunflower seeds and creates a cold ferment for them using water and a small quantity of its sourdough mother. This is left for 24 hours to ferment before bran and rye flour are added. A further 24 hours passes before the dough is mixed, levain, salt and other ingredients are added. It is then bulk fermented, placed in baking tins and retarded before baking.
According to Lovingly Artisan, Danish Rugbrød was brought to the UK by Vikings in the 10th century.
"By revisiting an ancient bread form and developing the ingredients it contains, we have created something that is ultimately good for you and firmly contributes to maintaining a healthy gut and body as part of a balanced diet," says Lovingly Artisan.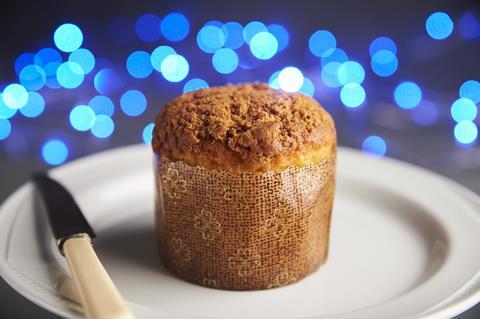 Finalist: Caramel Crunch Muffin, Clam's Handmade Cake
Baked in an Italian panettone style muffin case, this caramel treat taps was created with the vegan consumer in mind and launched to coincide with Veganuary.
The Caramel Crunch Muffin features a moist vanilla sponge filled with caramel, topped with a Biscoff sauce and Lotus biscuit crumb. Far from the standard tulip flower-pot style, the rigid muffin case allows it to be displayed better and makes for an eye-catching display on the cake counter.
The luxurious muffin, which retails for between £2.25 and £2.75, is available in packs of six for foodservice customers or 24 for a frozen, thaw and serve option with a longer shelf life.
The judges praised the 'creative, innovative idea' for its 'originality, execution and amazing taste.