Covid-19 may have thrown a spanner of considerable proportions into the works for bakery operations, but the major players continue to make big moves.
From grand plans to multimillion-pound investments, the biggest companies in the UK baking industry have been busy in 2021. Whether it's reacting to the new normal or predicting future trends, the sector is moving with the times and mapping long-term strategies.
Here, British Baker looks at how plans for some of the big hitters have shaped up over the last year.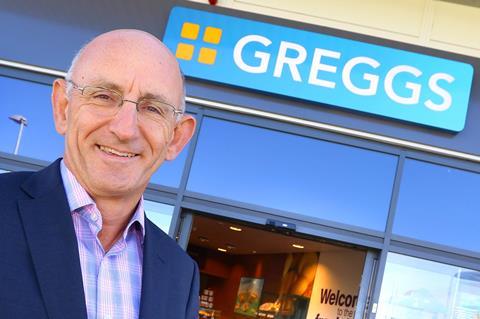 Greggs
As for many, 2021 was somewhat of a rollercoaster year for Greggs. In March, the bakery giant announced a pre-tax loss of £13.7m – the first loss in its history as a public company – but stuck to its guns on its intention to open around 100 new stores during 2021.
In fact, Greggs CEO Roger Whiteside (pictured above) revealed later in the year that company had a longer-term target to expand to a total of 3,000.
"I don't know how to work out what 'peak Greggs' is and I'm not going to pretend that I do. I can see a clear line of sight to 3,000. I think there's going to be more but quite how many I don't know," Whiteside said.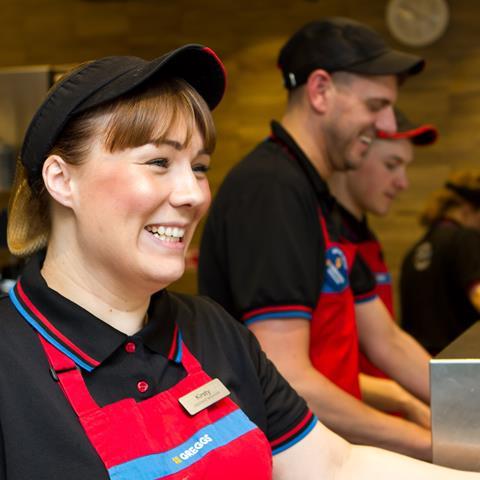 Recent shop openings have included drive-thru locations and the company also identified coffee as a 'strategic area of opportunity', offering an extended menu along with the rapid rollout of its new coffee machine.
In August, Greggs revealed that delivery was playing an increasingly import part in its strategy, accounting for 8.5% of sales from company managed shops. The pre-ordering concept also piqued the retailer's interest in offering personalised menu options, which it said could include adapting the ingredients in a sandwich or the toppings on a pizza.
The summer also saw the launch of the Greggs Rewards app and a new customer-facing website. "Greggs Rewards will allow us to strengthen our relationship with our customers, better understanding their needs and providing us with improved communication tools to encourage increased visit frequency and wider menu participation," the business said.
Significantly, 2021 saw Greggs reveal its intention to expand into the evening daypart, as it looks to replicate its daytime success beyond traditional trading hours.
"The introduction of delivery services has made many more of our shops viable in the early evening market and we believe that two thirds of our estate will ultimately be suitable for late trading (both walk-in and delivery)," the company said. It has a short-term target that 500 of its shops will be open until 8pm by the end of 2022.
Signalling its overall plan, the company's Q3 trading update stated: "As we scale Greggs to become a fully-fledged, multi-channel, food-on-the-go brand for all times of the day we have developed an ambitious target to double revenue to circa £2.4bn by 2026."
Pret A Manger
The Covid-19 pandemic has undoubtedly changed customer habits and buying patterns, but Pret A Manger is not taking it lying down.
The much-discussed new normal has been the catalyst for an 'omnichannel transformation plan' at the food-to-go giant to 'bring Pret to more people'. In fact, it emerged that the majority stakeholder JAB and Pret founder Sinclair Beecham were pumping £100m into the business in an effort to double it in size within the next five years.
As its name suggests, the omnichannel transformation plan covers many areas. In May, Pret announced the piloting of four new shops in Tesco stores, starting with Kensington in London. Later the same month, plans for another partnership were unveiled, with the news that new Pret shops were to be opened in petrol stations owned by Motor Fuel Group (MFG), the UK's largest forecourt operator. This began with a trial at a BP-branded outlet in Southgate, London.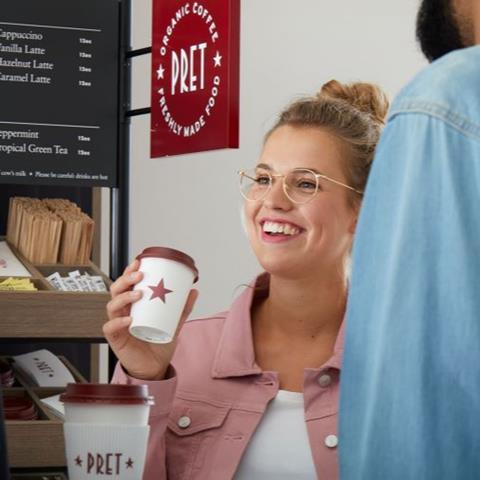 June saw the coffee chain roll out click and collect in eight of its 11 Manchester stores, but Pret's expansion efforts weren't restricted to cities; in August came the announcement that it was looking to extend its presence in regional towns, with plans for 200 new store openings – a 50/50 split between company owned outlets and franchise shops.
In fact, the franchise side of the business was the focus of activity towards the end of the year. First, Pret revealed it would be making its Canadian debut after reaching an agreement with A&W Food Services. Following this a similar deal with One PM Franchising signalled the chain's expansion in the Middle East, starting with Kuwait.
The latest chapter in the company's transformation plan came to light at the start of December 2021, with the trialling of a loyalty programme called Pret Perks. The scheme, which is being rolled out in phases was first made available to Pret coffee subscribers, who can earn stars for their purchases that go towards rewards.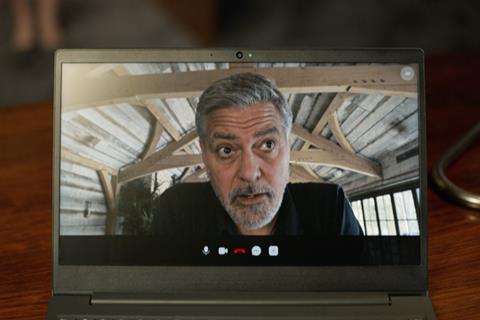 Warburtons
News of significant investment by Warburtons in 2021 first emerged in March when the bread giant announced plans to build a new multi-million plant dedicated to the production of brand's Thin Bagels.
With works well underway at the facility, located at Warburtons' bakery in Stockton, Teesside, which it took over from Rathbones in 2005, operations are expected to commence in spring 2022.
However, in May it was revealed that the Thin Bagel plant accounted for £18m in a wider investment in the company's manufacturing and distribution capabilities worth £56m.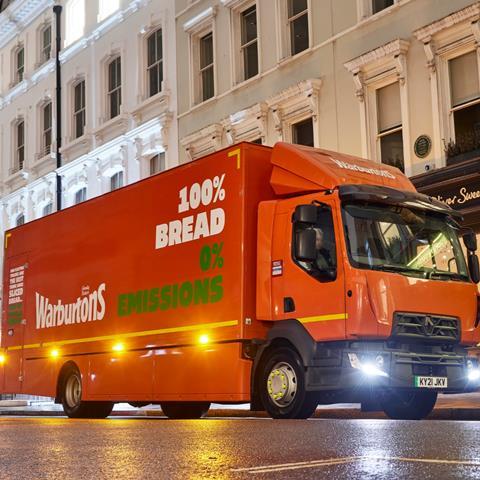 The UK's largest bakery brand announced that it would be spending £8m on a new crumpet line at its Burnley bakery and would also be opening three new distribution depots in Widnes, Bognor Regis and Banbury to replace existing sites in Speke, Waterlooville and Buckingham.
Warburtons said the new sites – along with its existing network of 11 bakeries, 18 depots and headquarters in Bolton – would allow it to deliver two million products to stores within 12 hours and allow it grow and meet the changing tastes of consumers.
"Investing in our infrastructure is key to ensuring the long-term success of our fifth-generation family business," said chairman Jonathan Warburton.
"Consumer tastes are changing, and we work hard to make sure we are providing a range of products to meet consumer demand. This investment programme will allow us to better respond to these tastes for non-bread baked goods and meet the growing demand for crumpets and bread alternatives such as thin bagels."
On the retail front, Warburtons and Jacksons kicked off an own-label contract with the Co-op, taking over from Allied Bakeries after it failed to agree commercial terms on a renewal in the summer of 2020. Under the deal, Jacksons bakes Co-op's bread which is distributed daily across the UK through the Warburtons logistics network.
However, it was perhaps the company's marketing strategy that garnered most attention during 2021, with George Clooney (pictured above) becoming the latest celebrity to star in one of the company's adverts.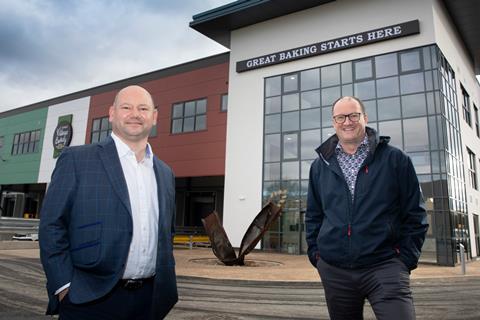 Jones Village Bakery
There's no doubt 2021 was a big year for Jones Village Bakery. In March, the Wrexham-based business announced it had secured funding for the expansion of the business and the creation of 115 new jobs over two years.
The funds in question came via UK private equity firm Limerston Capital. While neither the value of the investment nor equity stake were disclosed, the deal saw the current owners of the family-run bakery retain a 'material investment in the company'.
It was announced, therefore, that the business would still headed by managing director Robin Jones (pictured above right) and his brother Christien (left), who is projects director, although their father, Alan Jones, took the opportunity to step down as chairman after 60 years in the industry.
"The whole point of securing the extra investment is to fund future growth because we're doing really well at the moment and our products are in great demand," Robin said. "This will help us realise our potential."
The real landmark moment for the company in 2021, however, came in the summer when it opened its new 140,000 sq ft 'super bakery', less than two years after fire destroyed the previous production facility on the site.
The new bakery boasts a 120m manufacturing line with a capacity to make 36,000 in one hour. The complex also includes the company's main offices, a baking academy and NPD kitchen.
With the business seeking staff to meet added capacity and demand, Jones Village Bakery's inclusive recruitment strategy has won praise. The company has teamed up with Remploy, which provides employment places for disabled people, as well as HMP Berwyn's employment programme for ex-offenders, and in December launched a campaign to recruit school leavers aged 16 and 17.