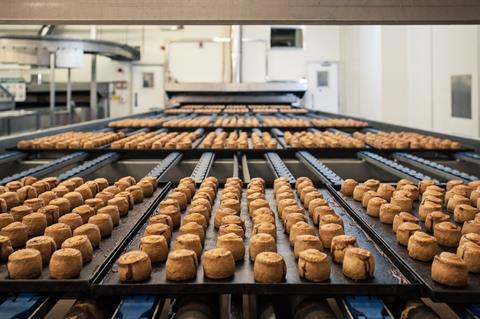 Bakeries across the country are entering the final production push ahead of Christmas Day.
Addo Food Group and Birds Bakery are among those to be working 'around the clock' to meet the high demand for baked goods such as pork pies, mince pies and other festive treats.
Production at Birds Bakery increases tenfold in December, said the East Midlands-based business, which has already manufactured and sold 400,000 minces pies, 40,000 cupcakes and 10,000 mini chocolate logs through its 61 shops this month.
It expects to distribute a further 25,000 mince pies this week as consumers stock up for the big day.
"December is the busiest time of the year at Birds and everyone has been working hard to deliver mince pies and baked goods across the country, in time for Christmas," said Mike Holling, sales and marketing director at Birds Bakery.
"We gear up for the Christmas orders months in advance, to make sure that we produce plenty of products. As we approach the big day the number of lorry-loads making their way to our stores, and providing our home delivery service, almost triples."
Pastry manufacturer Addo Food Group, meanwhile, has noted a 40-50% increase in its production of pork pies destined for Christmas buffets and Boxing Day feasts. It expects to distribute almost 30 million from its Tottle bakery in Nottingham in the run up to, and throughout, the festive season.
"Despite being a challenging year for many, we are still experiencing very high demand for one of the nation's favourite buffet staples," said Deborah Bolton, CEO of Addo Food Group which manufactures products under the Wall's Pastry and Pork Farm brands.
Many retailers and bakeries have been giving festive favourites a twist this year as they look to tap into food trends. This has seen them push the boundaries of sausage rolls to make them bigger and better than before, lace baked goods with a tipple or two and even reinvent the classics.
Many have also rolled out innovative sweet and savoury products as part of their seasonal ranges: