Things look a little different this Christmas. There are still mince pies, mini sausage rolls, decadent desserts and Christmas puddings aplenty, but the celebrations surrounding them are likely to be different.
That's not stopping the nation's bakers, retailers and manufacturers putting their best foot forward when it comes to new products, festive favourites and reinvented classics. Here's what's in store: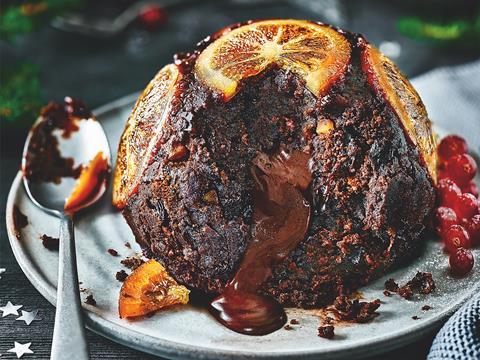 Reinventing the classics
Mince pies and Christmas puddings are mainstays of festive fare, but that doesn't mean bakers can't have a little fun by breaking away with new flavours and formats.
"The last year has seen renewed interest in traditional baked goods and ingredients as consumers hold on to the familiar in these uncertain times. However, retailers' Christmas offerings see some novel takes and interesting flavour combinations," says Jacqui Passmore, marketing manager UK and Ireland at Dawn Foods.
Take Waitrose, for example. Its Heston Blumenthal range features The Night Before Christmas Mince Pies, complete with a carrot and caraway shortcrust pastry filled with mincemeat, vine fruits and cream sherry.
M&S, meanwhile, has spruced up its Christmas pudding by adding Belgian chocolate, orange liqueur and a melt-in-the-middle chocolate and orange sauce.
"These trends mark a move away from sparkle and glitter we've seen in previous years and a return to ingredients from the past. We are keen to hold on to authenticity and tradition," Passmore adds.
Evolving the classics is important, particularly when it comes to attracting younger consumers who may not be as besotted with mincemeat as previous generations.
"We have been experimenting with different versions of mince pies to cater to customers who are not fond of the traditional mincemeat," says Fulop Gabor, founder of Fulham bakery Jack & Beyond. These creations take the form of peanut butter & chocolate pies or chocolate mince pies.
There's also an opportunity to take these familiar flavours into new formats, believes Michael Schofield, marketing manager at Bakels.
"Consumers have welcomed mince pies in all forms, year in-year out. Incorporating this traditional bake in the form of a cupcake, financier or even a pancake infusion has seen bakeries succeed."
Co-op, for example, has added mincemeat to its festive crumble, while McVitie's has rolled out limited-edition Christmas pudding variants for its Milk Chocolate Digestives range.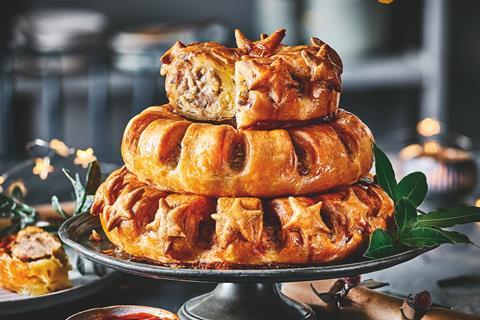 A Christmas banger
Last year retailers pushed the boundaries of pigs in blankets, this year it's sausage rolls.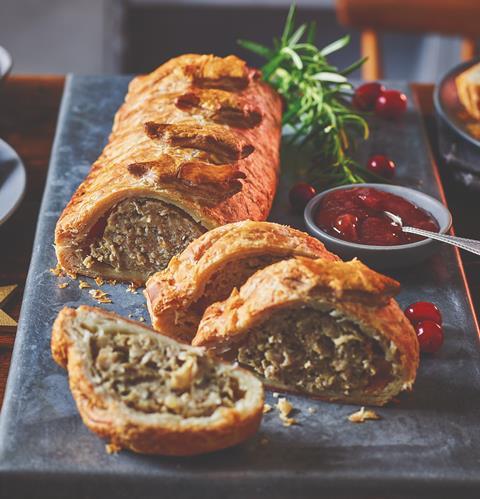 M&S's take on this trend is a three-tier Star Studded Sausage Roll Stack. It features 32 sausage rolls, filled with seasoned pork sausage, all baked together. If that wasn't enough, the retailer has also added its Merry Christmas Giant Sausage Roll to its lineup. Priced at £8, it's a giant version of its 'Best Ever' sausage roll made with pork and caramelised onion filling.
Tesco, meanwhile, has unveiled a savoury take on the yule log with its Sausage Roll Log. It's made with seasoned pork meat wrapped in puff pastry and decorated with festive pastry leaves.
Even Costa has got in on the action with its British Pork & Bramley Apple Sausage Roll.
Taking it one step further is Aldi with a Pulled Pork & Pancetta Cracker. Part of the Specially Selected range, the cracker-shaped savoury centrepiece sees the smoky meats combined with seasoned British pork sausage meat wrapped in pastry and finished with a paprika crumb.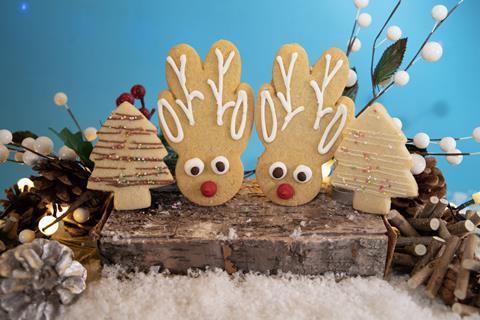 Think small
Having Christmas during a pandemic will likely mean several changes in the way Brits celebrate – the most noticeable may be the lack of large Christmas gatherings.
"The need for smaller sharing cakes is essential," says Laurence Smith, owner of Fatherson Bakery, which has launched five-inch iced Christmas cakes. "This is especially true with smaller family units and as a result, we have a wider range of treats in smaller pack formats."
Smaller formats are something coffee shops and foodservice outlets have reaped the benefits of in previous years. Costa and Pret, to name a couple, offer individual mince pies designed to be enjoyed alongside their seasonal hot drinks range, as well as single-serving gingerbread, tiffin and panettone.
"Over the last few years, craft bakers have experienced sales declines in several traditional Christmas product lines," says Mike Holling, sales and marketing director at Birds Bakery.
"But this can be counteracted with the increasing sales of novelty and popular lines – with consumers impulse buying gingerbread or shortbread shaped biscuits, particularly if they're wrapped and placed in self-selection areas."
There are added benefits to this. "All our products are single portions, so everyone has their own. This is a great option with the current issue of coronavirus – no need to handle large cakes or bakes and serve them up," adds Hoxton Bakehouse co-owner Florence Hellier.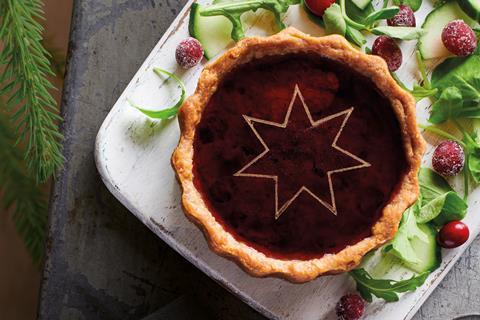 Just the tipple
Sherry and brandy aren't the trendiest of tipples, but they come into their own at Christmas time.
"Brandy remains the sure-fire winner. It complements the fruits and spices perfectly and is a predictable flavour that remains popular with customers," says Simon Thomas, general manager at Yorkshire-based Thomas the Baker.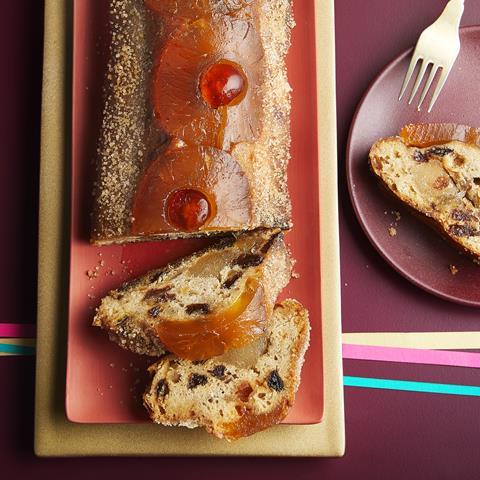 Asda has embraced this with its Free-From Sour Cherry & Brandy Cookies.
But it seems consumers want their baked goods to be inspired by other tipples too. Rum is popular this year, featuring in Waitrose's Tipsy Stollen, for example.
"Adding booze to recipes is another way to add an extra layer of indulgence and 52% of CBA members expect to see brandy, rum and prosecco used in more sweet treats this year," says Karen Dear, director of operations at the Craft Bakers Association.
"These flavours can be incorporated into toppings and fillings, and used as inspiration for decoration too."
The Lake District's Ginger Bakers has tapped into this with a rum, plum & chocolate cake – something to attract those looking for a less conventional fruit cake – as well as a gin, clementine & cranberry cake which embraces yuletide flavours while keeping things modern. Looking to the retailers, Co-op has a Cranberry & Port Flooded Pork Pie.
Like last year, gin is also a big hit this Christmas starring in Aldi's Damson Plum & Pink Gin Pudding, and its Blood Orange Crumble Mince Pies.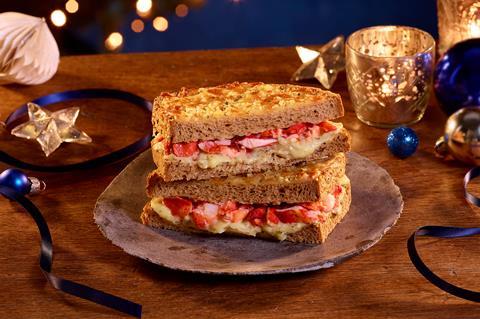 Luxury lunches
Christmas sandwich season is highly anticipated by loyal fans who seek to indulge in roast turkey throughout November and December.
Costa has taken luxury one step further with its Lobster Toastie which features responsibly sourced lobster, béchamel sauce and a selection of cheeses all enclosed in a parsley crumb topped with seeded malted bloomer bread.
Waitrose, meanwhile, has sought inspiration from Germany for its Christmas Curry & Bangers Brioche which features smoked pork sausage, curry ketchup, sauerkraut, mayonnaise and American-style mustard with fried onions.
Turkey is naturally a mainstay of the festive sandwich scene, but this year has seen side dish pigs in blankets give it a run for its money as sandwich sellers look to take things one step further. Pret A Manger, Caffè Nero, Aldi and Lidl are among those to tuck the piggies into bready blankets this year.
To see what the UK's biggest retailers and brands have planned for their wider Christmas ranges, click the links below: