Craft bakers are stepping into Christmas with festive ranges featuring seasonal staples and firm favourites with a twist.
From mincemeat muffins to vanilla-infused Victoria sponge Christmas cakes, here's a round-up of some of the surprises creative bakers are bringing to the table this year: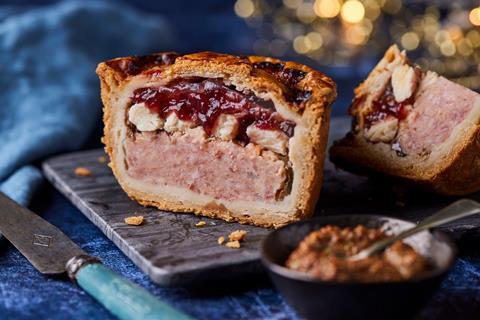 Cooplands
Scarborough-headquartered Cooplands' 2021 Christmas range is sprinkled with seasonal classics and new festive fancies.
The line-up features the Festive Pork Pie (£4.99) – the bakery's signature handmade pork pie with a yuletide twist by combining the seasoned pork with a layer of chicken and cranberry sauce.
Also new for 2021 are Christmas Muffins (£1.10 each), filled with a secret centre of sweet mincemeat and brandy cream, and Traditional Christmas Stollen Bites (£2.99 for eight), containing cherries, sultanas and dusted with icing.
In addition to these, the range features Deep Filled Mince Pies (£2.20 for six), Sparkling Iced Fruit Cake Bar (£3.99), Christmas Yule Logs (£5.49), and rum-infused Christmas Truffle Logs (£2.99 for four).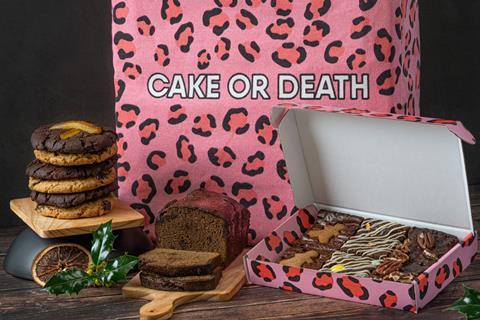 Cake or Death
This year, Exeter-based brownie specialist Cake or Death is offering Christmas hampers packed with its vegan treats. There are also Christmas boxes in regular or large formats, featuring brand new festive flavours.
The hamper (£55) includes a box of limited-edition brownies featuring gingerbread, pecan, salted caramel and candy flavours. There's also a pack of chocolate orange and Biscoff spread cookies and ginger cake, all packaged in a pink leopard print tote bag.
The standard Christmas box (£19) features two gingerbread brownies, flavoured with cinnamon and ginger and topped with a tiny gingerbread man. There are also two pecan salted caramel brownies, and a pair of candy flavour versions, featuring chewy fruit sweets, brightly coloured sugar-coated chocolate drops, white chocolate drizzle and popping candy. Those wishing to avoid nuts can swap the pecan brownies for regular salted caramel.
The large Christmas box (£24), meanwhile, contains at least three brownies of each flavour and four of one variety.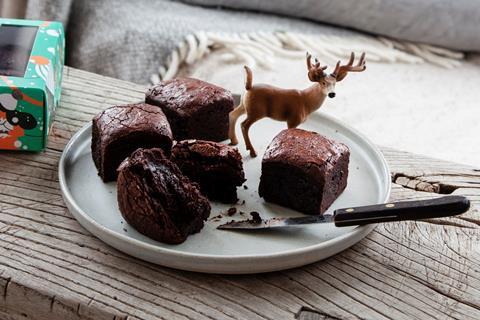 Love Brownies
Another brownie specialist, Love Brownies, has brought back its special edition Mince Pie Chocolate variety for this festive season.
The zesty, cinnamon-infused chocolate brownie is available to buy online in boxes of four or eight from £18 (including delivery), or individually from one of Love Brownies 17 UK shops and cafés.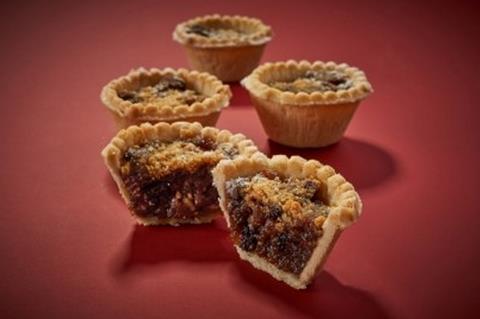 Fatherson Bakery
Based in Alcester in Warwickshire, Fatherson Bakery has put together a Christmas range that will warm the hearts of mince pie lovers.
"When it comes to mince pies, people also want something a little different, which creates both a taste twist and a surprise when eaten," said Laurence Smith, baker and owner of Fatherson Bakery. "That's why this year our mince pie range has been born out of a host of consumer taste tests, and a revision to our family pastry recipe is set to bring the very best Fatherson mince pies."
Traditional mince pies are available in packs of six and 12, while luxury versions featuring orange-flavoured shortcrust pastry with brandy-soaked mincemeat can be bought in packs of four and 12. There are also Port & Cranberry mince pies available in four-packs.
Aside from the mincemeat festive favourite, the Fatherson range includes Round Dundee Cake, a traditional Scottish fruit cake topped with almonds, as well as large and small Festive Loaf, a fruit cake similarly sprinkled with almonds and soaked with brandy.
The Christmas Cupcake Platter comprises an assortment of chocolate and vanilla cupcakes topped with white icing and gold spray, and completing the line-up is the Round Iced Christmas cake.
The Fatherson Christmas range is available in store across the UK from grocery retailers, convenience stores, garden centres, farm shops and delis.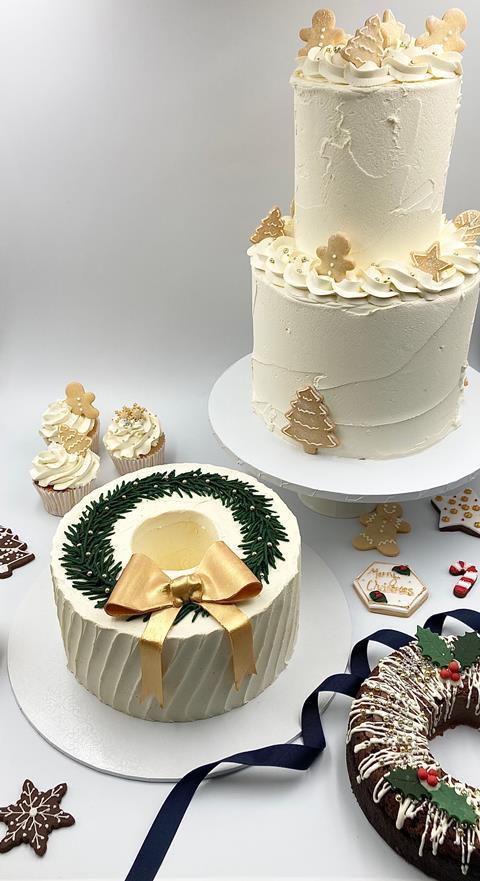 Vanilla Pod Bakery
The Cheltenham-based Vanilla Pod Bakery has launched a limited-edition collection, featuring a selection of cakes, cupcakes, biscuits, brownies and macarons, available to order from its online shop.
The bakery has eschewed the traditional Christmas fruit cake in favour of flavours such as Apple & Cinnamon, Chocolate & Cherry, Orange & Chocolate, Madagascan Victoria Sandwich, Belgian Chocolate Truffe, and Christmas Spice.
Christmas Iced Biscuits, Macarons and Triple Chocolate Brownie Wreaths are packaged in boxes and can be posted UK wide, while the celebration cakes and cupcakes are available for local delivery. The whole collection is available to collect from the Vanilla Pod Bakery cake studio on a pre-order basis.
"I am so excited for this collection and so proud of my team for coming up with such super designs," said Pia Cato, Vanilla Pod Bakery owner. "The collection is so beautiful."
Collection prices for the Christmas cakes start at £135. The Winter Wonderland cupcake boxes start from £20, £29 and £57 for four, six and 12 cupcakes respectively. The Triple Chocolate Brownie Wreath gift box and Macaron gift boxes start from £22 and £48 respectively, while the Christmas Iced Biscuits selection starts at £18.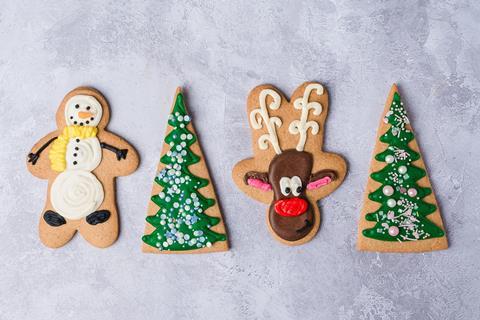 Jack & Beyond
Fulham-based bakery, cake shop and café Jack & Beyond has put together festive range featuring a host of yuletide crowd-pleasers.
The line-up includes Christmas Macarons – in various designs including snowman, Christmas tree, candy cane and gingerbread man – available in boxes of eight for £25. Christmas Gingerbread Cookies – featuring similarly festive decorations including everyone's favourite reindeer, Rudolf – are priced at £11 for a box of four.
Festive classics such as mince pies, brownies, yule logs and Christmas cakes also feature in the range. Personalised messages are available with gifts and all Christmas items can be ordered online, with nationwide delivery from £2.99, or purchased in store.