Morrisons has gone big on desserts this Christmas with oodles of indulgent NPD, new twists on yuletide classics and family favourites.
Chocolate features in abundance alongside proven favourites such as salted caramel, chocolate orange and gingerbread.
Here are some of the highlights: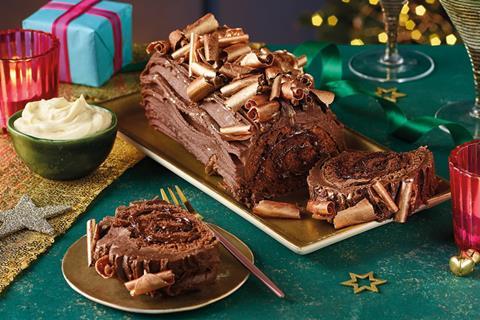 Hand Rolled Fudge Yule Log
Morrisons has added a spot of decadence to the humble yule log. The hand rolled treat is made with chocolate flavoured sponge, chocolate flavoured buttercream and a milk chocolate fudge icing all topped with shimmery chocolate curls.
Available now. Rsp £4. Serves eight people.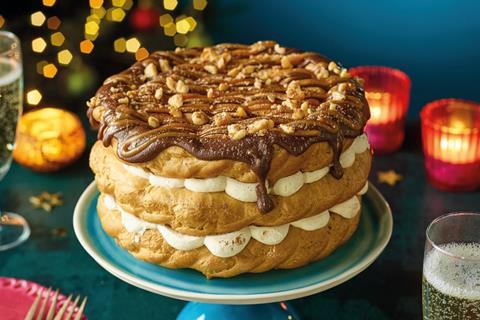 Salted Caramel Choux Stack
Choux won't want to miss out on this pud! The stack features three layers of crisp choux pastry filled with a salted caramel sauce and whipped British salted caramel cream. It's topped with a Belgian chocolate ganache and hand piped salted caramel sauce before being finished with honeycomb pieces and a light dusting of gold sparkle.
Available from 4 October. Rsp: £8.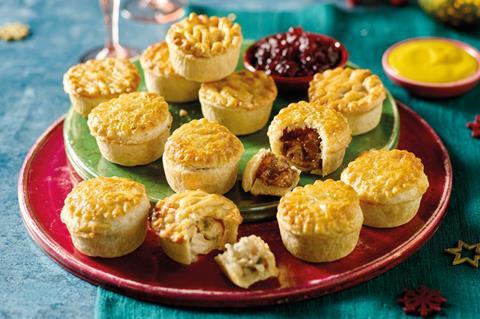 Mini Pies
This fan favourite is making its way to the party table. The 12-pack features six British steak pies in a Joule's Pale Ale gravy and six slow-cooked chicken and Wiltshire ham pies in a white wine sauce, topped with an oatmeal sprinkle.
Rsp: £4.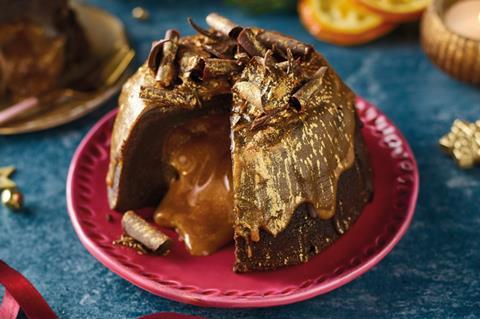 Chocolate Orange Melt in the Middle Pudding
Morrisons has embraced the flavour of the season – chocolate orange – for this dessert. The chocolate & orange sponge, which is filled with an oozing orange sauce, is topped with a dark chocolate sauce, dark chocolate decorations and gold sparkle.
Available from 15 December. Rsp: £6. Serves eight people.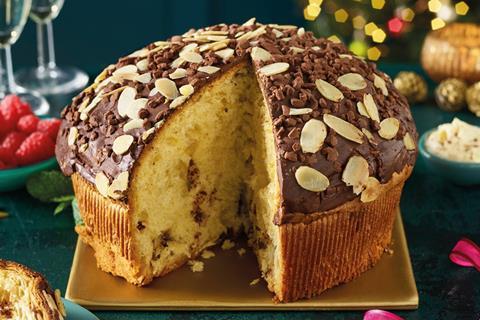 Chocolate Orange and Mascarpone Cream Panettone
Chocolate orange makes another appearance in the form of this panettone. Made by a second-generation family-run bakery in the Piedmont region of northern Italy, it is baked to a traditional recipe with butter, free-range egg, sultanas and orange peel. It also contains a mother dough which has been nurtured since 1964. For a twist on the classic recipe, this version features milk chocolate chunks and a mascarpone and orange liqueur cream, topped with a layer of bittersweet chocolate and decorated with toasted almond slices and chocolate pieces.
Available from 1 November. Rsp: £7. Serves eight people.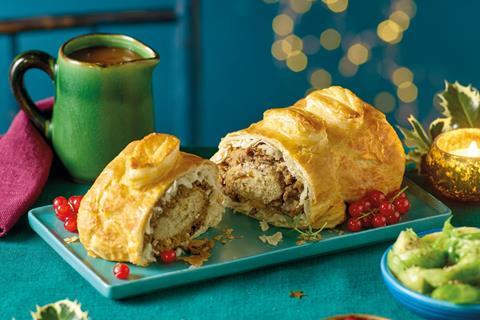 Vegetable Wellington
This vegan-friendly main sees a vegetable and butternut squash joint hand wrapped in a cranberry, apricot and chestnut duxelles with a wholegrain mustard melt. It's all encased in a holden puff pastry and topped with pastry leaves for added flair.
Available from 21 December. Rsp: £5. Serves three people.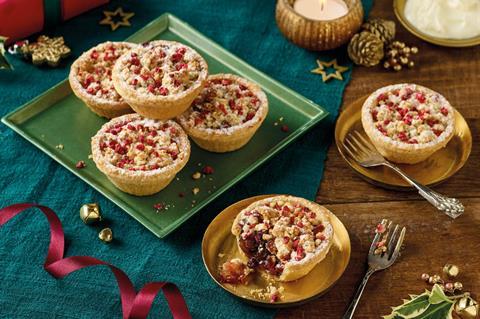 Morello Cherry Bakewell Mince Pie
This creation sees Morrisons combine the beloved cherry Bakewell with a mince pie. The pastry case is filled with an Amaretto-spiked mincemeat with morello cherries and vine fruit, layered with a morello cherry & kirsch jam, topped with a glace cherry crumble, and finished with raspberry pieces.
Available now. Rsp: £2 per six-pack.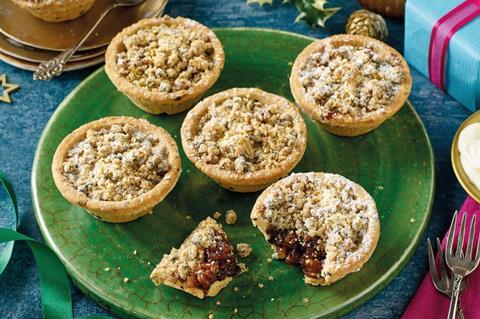 Caramel & Chocolate Cookie Crumble Mince Pies
If the previous twist on a mince pie wasn't enough, Morrisons has gone for all out Christmas indulgence with this iteration. It features a butter enriched cookie-spiked shortcrust pastry with a medley of Jamaican rum-infused mincemeat, caramel, vine fruits, citrus and spice inside. It's topped with a cookie and speculoos biscuit crumble, finished with a festive star and sweet dusting.
Available now. Rsp: £2 per six-pack.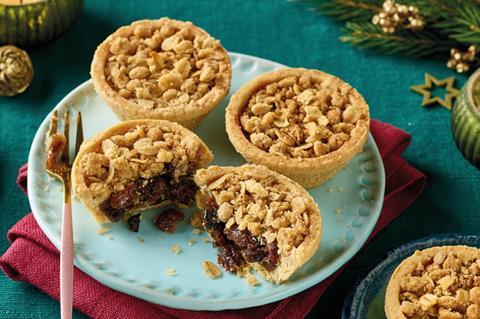 Gluten Free Gingerbread Mince Pies
Gluten-free options weren't neglected in the mince pie flavour mash-up as these gingerbread treats prove. Crystallised ginger mincemeat is encased in a gluten-free pastry topped with a gingerbread spiced crumble topping made with brown sugar, oats, and mixed spice. The treats are also suitable for vegans.
Available from 21 October. Rsp: £2.50 per four-pack.
Camembert Sharing Bread
A whole camembert is nestled in a soft garlic and herb bread, topped with caramelised red onion chutney and extra virgin olive oil for this crowd pleaser.
Available from 15 November. Rsp: £5.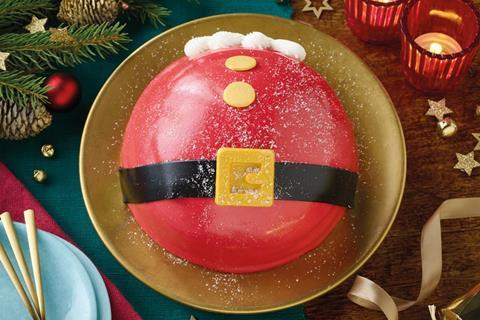 Santa Belly Cake
Adding a spot of fun to family festivities is the Santa Belly Cake. A soft madeira sponge is filled with raspberry jam and buttercream, covered with soft icing and decorated by hand with an edible belt, buckle and buttons.
Available from 6 December. Rsp: £10. Serves 12 people.