Festive sandwiches dominate the coffee shop Christmas ranges as Costa, Pret and Starbucks roll out tasty toasties and pimped up paninis alongside seasonal sweet treats.
Turkey and all the trimmings, pigs in blankets, and cheese galore have been stuffed into sandwiches alongside a host of vegan options and, in one case, chocolate and marshmallows.
Here, we dive into the sweet and savoury options available in the nation's coffee shops: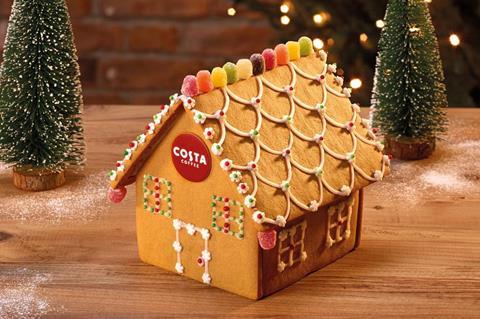 Costa Coffee
Costa's NPD focus for Christmas 2021 is firmly on its sweet treats with loaf cakes, marble cakes, tortes, tarts and even a gingerbread coffee shop kit being rolled out. The latter, called the Build your own Gingerbread Coffee Shop offers a spot of delicious and interactive fun alongside the smaller Build your own Gingerbread Snowman. Both come with gingerbread biscuits, icing and decorations.
Costa is also taking Christmas cake into new realms. There's the Chocolate Sparkle Cake featuring two layers of dark chocolate sponge, with hazelnut and chocolate flavoured frostings, finished with gold whole hazelnuts, dark chocolate curls and purple sugar crystals, as well as the Winter Frosted Marble Cake, Golden Billionaire's Slice and Clementine & Cranberry Loaf Cake.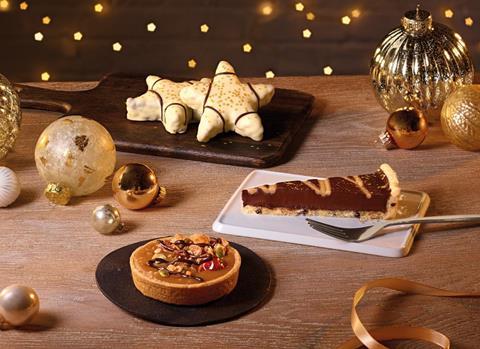 For even more indulgence, Costa has created a Chocolate & Salted Caramel Torte made with cookie dough pastry filled with coconut and chocolate mix, topped with a swirl of salted caramel. What's more, the treat has been certified by The Vegan Society.
The After Eight Muffin and Terry's Chocolate Orange Muffin will be hitting shelves again alongside a limited-edition Terry's Chocolate Orange Brownie. For more tasty tie-ups, Costa is also adding the Rocky Road with Aero Peppermint Bubbles to its range.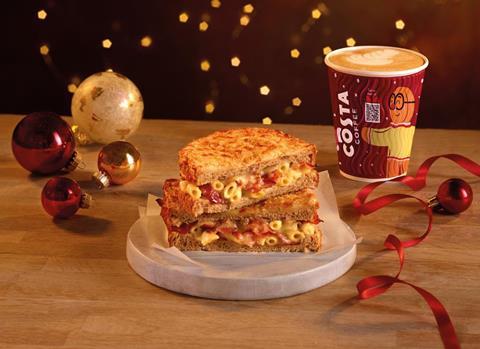 New for Costa's sandwich line-up this Christmas is the Bacon Mac & Cheese Toastie made with malted bloomer bread and topped with a cheese crumb. Similar flavour combinations are embraced by the returning Pigs under Blankets Stonebaked Panini and the Maple Bacon, Brie and Cranberry Panini. The British Turkey & The Trimmings Toastie, Turkey Feast Sandwich and Festive Pork & Bramley Apple Sausage Roll are also back. Vegans aren't left out either with the Vegan Turkee, Cranberry & Stuffing Bloomer Toastie, which is packed with vegan turkee, vegan sage & onion stuffing, cranberry sauce and fresh spinach making another appearance.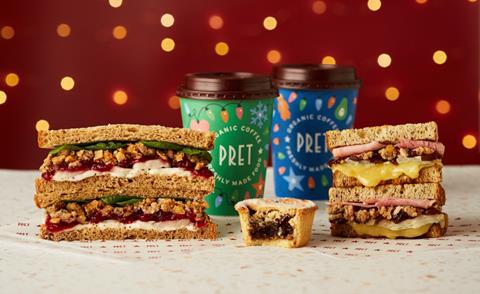 Pret a Manger
Pret has gone big on Christmas sandwiches this year rolling out new ones and bringing back old favourites. First up on the roster of NPD is the Turkey & Trimmings Toastie. Described as combining 'the best of Christmas lunch', the toastie features Wiltshire ham, British turkey, herby pork stuffing, caramelised onion chutney and melted Cheddar cheese.
Offering something a tad lighter is the Vegan Christmas Flatbread – a wholemeal flatbread containing vegan sage mayo, port & orange cranberry sauce, Christmas pesto, roasted herby butternut squash along with sweet potato falafel and pickled cabbage & carrot.
Bolstering the Pret festive sandwich line-up is the returning Pigs in Blankets Hot Roll as well as the Christmas Lunch sandwich and Christmas Baguette which both include British turkey with port & orange cranberry sauce, herby pork stuffing, baby spinach leaves, mayo and crispy onions. For those avoiding meat there's the Brie, Pistachio & Cranberry Baguette and the Vegan Christmas Nut Roast sandwich. For every Christmas Nut Roast and Christmas Lunch sandwich sold, Pret will donate 50p to The Pret Foundation which works to help break the cycle of homelessness, hunger and poverty.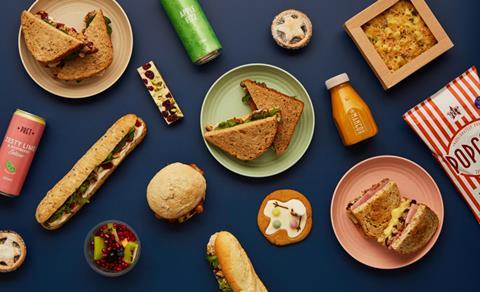 Pret is sticking to its guns when it comes to sweet treats with the Christmas Tiffin, Melvin the Melting Gingerbread Snowman and the Pret Mince Pie all returning to stores. New for this year is the Nutty Salted Caramel Brownie which is filled with dollops salted caramel sauce and topped with chopped walnuts and a drizzle of even more salted caramel sauce.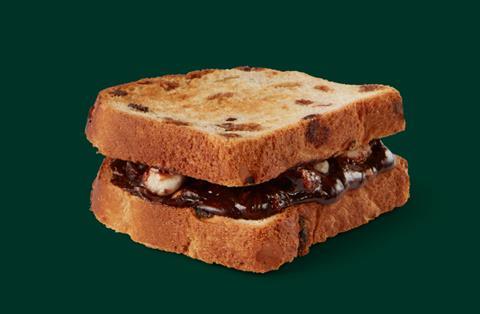 Starbucks
Starbucks has rewritten the rulebook when it comes to Christmas sandwiches by unveiling a Chocolate & Orange S'mores Toastie. That's right, a sweet toastie made from toasted fruit loaf packed with mini marshmallows, chocolate orange sauce and chocolate pieces.
Not everything on its menu is quite as outlandish. Also new for 2021 is A Toastie to be Thankful for which features shredded ham hock, sliced turkey and a sprout, potato, cabbage & leek hash in a sourdough bloomer topped with béchamel, mozzarella, mature Cheddar, and cranberries. The Blitzen's Blue Cheese & Chutney Toastie is also joining the ranks.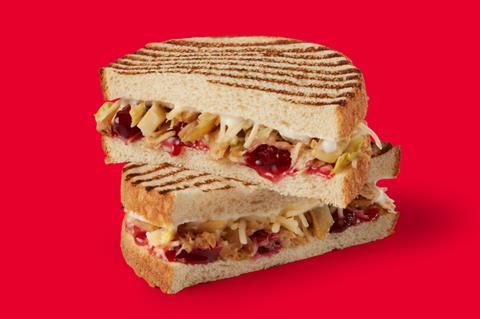 Vegan-friendly options aren't in short supply either thanks to the Very Merry Beyond Meat Sandwich which comprises a pea protein patty with citrus & cranberry chutney, Dijon mustard mayo, fresh tomatoes, and a coconut oil alternative cheese slice. There's also the plant-based Turkee & Trimmings Toastie with a soya-based turkey alternative with cranberry sauce, a potato, leek, cabbage & sprout hash shred, a coconut oil alternative to mozzarella and vegan mayo.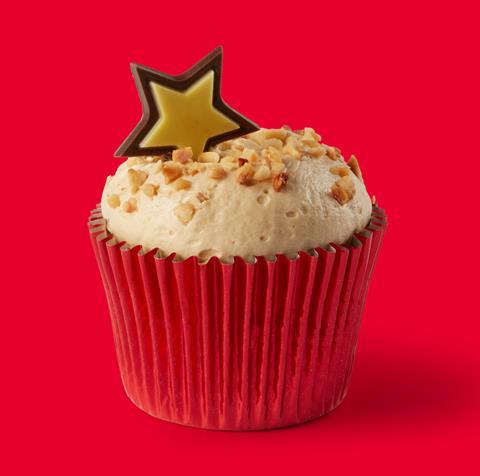 The 'Tis the Season Turkey Sandwich with turkey, bacon, pork & onion stuffing, cranberry chutney and mayo is also returning alongside the Festive Feast Panini.
New additions to Starbucks' sweet menu include the Toffee Nut Latte Cupcake which sees toffee flavoured sponge injected with a soft toffee centre and topped with a coffee flavoured icing and sprinkled with nuts and stars. A Red Velvet Loaf Cake is also being rolled out alongside North Pole Nat, a decorated chocolate covered shortbread biscuit.