Sainsbury's is serving up classic flavours this Christmas as part of its food-to-go and dessert range, just perhaps not in the formats you'd expect them.
There's a beef wellington-inspired sandwich, fizz-infused panettone and more among its line-up. Here, we take a look at some of the highlights: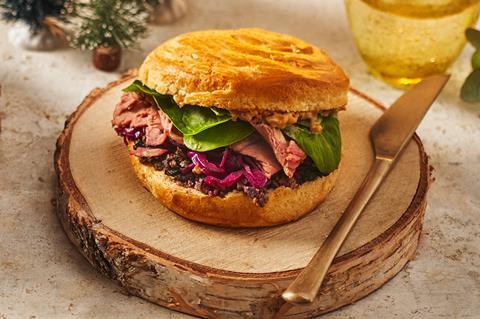 Beef Wellington Special Sandwich
Christmas sandwiches just got even better. Sainsbury's kicks off this food-to-go offering with a croissant roll as a stand-in for the traditional pastry element of a beef wellington. For the filling, there are slices of sous-vide beef with a truffle flavour mushroom duxelles, gravy mayo and festive red cabbage and spinach.
"Last year, sales of festive beef centrepieces were up 40% YoY, so we wanted to create a showstopping sandwich, championing the British favourite, beef wellington. With the rise of hybrid foods like the infamous, Instagrammable 'cronut' we've also upped our bun game, with a croissant-roll combo; the 'croll'," said Shuwen Tan, product developer for food to go.
Available from 1 November. Rsp: £3.50.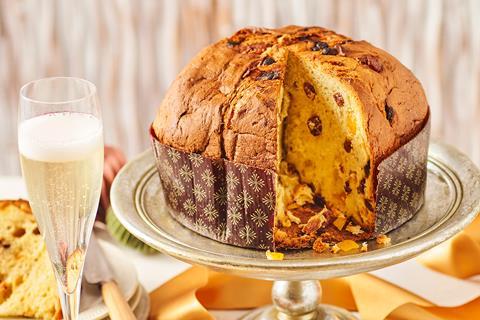 Prosecco & Orange Panettone
Sainsbury's has added some sparkle to its sponge with the Prosecco & Orange Panettone. Candied orange and sultanas are baked into the dough, with prosecco added once the bake is complete. Sold in festive packaging, it's pitched as an ideal gift option.
Available from 24 October. Rsp: £9.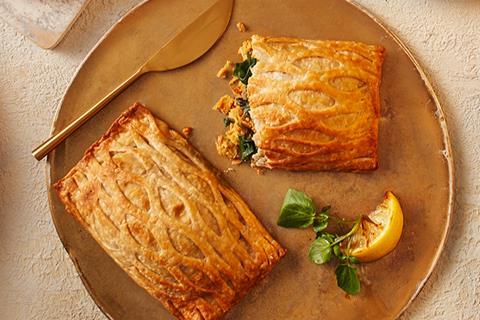 No Salmon En Croûte
Sainsbury's has boosted its plant-based range of centrepieces with a No Salmon En Croûte. In what it describes as a 'supermarket first', the retailer has wrapped a vegan puff pastry around its salmon alternative of jackfruit, soya, and oyster mushrooms. It's layered with a garlic & dill white sauce.
Available from 15 December. Rsp: £5.50.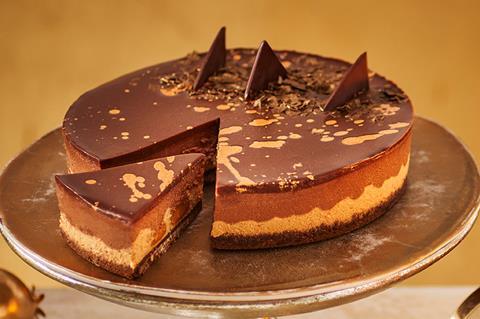 Millionaire's Torte
Part of the Taste the Difference range, this 'crowd pleaser' sees layers of baked Belgian chocolate and caramel cheesecake injected with a caramel sauce. Layered on a chocolate crumb, the filling is topped with chocolate ganache and adorned with festive gold flecks and shimmer.
"When developing our centrepiece desserts for Christmas, we know they need to be real showstoppers," said Rebecca Deeley, product developer for dairy. "First and foremost, we eat with our eyes, and so shape, shimmer and decoration are all key elements in creating a new dessert, alongside enticing flavour profiles such as salted caramel and chocolate orange."
Available from 20 December. Rsp: £10.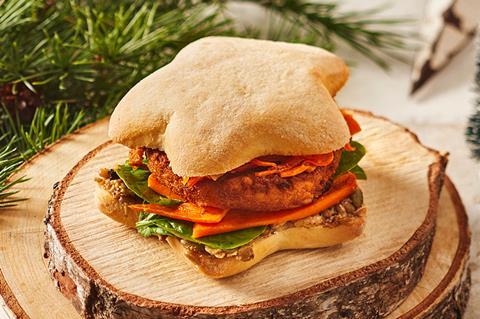 Rudolph's Night Before Christmas Feast Sandwich
Those seeking vegan-friendly food can also get in on the Christmas sandwich action. This option features a fresh carrot and root veg patty scattered with umami glazed carrot ribbons with a caramelised carrot chutney. Candied spiced seeds are added for some crunch with everything served up in a festive star-shaped bun.
Available 1 November. Rsp: £3.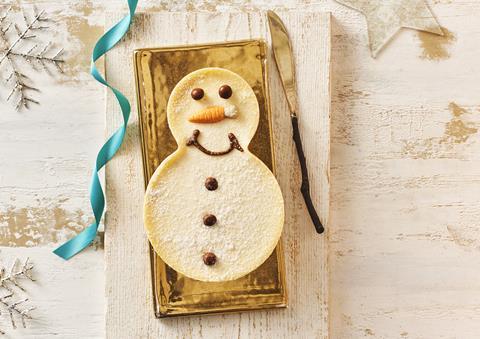 Snowman Cheesecake
Sainsbury's says you don't need to snow to build a snowman – simply pick him up from the chilled aisles. The fun design features a buttery biscuit base topped with baked vanilla cheesecake and finished off with cereal ball buttons, a carrot nose and iced smile.
Available from 20 December. Rsp: £5.