Choosing which cookie to leave out for Father Christmas just got harder as some of biscuits' biggest players have unveiled their NPD for this year's festive season.
Pladis-owner McVitie's, Jacob's and Carr's, as well as Fox's Biscuits and Biscuiteers, have unwrapped a selection of treats embracing Christmas themes, traditional flavours and more.
Here, we look at the goodies on offer: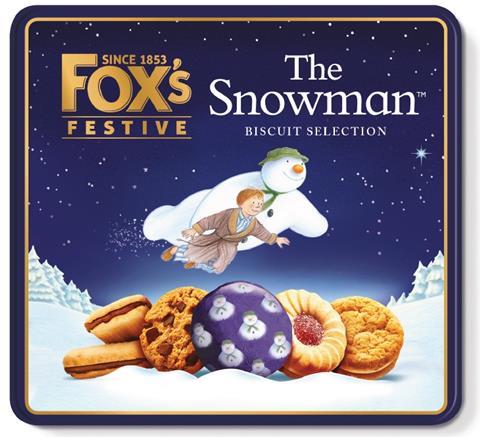 Fox's Biscuits
Desserts and biscuits collide for Fox's festive NPD – the Chocolatey Winter Desserts Assortment (rsp: £4) which embraces the flavours of millionaire's shortbread, chocolate brownie, white chocolate & raspberry cheesecake, and sticky toffee pudding.
Tapping into the trend for nostalgia, Fox's has also unveiled The Snowman Biscuit Collection (rsp: £5) which is inspired by the artwork from Raymond Briggs' classic picture book. It contains some of Fox's 'best-loved' biscuits including Crunch Creams, Fabulous Triple Chocolate Cookies and a Chocolately Fudge Sundae in a specially designed foil wrapper bearing illustrations of The Snowman.
Both roll into stores from October alongside the wider seasonal range from Fox's Biscuits such as the returning Viennese Assortment (rsp: £4) and the Chocolatey Tin Assortment (rsp: £6).
"This Christmas presents a huge opportunity for retailers to drive growth in premium biscuit sales with delicious and innovative biscuit assortments for everyone to enjoy," said senior brand manager Bronwen Arthur.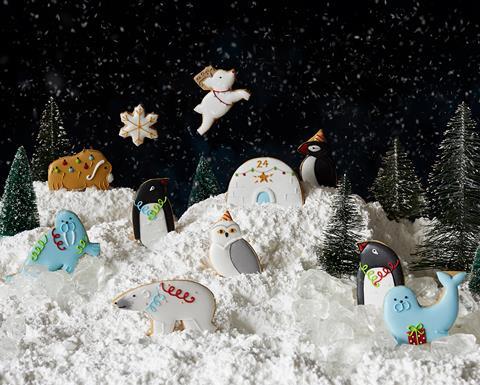 Biscuiteers
The Snowman can also be found walking through the air in Biscuiteers' Christmas offering as part of a letterbox selection (£25) which features the titular snowman, Snow Dog and fir trees.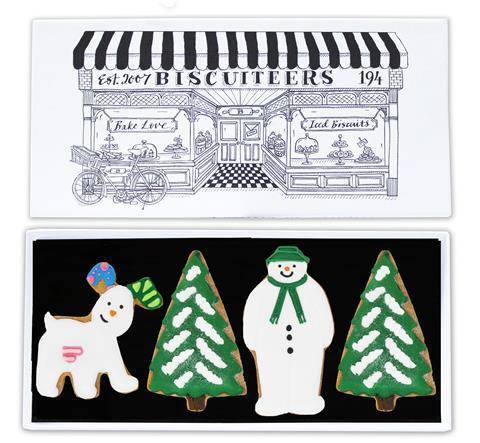 The aesthetics remain strong throughout the range as the firm also partnered with designer Sophie Conran on a handcrafted advent calendar designed to display the treats from the Advent Biscuit Tin (£175 for biscuits and calendar). The tin features 24 treats showcasing winter animals such as puffins, narwhals, and polar bears as well as other Lapland-themed items.
Biscuiteers has also sought to tap into the DIY trend for 2021 with a Christmas Baubles DIY Kit (£35) and a Christmas Wreath DIY Kit (£38) which include biscuits and decorations.
"Like many businesses it's our biggest occasion of the year, and each week in December we make 90,000 biscuits at the Ministry of Biscuits to keep up with demand," the company said.
Vegan and gluten-free options have been added to the roster for this year in the form of the Happy Christmas Luxe Biscuit Tin (£45-50), which features gingerbread flavour iced biscuits, as well as the Christmas Tree Letterbox Biscuit (£9) and Personalised Christmas Pudding Letterbox Biscuit (£11.95).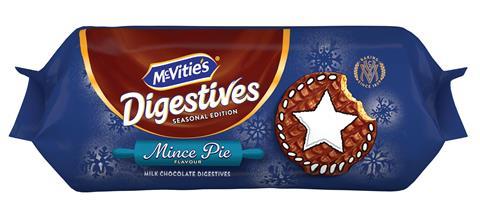 McVitie's
Mince pies meet McVitie's in the brand's latest seasonal innovation – Mince Pie Milk Chocolate Digestives (rsp: £1.59). The treats follow in the footsteps of the gingerbread and Christmas pudding variants which hit the scene in 2020, racking up £1.2m worth of sales in the process, and will be returning for 2021.
Gingerbread is a common theme throughout McVitie's festive selection with Milk Chocolate Digestives Gingerbread Slices (rsp: £1) and Gingerbread Flipz (rsp: £1.50) also being rolled out.
"This year's seasonal snacking sales will be bigger than ever, and is set to exceed last year's £161m incremental opportunity," said Jonathan Bull, marketing director – chocolate, cake, seasonal at Pladis UK&I. "2020 gave us a Christmas like no other, as seasonal celebrations were dampened by the pandemic, with only limited opportunities to reunite with wider circles of friends and family."
McVitie's Victoria, Moments Signature Chocolate Biscuit Selection, Jaffa Cakes Orange & Cranberry and Santa Snacks Chocolate Cake Bars are among the products to return for this year as well.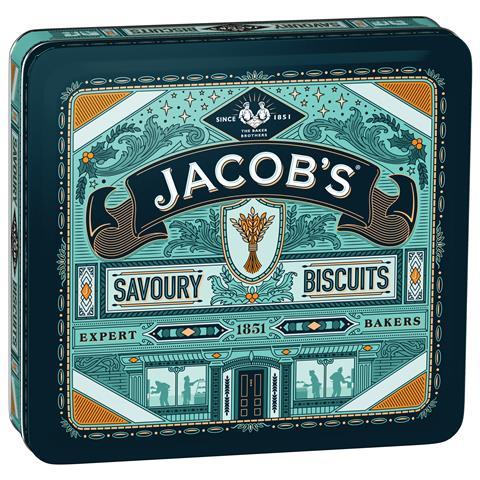 Jacob's and Carr's
Savoury biscuits and crackers are also being zhushed up for Christmas 2021 with both Pladis-owned brands bringing something new to the market.
Carr's is kicking things off with Melts Warm Chilli Flavour (rsp: £1.49) which are wheaten biscuits with a touch of heat. A Carr's Melts Selection is also available. Targeting festive snacking or 'top-tier' cheeseboards, the 450g box (rsp: £4.50) features original, cheese and chilli variants.
Jacob's, meanwhile, is celebrating its 170th anniversary with a Heritage Tin (rsp: £5). The vintage-style tin is packed with a selection of its bestselling crackers such as Cream Crackers and Digestives. The Christmas Caddies, in Mini Cheddars, Twiglets, Cracker Crisps and Cheeselets, are also returning.
"The trend towards togetherness continues to gain momentum, as Brits look to get together with friends and family after a testing year. This means that nibbly, sharing products, such as our bestselling Jacob's caddies, along with selections of our everyday crackers will help retailers drive higher frequency of purchase," added Bull.