Holidays are coming and they're bringing with them a host of on-trend baked goods as the nation's supermarkets and bakers look to entice shoppers with showstopping fare.
From new twists on mince pies to pigs in blankets in everything, hybrid treats and indulgent flavours, we look at the trends making waves in sweet and savoury bakery this year.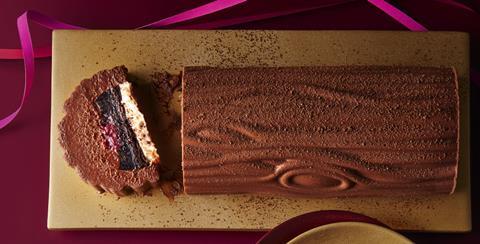 Fancy flavours
Chocolate orange and Black Forest are dominating retailers' Christmas ranges this year with both flavours expected to continue their success beyond the festive season.
"Chocolate orange has always been a classic Christmas combination, but we've seen it propelled into the spotlight this year appearing everywhere from hot chocolate to cakes," says Talia Profet, head development chef, deZaan Cocoa. There's a Chocolate Orange Melt in the Middle Pudding as well as a Chocolate Orange and Mascarpone Cream Panettone in Morrisons line-up, free-from brownie slices from Asda, and brownie/doughnut hybrids and wreath cakes from Co-op to name a few. Baker Street, owned by St Pierre Groupe, also introduced Chocolate & Orange Cake Truffles to its range in a multipack format to tap into the popular flavour as well as the gifting and snacking markets due.
Waitrose sought to elevate the Black Forest flavour combination of chocolate and dark cherries with a Bûche de Noël comprising Belgian chocolate and layers of Morello cherry compote, kirsch jelly and Belgian white chocolate ganache.
Chocolate orange has always been a classic Christmas combination, but we've seen it propelled into the spotlight this year
Both flavours tap into a sense of nostalgia – the trend that keeps on giving according to Kirsty Matthews, insight & marketing manager, at Macphie. "The pandemic saw consumers reaching for more nostalgic food products as they sought out familiar childhood favourites. The need for comfort and stability has never been more important and the trend for nostalgic nosh is driving bakery concepts this Christmas," she adds.
Also climbing up the Christmas rankings is speculoos as, according to Victoria Forward, applications specialist, patisserie, for Puratos, the "lightly spiced taste it delivers is synonymous with Christmas".
Zeelandia notes a rise in "flavours of the citrusy variety, including orange and clementine" while others believe the golden blonde chocolate that M&S has embraced this year will catch on in 2022. The ingredient is made by caramelising white chocolate over several hours.
But bakers shouldn't ignore the classics, notes CSM's Ballarini, who says "Christmas spices such a cinnamon, cloves, ginger with orange, cranberries and raisins should always be included in ranges".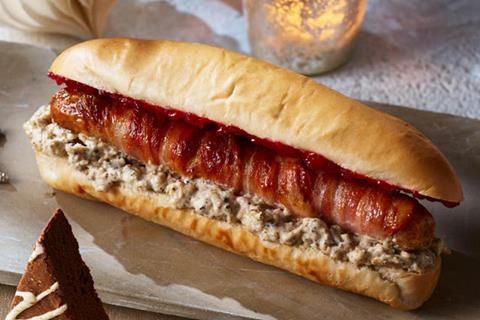 Piggin' Christmas
Pigs in blankets are dominating the Christmas sandwich scene this year as it seems Brits can't get enough of the side dish. Pret, Greggs and Costa all have some variation of pigs in blanket sandwiches, Asda eyes Subway's market with the rollout of a sub roll complete with an eight-inch pig in blanket and Co-op has topped of its Ultimate Christmas Dinner Roll with one.
It's not just wrapped up pigs the nation want either with many of the retailers sprucing up pork pies and sausage rolls for the festive season to become centrepiece worthy. These include the Candied Clementine Hidden Centre Pork Pie with Blood Orange Jelly and Candy Cane Pork, Sage & Onion Sausage Roll from Asda, the Pork & Game Pie from Waitrose, and the Pork & Bramley Apple Sausage Roll courtesy of Costa.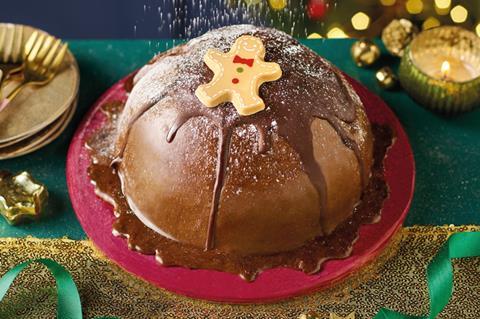 When two become one
Possibly taking inspiration from the Spice Girls Christmas hit '2 Become 1', many bakery items have partnered up for the festive season with some even venturing outside their usual remit.
"When it comes to flavours that are drawing in consumers, classic mince pies and Christmas puddings will remain popular, but we will also see innovative hybrid creations combining two products, such as Christmas pudding flavoured biscuits or brownies and mince pie flavoured tea," believes Victoria Forward, applications specialist, patisserie, for Puratos.
McVitie's is one such brand to tap into this, unveiling Mince Pie Milk Chocolate Digestives earlier this year – a move which followed the launch of gingerbread and Christmas pudding variants in 2020, racking up £1.2m worth of sales in the process. Ingredients supplier Zeelandia, meanwhile, developed mincemeat stuffed cookies for the 2021 holiday season.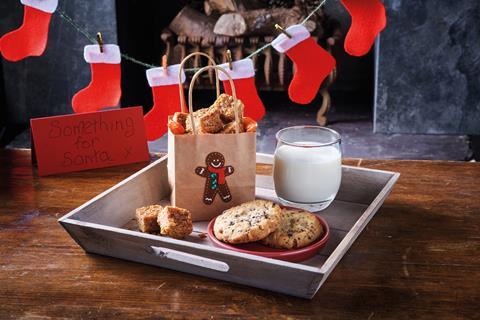 Gingerbread is another popular festive flavour venturing beyond its usual stomping ground. It's a fan favourite in lattes at this time of year but can now been seen in the Chocolate & Gingerbread Christmas Bombe from Morrisons – a dessert featuring a gingerbread sponge with ginger sauce and ginger cream cheese frosting, topped with a chocolate drizzle. Co-op has also embraced the seasonal seasoning with Reindeer Fuel Gingerbread Flapjack Bites and Gingerbread & Toffee tarts on offer.
Cristiana Ballarini, marketing director pastry mixes at CSM Ingredients, believes creating hybrids which are specific to customer preferences, such as gingerbread brownies, can give bakers an advantage. "They are popular with customers and heading into the festive season bakers can combine their best-selling products to create a bespoke range," she believes.
The mash up of popular flavours and established formats can also be seen in mince pies and Christmas puddings, but the diversification here is worthy of its own trend…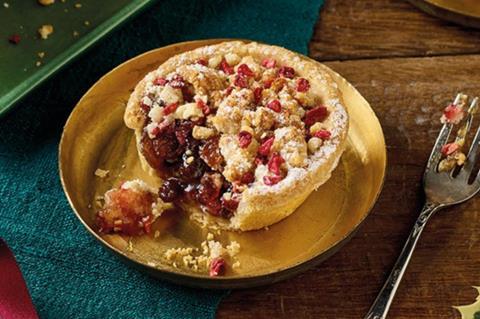 A new twist on the classics
"Flavours and ingredients synonymous with Christmas such as dried fruits and spices have been given a modern makeover this year. This can be seen clearly in the mince pie category, where new flavour combinations are driving trial from younger consumers and expanding the range on offer," explains Dawn Foods' student ambassador Krystal Jenkins, who has been working on seasonal ideas.
New flavours to entice customers to chow down on mince pies including sticky toffee pudding, frangipane, speculoos, sour cherry, cherry Bakewell, gingerbread, and caramel & chocolate.
How these new iterations are finished is becoming increasingly important as well. Morrisons' Morello Cherry Bakewell Mince Pies, for example, topped with a glace cherry crumble, and finished with raspberry pieces while its Caramel & Chocolate Cookie Crumble Mince Pies feature a cookie-spiked shortcrust pastry with a cookie and speculoos biscuit crumble on top.
"We're seeing a rise in boozy bakes – so expect to see mince pies with a splash of sloe gin, rum or bourbon on shelves this year," adds Jonathan Lill, CEO of cake and pie manufacturer BBF. Many of the pies mentioned above forgo the traditional brandy in favour of more fashionable tipples such as Jamaican rum, Amaretto, and kirsch.
Traditional party food
Party food is moving beyond mini sausage rolls, vol-au-vents, and blinis, instead opting to mix things up by taking traditional fare into a miniature format.
For proof, simply check out the supermarkets' ranges. M&S, for example, is offering up Posh Cheesy Beans on Toast, Chicken Tikka Naans and Smoked Salmon En Croute in its party food portfolio while Tesco is taking inspiration from the US with the sweet and savoury Buttermilk Pancakes and Bacon.
Morrisons, meanwhile, is serving mini steak & ale and chicken & ham pies and Asda has gone for a twist on a classic with its Wiltshire Ham & Rarebit Spoons, complete with edible pastry spoons.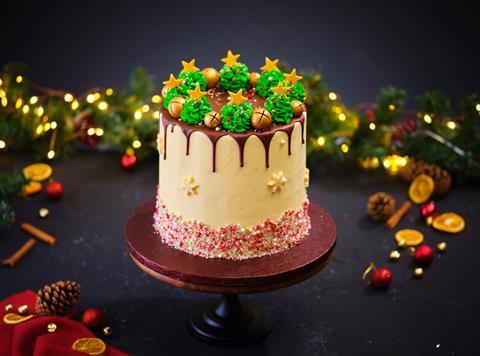 Showstopping creations
Indulgence is top of the agenda when it comes to Christmas, a driver that also lends itself to showstopping creations as consumers want more bang for their buck.
"Consumers are widely predicted to up the ante on their 2021 Christmas celebrations, following 2020's more stilted festivities," says Craft Bakers Association chairman George Fuller, citing a recent member survey which found 76% of craft bakers believe indulgence is an important trend followed by nostalgia with 48% of the vote. With larger gatherings on the cards, celebration cakes are expected to be a big hit, Fuller adds, with vivid colours and eye-catching decorations top of the bill.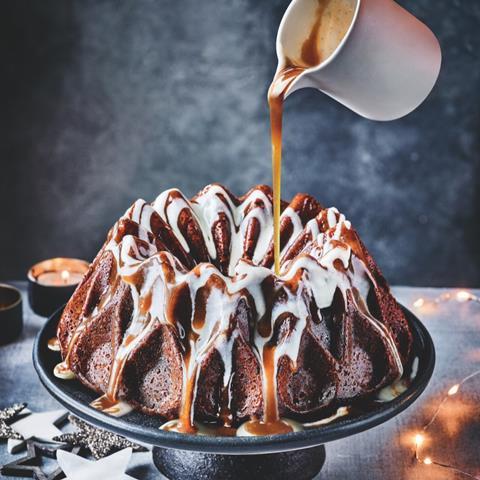 Lola's Cupcakes have tapped into this with towering layer cakes complete with chocolate ganache, chocolate drip decoration and edible giant bells, Christmas trees, stars, and sprinkles on top. Asda, meanwhile, is adding a bit of family-friendly fun with its Bruce the Brussel Spout celebration cake.
"After the 18 months we've all had, it is unsurprising that nostalgia and indulgence are two key trends," adds deZaan's Profet. "With consumers wanting to be dazzled by showstopper layers, sparkle and big bold flavours, there's isn't room for subtle, delicate bakes at Christmas."
M&S has also capitalised on this with its Percy Pig Pigloo smash cake as well as the Sticky Toffee Pudding Crown, the sauce for which is poured over at the Christmas table.
"We are seeing both sweet and savoury bakes take on a more show-stopping, interactive form, with sauces to be poured on top and elements to build or decorate at home. Extravagant bakes are taking centre stage and becoming an experience to be shared between family and friends," notes Olivier Briault, development chef at Maple from Canada UK.