Co-op is going big on full-flavoured family favourites for its 2021 Christmas range, which features a host of new sweet and savoury bakery products.
When it comes to flavours, chocolate orange dominates the sweet offerings along with festive favourites such as toffee, gingerbread and caramel. For its savoury fare, Co-op has focused on the classics but in new formats, often for food-to-go, such as sausage rolls and pies.
Here's a closer look at some of the bakery lines it is rolling out for Christmas 2021: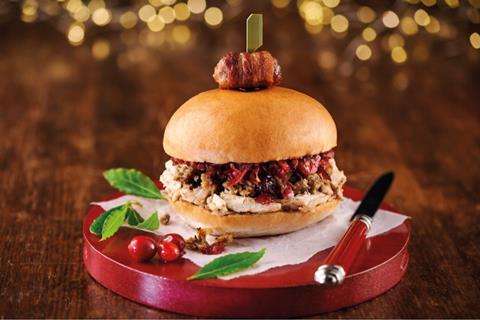 Ultimate Christmas Dinner Roll
Christmas sandwiches are big business. Co-op is looking to tap into consumer demand for turkey ahead of the big day with its latest addition to the Irresistible food-to-go range. The sandwich sees a glazed white roll stuffed with pulled turkey, gravy mayonnaise, pork, sage & onion stuffing, a winter spiced red cabbage & Brussels sprout slaw and cranberry chutney. For added festivity, the sandwich is topped with a pig in blanket. Rsp: £4.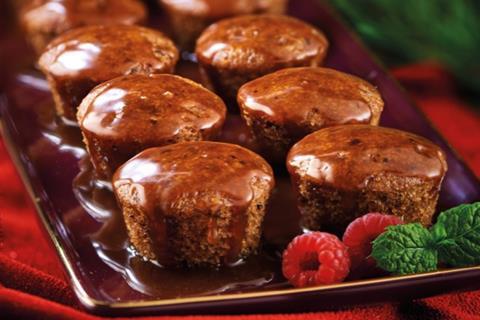 Sticky Toffee Pudding Bites
Sticky toffee pudding is a mainstay winter dessert that Co-op is hoping can make a splash on the party food scene. Part of the Irresistible range, the 12 bitesize all-butter date sponges are served with an indulgent sticky toffee sauce. Rsp: £4.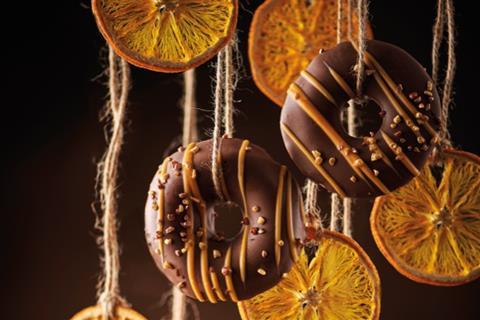 Chocolate Orange Bro'dough
Looks can be deceiving as this Bro'dough demonstrates. This orange flavoured brownie, shaped like a doughnut, is covered with milk chocolate, and finished with edible gold decorations. Rsp: £1.25.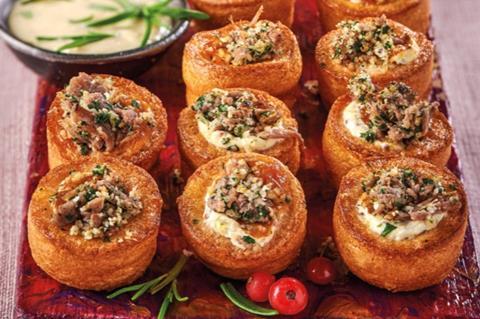 Beef & Mustard Crème Fraiche Yorkshires
Another British classic venturing onto the Co-op party food table is the Yorkshire pudding. This mini iteration sees the puddings filled with wholegrain mustard and crème fraiche, topped with shredded beef and a parsley crumb. Rsp: £5.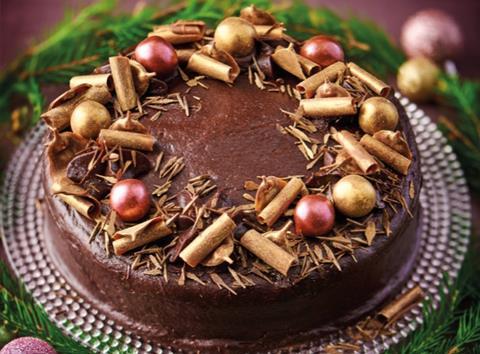 Belgian Chocolate Orange Wreath Cake
This centrepiece, which is part of the Irresistible range, sees layers of chocolate sponge packed with clementine filling and smothered with orange flavoured milk chocolate ganache buttercream. Decoration comes in the form of lustred milk chocolate rice balls, lustred milk chocolate curls and lustred dark chocolate pine needles, all made with Fairtrade cocoa. Rsp: £8.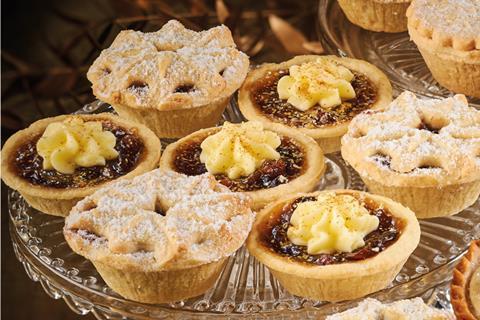 Bourbon & Bitter Orange Mince Pies
Co-op has sought to make its mince pie range inclusive with gluten-free and vegan options available. It's also upped the indulgence with the likes of the Irresistible Bourbon & Bitter Orange Mince Pies which include all-butter pastry filled with a rich bourbon and bitter orange mincemeat topped with a clementine flavour buttercream. Rsp: £2 per four-pack.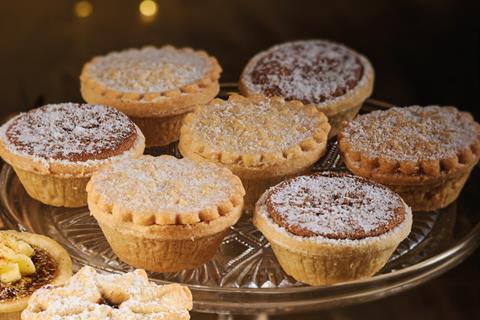 Gingerbread & Toffee Tarts
For those not so keen on mince pies but still wanting a festive treat with their cuppa, Co-op is serving up Gingerbread & Toffee Tarts. The butter enriched pastry cases have a toffee filling, ginger sponge, and dusting of icing sugar on top. Rsp: £1.25 per four-pack.

Heat at Home Hog Roast Christmas Market Baguette
Tapping into the nation's love of Christmas markets and hog roast is this food-to-go offering, designed to be heated at home for a warming experience. It features hog roast pulled pork with Bramley apple sauce, pork, sage & onion stuffing, mozzarella, and mayonnaise on what Co-op describes as an artisan baguette. Rsp: £3.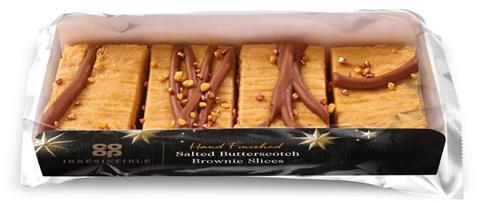 Salted Butterscotch Brownie Slices
Move over salted caramel, there's a new sweet and savoury combo in town. These treats feature a chocolate brownie base topped with creamy salted butterscotch caramel covered with Belgian milk chocolate and edible decorations. Rsp: £1.50 per four-pack.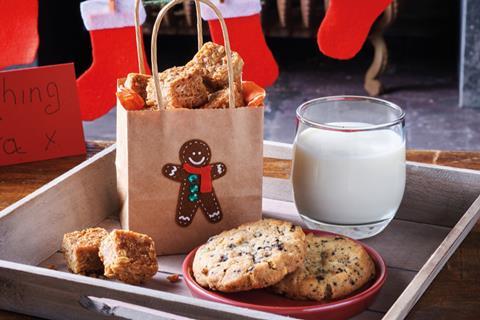 Reindeer Fuel Gingerbread Flapjack Bites
Co-op is extending gingerbread flavours beyond biscuits with these mini oat flapjack bites. They're made with golden syrup, butter, and ginger fudge pieces. Rsp: £1 per eight-pack.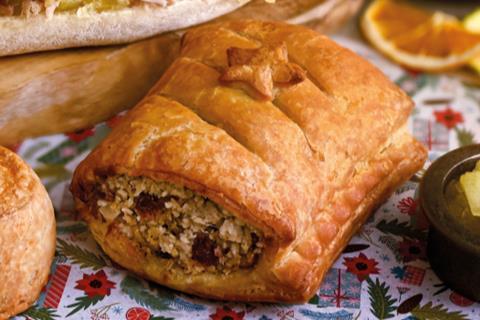 Pork, Cranberry & Stuffing Sausage Roll
For a festive grab and go lunch, Co-op is rolling out an upgraded sausage roll. This version has seasoned British pork with cranberries and sage wrapped in a flaky puff pastry and decorated with a pastry star. Rsp: £1.25.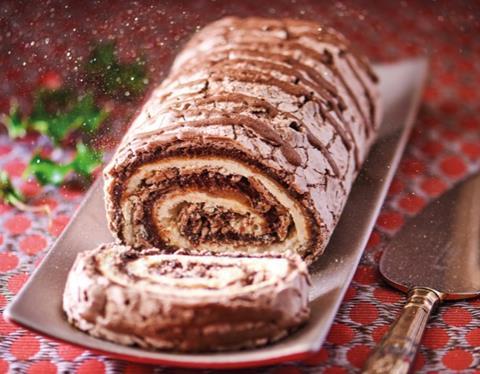 Millionaire's Roulade
This slow-baked chocolate meringue is filled with a buttery toffee sauce, real dairy caramel cream and a hand sprinkled biscuit crumb. The hand-rolled dessert is finished with a Belgian milk chocolate drizzle and dusting of gold shimmer. Rsp: £4.50.