Bold flavours, pork pastry products and family-friendly treats dominate Asda's 2021 Christmas bakery range.
Chocolate orange and blood orange are featured heavily when it comes to desserts, with the latter even making its way over to the savoury line-up.
The supermarket has also gone big when it comes to interesting products for those with dietary needs, adding several new items to its free-from and vegan festive ranges.
Here's our pick of the new products hitting shelves in time for Christmas: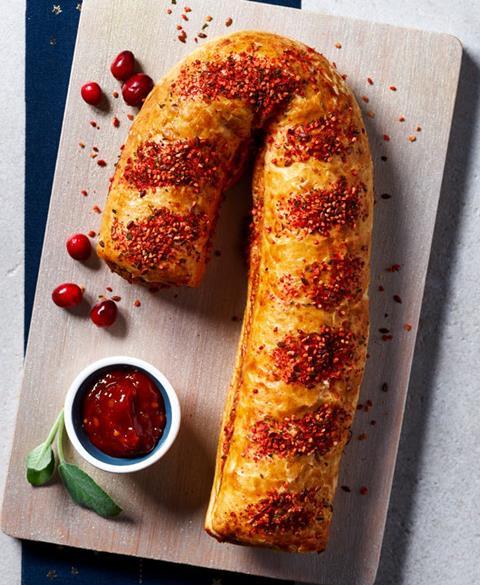 Candy Cane Pork, Sage & Onion Sausage Roll
Nothing says Christmas like a novelty-shaped pork product. This sausage roll, complete with sage and onion flavours, is described as the 'ultimate party centrepiece' and is topped with a crunchy sprinkle.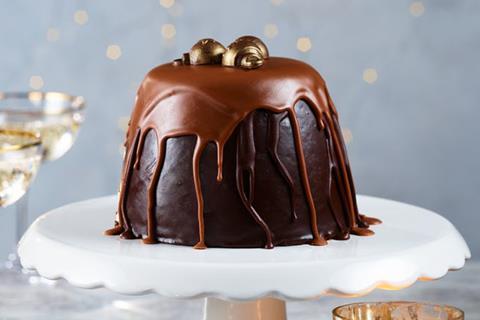 Jamaican Ginger Melt in the Middle Pudding
For a fiery alternative to Christmas pudding, Asda is serving this stem ginger pudding made with butter, treacle, ginger, and dark brown sugar. It's filled with a stem ginger melting caramel sauce, coated in a Belgian chocolate ganache and topped with both milk and dark chocolate in a drip effect.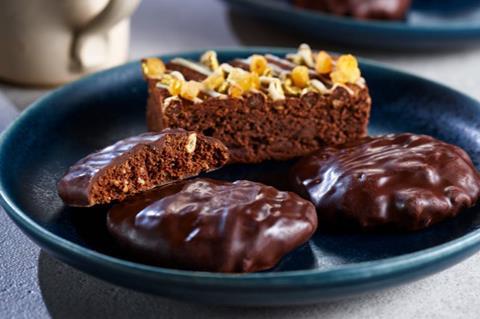 Free From Chocolate Orange Brownie Slices
Asda has bulked up its free from festive fare with several new additions including these Chocolate Orange Brownie Slices. The gluten, wheat and milk-free chocolate orange brownie is finished with white chocolate swirls, shimmer coated sugar pearls and mixed peel. Also joining its free from line-up are Extra Special Chocolate & Blood Orange Cookies. The gluten, milk and egg-free treats are made using Brazilian orange oil and blood orange flavouring before being enrobed in a Belgian dark chocolate.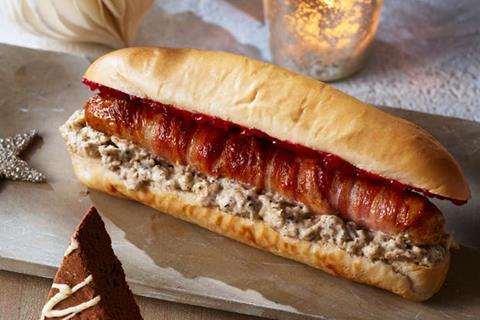 Pig in Blanket Sub Roll
The nation's love of pigs in blankets knows no bounds and now, thanks to Asda, consumers can chow down on them on the go. The Pig in Blanket Sub Roll, which can be eaten hot or cold, features an eight-inch pig in blanket with pork, sage & onion stuffing, festive mayonnaise, and cranberry sauce all served up in a brioche roll.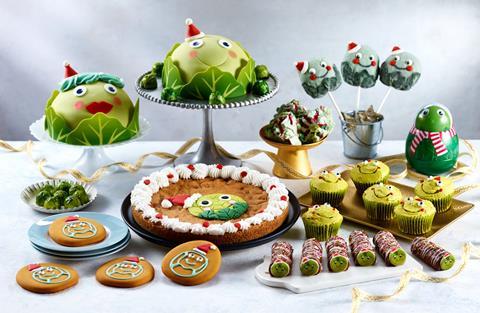 Bruce the Brussel Sprout range
Bruce is back and he's brought some friends with him. Having burst onto the scene last Christmas, Asda has extended the Bruce the Brussel Sprout range with a host of sweet treats. Bruce is joined by Betty, a chocolate celebration cake covered with soft green icing, as well as gingerbread biscuits topped with icing in the shape of a Brussels sprout, and a chocolate chip sharing cookie which is topped with sugar paste and vanilla flavoured frosting. Also joining the line-up are Bruce the Brussel Sprout Mini Rolls – a chocolate flavoured mini sponge roll with a vanilla flavour filling all covered in milk chocolate and edible decorations.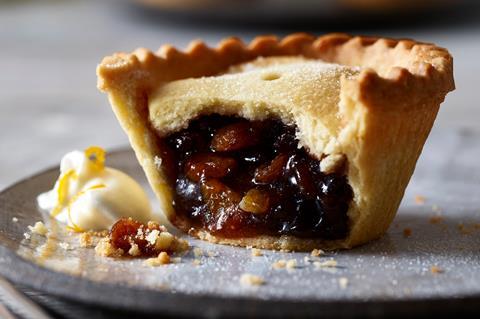 Mince Pie with Orange Zest Pastry
Asda's claims this is its 'best ever' mince pie. Found in the retailer's in-store bakeries, the mince pie features orange zest butter pastry which is filled with three-month matured mincemeat.
No Turkey Wrap
Vegans won't miss out on festive food-to-go thanks to this latest addition to Asda's range. The tortilla wrap is filled with soya-based 'No Turkey' pieces, roasted carrots and parsnips, braised red cabbage, vegan sage & onion mayonnaise, spiced fruit chutney, spinach, and fried onions.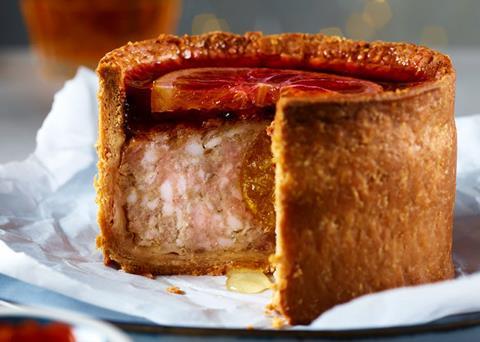 Candied Clementine Hidden Centre Pork Pie with Blood Orange Jelly
Blood orange makes another appearance on Asda's Christmas table, this time in a savoury dish. Part of the Extra Special range, this pie is made with British outdoor-bred cured pork with a ruby port, cranberry & blood orange jelly on top. Dig a little deeper and consumers will find a candied clementine in the centre.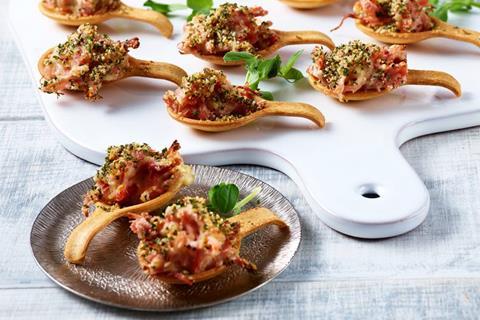 Wiltshire Ham & Rarebit Spoons
These morsels offer a more sustainable option for party food as there's no waste because the spoons are edible. Made from crisp pastry, the spoons are topped with pulled Wiltshire ham, a rarebit sauce, and a mustard & parsley crumb.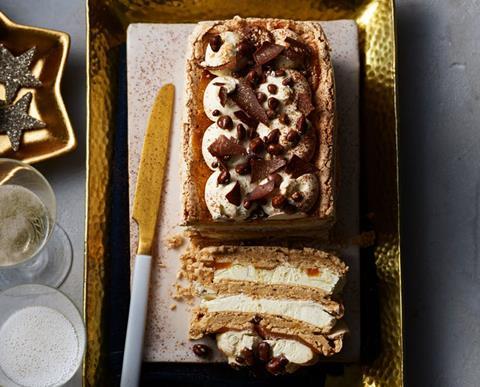 Salted Honeycomb Meringue Stack
This decadent dessert features layers of meringue with honeycomb cream and salted honeycomb flavoured sauce which is hand finished with chocolate shards and a festive golden shimmer.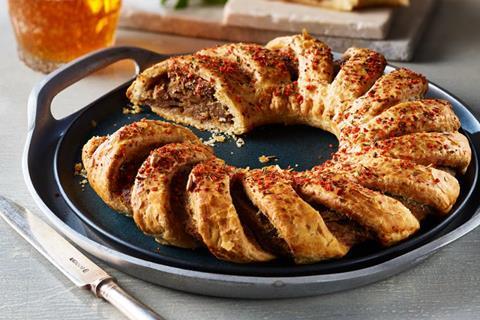 Vegan Cranberry & Chestnut Wreath
This hand finished wreath made of puff pastry is filled with mushrooms, chestnut, and sweet cranberry. It joins the Extra Special Beefless Wellington – vegan puff pastry with a soya-based filling and a layer of mushroom duxelle – as the retailer's options for vegan centrepieces.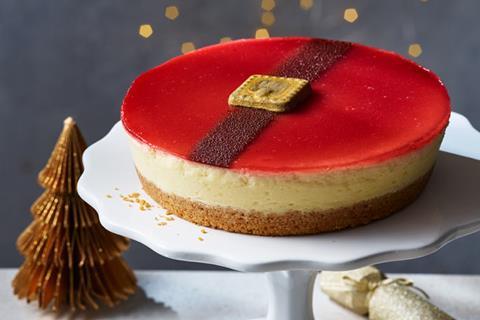 Santa's Belly Cheesecake
This vibrant cheesecake consists of a crumbly digestive biscuit base which is topped with a vanilla cheesecake and finished with a raspberry glaze. A Santa belt decoration completes it.