There were new products aplenty in 2021 as the nation's bakers and bakery brands sought to tap into trends such as sustainability, healthier snacking and, of course, vegan.
Here, British Baker reveals some of its favourite launches in 2021: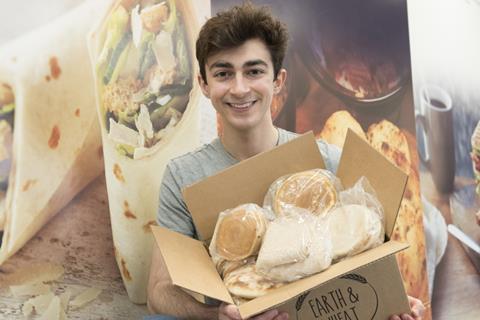 Wonky bread box, Earth & Wheat
Wonky crumpets taste just as good as regular ones – they just might not look as cute on Instagram. Nevertheless, fourth generation baker and student James Eid has sought to find a home for wonky crumpets, tortillas, pittas and most recently biscuits by launching Earth & Wheat.
The business rescues surplus baked goods which otherwise would have been disposed of during the production process due to its appearance, size or overproduction and sells them direct to consumers for between £6.99 and £7.99 for a 2.5kg box (depending on the frequency of the subscription).
Within two months of launch, 30,000kg of baked goods had been redistributed and the firm is now on the hunt for more UK bakery suppliers to partner with.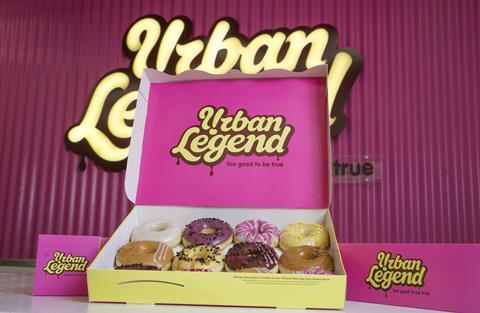 Doughnuts, Urban Legend
These might look like ordinary, albeit nicely decorated, ring doughnuts but their pleasant exterior hides a secret – these treats are steamed, not fried, and clock in at around 160 calories each.
They've caused quite the stir as founder, and ex-Graze boss, Anthony Fletcher looks to carve out a slice of the market with stores in Croydon and Clapham opening in quick succession after the brand premiered in Brighton in August of this year. More stores are in the pipeline and the firm is in talks with UK supermarkets, Fletcher told British Baker. What's more, there's scope to extend the techniques to help make other baked goods lower in fat and sugar, so watch this space.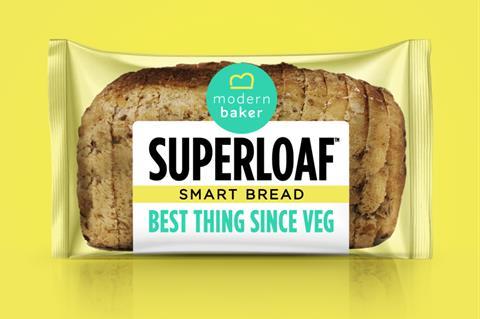 Superloaf, Modern Baker
Superloaf is the "healthiest loaf ever made", boasted Modern Baker upon its unveiling in March.
A bold claim but one which the Oxfordshire-based bakery stands by. Why? For starters, the loaf took five years to develop. Backed by Innovate UK grands and private investors, the business worked with several scientific organisations including Newcastle University's Biosciences Institute, Oxford Brookes Centre for Nutrition & Health and Campden BRI to create the final product.
Described as 'clean label, the seeded sourdough loaf's ingredients include barley flour, sunflower seeds, tapioca flour, hemp and seaweed. The fibre profile was also changed to incorporate a range of plant nutrients, according to Modern Baker co-founder Leo Campbell, and it contains fewer calories than traditional seeded loaves at 208kcal per 100g.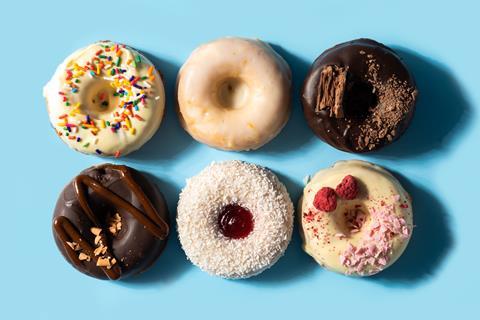 Gluten-free doughnuts, Doughnut Time
Doughnuts have long been missing from the gluten-free scene, but no more after London-based Doughnut Time sought to address the matter by investing in a new unit for their production.
Like the rest of the brand's range, the gluten-free treats are fully loaded with indulgent toppings and come complete with pun-tastic names such as Candy Warhol, Justin Timberflake and Glen Coco. They're made with Doves Farm rice, potato and gluten-free flours and are baked, not fried.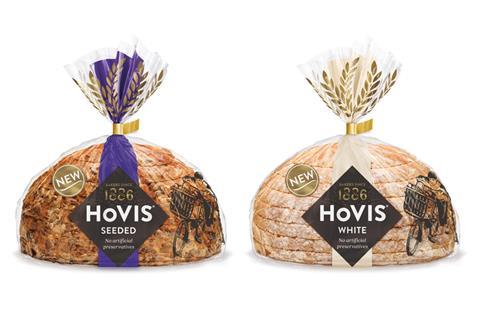 Bakers since 1886, Hovis
Hovis sought to highlight its heritage and premium credentials with the debut of its Bakers Since 1886 sub-brand featuring cob loaves, buns and rolls. It even got Michelin star chef Tom Kerridge to front the campaign, with the burger buns used at his The Butcher's Tap & Grill in Marlow.
The thickly sliced white and seeded cob loaves are made from a 36-hour starter dough and are described as ideal for 'the ultimate deli sandwich or delicious toastie'.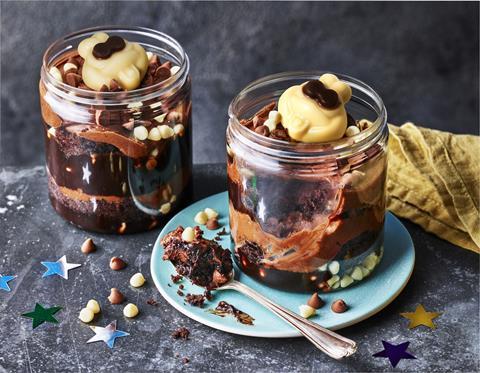 Colin cake jars, M&S
M&S has continued to shine a spotlight on its iconic Colin the Caterpillar this year despite the ongoing rivalry, and legal action, between him and fellow caterpillar cake Cuthbert.
He has ventured into many new formats from button biscuits to cupcakes and even advent calendars, but it's the cake jar that is the most notable. Designed as an indulgent single serving treat for consumption on the go, at picnics or simply on the sofa, the jar is filled with chocolate sponge, Belgian chocolate sauce and chocolate ganache as well as milk and white chocolate chips with a Colin chocolate face on top.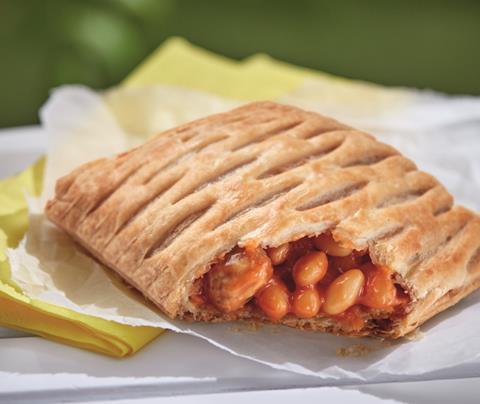 Vegan sausage, bean and cheese melt, Greggs
The sausage, bean and cheese melt was next on the list of beloved Greggs products for a vegan makeover. It marks Greggs' continued commitment to capitalising on the growing flexitarian market and follows in the footsteps of iconic sausage roll and steak bake.
This iteration features pieces of vegan sausage, grated original and mozzarella-flavoured vegan cheese and baked beans wrapped in puff pastry.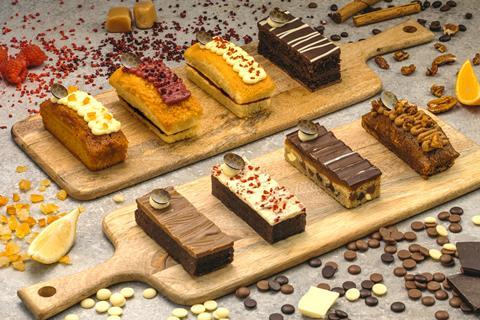 Ellie Warburtons cakes, Warburtons
The UK's biggest bread brand dipped its toe into the premium cake market in 2021 with the launch of sub-brand Ellie Warburtons.
Rolled out as a six-month trial, the launch was particularly interesting due to the way the cakes were sold. Rather than being flogged through supermarkets, the sweet treats were sold at £3 a slice from two Yorkshire pop-up shops in Skipton and Harrogate. Should the trial be deemed successful, Warburtons said it would then seek listings for the cakes in major UK supermarkets.
The line-up includes an Espresso Brownie, Lemon with Blackberry Compote cake slice, and Cookie Dough with Caramel, designed to meet demand for premium quality cakes.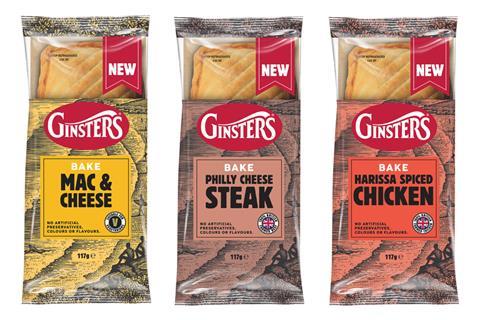 Global flavour bakes, Ginsters
Ginsters wasn't short on NPD this year as managing director Sam Mitchell stuck to his belief that savoury pastries are ripe for innovation and growth.
One such example of this was a four-strong range of bakes inspired by global flavours which the brand unveiled in October. The flavours – mac & cheese, Cajun spiced chicken, harissa spiced chicken and Philly cheese bake – are designed to tap into several trends including the rise of snacking as younger consumers gravitate away from the traditional three meals a day as well as interest in world cuisine.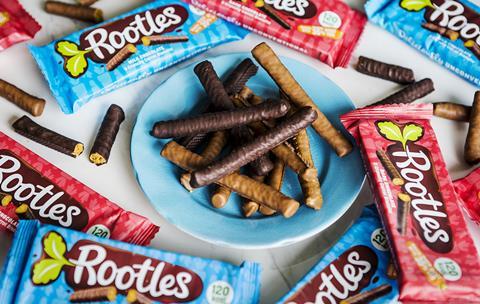 Carrot biscuits, Rootles
Tapping into the trend for healthier snacking options is Rootles – a chocolate covered biscuit comprising at least 35% vegetables.
The biscuits' ingredients include carrot and sweet potato and come in dark chocolate and milk chocolate variants.
The brand was developed by Helen Yates, who co-runs Luke Evans Bakery in Derbyshire with her husband, David. She was inspired to develop the product through her work mentoring and supporting international business students at the University of Nottingham. The concept of using veg in biscuits was developed as a market research project, which sparked her interest in the idea.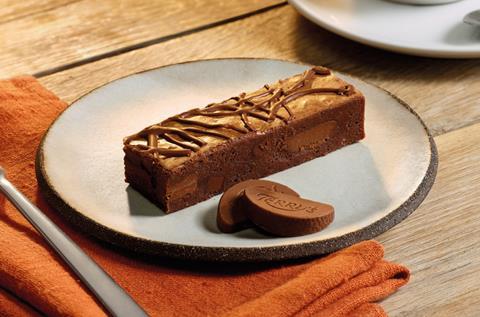 Chocolate orange brownie, Costa
Costa is embracing the on-trend flavour of the year, chocolate orange, with its seasonal brownie.
Exclusive to the coffee chain, the individually wrapped treats feature layers of the Terry's Chocolate Orange segments made with real orange oil to provide an 'ultimate crunch' in contrast to the gooey consistency of the brownie. The NPD builds on the success of the Terry's Chocolate Orange Muffin, a mainstay of its festive range.